Palmetto Bay Truck Accident Attorney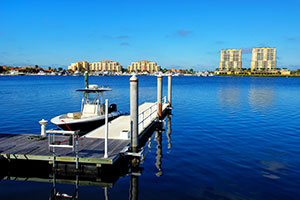 Palmetto Bay has enough roads where trucks can drive. US 1 passes through the western border of the suburb, where 18-wheels trucks pass regularly. On other roads and streets, there are many trucks as well. Smaller commercial trucks that distribute various products and garbage trucks regularly travel the streets of Palmetto Bay.
Most truck drivers are professional drivers and certainly know how to drive, but it's their job to spend most of the day behind the wheel, so they do get tired. As a result, accidents and personal injuries can happen. If you happen to be injured in such an accident, make sure you call the Palmetto Bay truck accident lawyer at the Gerson & Schwartz law firm for help.
Our Palmetto Bay truck accident lawyers have the necessary experience in defending the rights of truck accident victims for more than four decades. We are available for free consultations at (305) 371-6000. We handle cases on a contingency basis, which means that you pay only when we recover for you.
We have experience in many truck accident cases and we are available to serve truck accident victims in Palmetto Bay in these capacities:
Palmetto Bay T-bone Truck Accident Attorney
Lawyer for Palmetto Bay Truck Accidents with Uber Drivers
Palmetto Bay Rear-end Collisions with Trucks
Injury Attorney for Head-on Collisions with Truck in Palmetto Bay
Drunk Driving Truck Accident Lawyer in Palmetto Bay
Sideswipe and Merging Truck Accident Lawyer in Palmetto Bay
Palmetto Bay Truck Accidents Involving Uber or Lyft Drivers
Left-Turn Truck Accident Attorney in Palmetto Bay
Lawyer for Palmetto Bay Truck Accidents with Lyft Drivers
Attorney for Drunk Driving Truck Accident Injuries in Palmetto Bay
Palmetto Bay Wrongful Death Attorney for Truck Accidents
Palmetto Bay Road Rage Truck Accident Lawyer
Rollover Truck Accident Attorney in Palmetto Bay
Truck Pedestrian Injury Accident Lawyer in Palmetto Bay
Palmetto Bay Truck Accident Lawyers
All the drivers on the road have a duty to drive in a way that is safe for them and for all the other people and vehicles on the road. By driving responsibly and defensively, a driver can lessen the odds of being involved in an accident. But not everyone respects the safety rules. When it's the truck driver, other drivers are at serious risk. Being hit by a truck can have devastating consequences.
The truck driver may appear well-protected by its vehicle chassis, but it doesn't mean that they don't suffer injuries either. The most serious truck accidents can see the truck rolled over, causing severe injuries for the driver and possibly deaths. Other types of truck accidents are also dangerous for the other people and vehicles involved in the accident.
Palmetto Bay truck accident injuries can include:
Brain injuries
Broken bones
Severe spine injuries
Neck injuries
Sprains
Strains
Torn ligament or tendons
Shoulder separation or fracture
Herniated discs
Scars
If you happen to have sustained any kind of injury in any type of truck accident, our Palmetto Bay truck accident attorneys can help you. Call us today at (305) 371-6000 for free consultations. Our office is located on 1980 Coral Way Miami, FL 33145.
We will talk about your case and let you know about your options. Depending on the circumstances of your accident, you may be entitled to compensation for pain and suffering, medical bills, medical devices and medication bills, loss of financial support, lost earnings, and other expenses due to the injuries. Tell us about your case, and we will tell you what can be done. Call us now and let's get to work.
Aside from Palmetto Bay, we serve the rest of Miami-Dade County, including the cities and neighborhoods of Miami, Tamiami, Kendall, Fontainebleau, Doral, Miami Beach, Key Biscayne, Aventura, Homestead, Opa-Locka, Miami Lakes, Hialeah, Coral Gables, North Miami, and Westchester.