Side Impact Car Accidents
Side Impact Accident Attorneys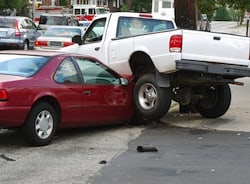 Having an experienced personal injury lawyer represent you in any motor vehicle accident, whether a side impact collision, or rear end accident, shows other parties how serious you are about being fully compensated for your injuries. Side impact accidents are more likely to cause serious physical injuries compared to head on or rear end collisions. Our bodies and our vehicles are not made to withstand a side impact. The human body is designed to flex forward and extend backward; we have little flexibility to move with impact forces common in side impacts. Vehicles are designed to have crumple zones, which absorb the energy from an impact during an accident. Even though your vehicle has crumple zones as well as seat belts, airbags, safe seat design, and safe dashboard design, it is not engineered to fully protect you from a side impact.
Our Miami car accident lawyers understand the mechanics behind side impact, and broad side collisions and the reasons why side impact accidents can cause traumatic injuries. While severe injury can be partially attributed to negligent driving, defective auto design, or an auto manufacturing defect can also be to blame. Lack of reinforced door panels, roof crush from inadequate supports and reinforcements, and rollover instability are just a few examples of product failures which we are experienced at analyzing and pursuing claims against automobile manufacturers and auto dealers.
Handling a Side Impact Collision Case
At Gerson & Schwartz, PA, our Miami, Florida accident lawyers specialize in side impact accident collision cases. We understand that victims of a side impact collision suffer greater injury than in other routine vehicular accidents. Severity can often be measured by the speed at which the oncoming vehicle is traveling. A person is severely injured when the approaching vehicle is traveling at high speed. The daily routines of victims of such an accident changes dramatically, and they are left to deal with their injuries on their own. We want to help these victims move on from such a devastating event by making sure that they are not held responsible for expenses that a negligent party should be paying.
For example, if your airbag is deployed during an accident, it cannot protect you from further impacts that can occur within the same accident. So if there is a multiple car collision and your vehicle is struck more than once, you can no longer rely on the protection of your airbag. Automobile engineers can do more to protect motorists from foreseeable crashes as these already implemented measures are not very effective. The most dangerous side impact collisions result in the vehicle being overturned or rolled over, which causes injury to other vehicles or pedestrians.
Personal Injury Lawyers Experienced With Side Impact Collisions
Driving carefully includes the use of seatbelts, obeying the speed limit, using the side and rear mirrors, and checking blind spots. Drivers are not expected, however, to check their direct side or the direct side of their passenger. Driver visibility is reduced for oncoming side impacts. Drivers and passengers have nothing but their peripheral vision to observe threatening vehicles that are approaching from their side to anticipate a crash.
Vehicles that have distracted drivers or are defective in some way have been known to collide with other vehicles from the side. So when a vehicle runs a red light at an intersection or fails to yield at a stop sign, the result is a dangerous side collision. Due to the impact, victims often have to deal with severe injuries after this type of accident. Injuries to victims and vehicles heavily depend on where the vehicle was struck, the vehicle's safety features, the speed of both vehicles, and the weight and construction of both vehicles.
The Miami side impact accident attorneys of Gerson & Schwartz, PA assist accident victims throughout Broward County, Palm Beach County, Monroe County, Ft. Lauderdale, Plantation, Weston, Pembroke Pines, and Coral Springs. If you have been seriously injured in a side impact accident the personal injury attorneys at Gerson & Schwartz, PA are here to help.
For more information email us at info@gslawusa.com. If injured in an auto accident in Miami-Dade call us at (305) 371-6000, for side impact accidents in Broward County, Hollywood, or in injured in the Fort Lauderdale area call us at (954) 845-0535. Our accident attorneys also service areas in Kendall, Homestead, Doral, and West Miami. We are also available toll free at (877) 475-2905. Call us today for an immediate, no obligation, and consultation.