Tamiami Motorcycle Accident Lawyer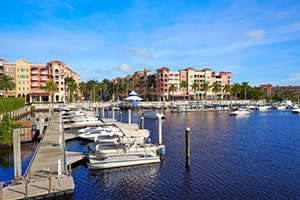 Over 58,000 residents are drawn to Tamiami's warm weather and sunny skies. With a population that is largely Hispanic, it is an active city full of locally-owned shops, restaurants, and retail stores on almost every street. Friendly to families and to those who enjoy the outdoors, the city has many parks, walking trails, and bike runs. Tamiami's historical ties to the Miccosukee tribe and close proximity to the Everglades draws visitors to the city every year. Located near Miami-Dade College and Florida International University, Tamiami also sees a large influx of college-aged students.
Tamiami residents get into motorcycle accidents every year. With heavily congested roads and dangerous intersections, operators of cars or trucks may not see motorcycles. Drivers who change lanes quickly, stop suddenly, travel at high speeds, are impatient or distracted, or are just unfamiliar with the roads may rear-end, side-swipe, or hit motorcycles. Often times, drivers of cars claim that they didn't see the motorcycle. Motorcycle accidents can cause horrific and life-altering injuries or can result in death. Victims who are injured in a motorcycle accident often have questions about lost wages and medical treatment. Families who have lost a loved one may be struggling financially. If you or a member of your family has suffered severe injuries or a wrongful death due to a motorcycle accident and would like to speak to our Tamiami motorcycle accident lawyers, contact Gerson & Schwartz at 305-371-6000 for your free consult.
Since 1982, attorney Ed Schwartz has been representing plaintiffs with serious injuries and wrongful death claims resulting from motor vehicle accidents. Ed is a board certified attorney, a graduate of the University of Miami's School of Law, and has authored or co-authored articles on premise liability. Ed works with his clients to receive the compensation that they deserve to restore their lives. If you have been the victim of a motorcycle accident, contact our Tamiami motorcycle accident lawyers. Our attorneys can help answer your questions about lost wages, medical treatment, and wrongful death claims. If you have suffered injuries or your family experienced a motorcycle related wrongful death and would like to speak to our Tamiami motorcycle accident lawyers, then you are invited to reach out to Gerson & Schwartz at 305-371-6000 to schedule a free consultation.
Why Speak to a Motorcycle Accident Lawyer?
We help clients who have been victims of motorcycle accidents in many ways including;
Motorcycle wrongful death accident lawyer in Tamiami
Tamiami angry driver motorcycle accident injury attorney
Failure to yield motorcycle accident injury lawyer in Tamiami
Tamiami improper lane change accident lawyer
Parking lot motorcycle crash attorney in Tamiami
Tamiami motorcycle roadway accident injury attorney
Texting driver motorcycle crash attorney in Tamiami
Reckless driver motorcycle accident lawyer in Tamiami Uber motorcycle accident attorney in Tamiami
If you have been injured while riding your motorcycle and don't know what to do next, call the personal injury attorneys at Gerson & Schwartz at 305-371-6000.
Tamiami Motorcycle Accident Victims
Victims of motorcycle accidents and their families often suffer from painful and debilitating injuries and, in some cases, death. Our Tamiami motorcycle accident attorneys fight for motorcycle accident victims and their families to recover lost earnings, payment of medical bills and expenses, and seek legally recognized compensation for scarring, pain, embarrassment, humiliation, suffering, and mental anguish. We understand the significant part that involves insurance that must be maximized towards full, fair and complete compensation and recovery. If the Tamiami motorcycle accident resulted in the fatal loss of a close family member, our team is here to help you follow up with a wrongful death claim. Contact Gerson & Schwartz at 305-371-6000 for a free consultation.
Motorcycles and Insurance
Motorcycles follow different insurance requirements than cars and trucks. This can make working through a motorcycle accident claim more complex. Injured victims can incur significant and sky-rocketing medical bills, lose hourly wages and have property damages to their motorcycle. We represent your interests to insurance companies and their legal teams. The Tamiami motorcycle injury attorneys and wrongful death lawyers at Gerson & Schwartz can help motorcycle accident victims and their families navigate through the maze of confusing insurance policies to ultimately receive the compensation and treatment that they deserve.
Our Tamiami motorcycle injury lawyers are available to help Tamiami motorcycle accident victims to make a full and fair recovery of lost wages, payment and reimbursement for medical treatment, and ultimately the pursuit of complete compensation for pain, scarring, suffering, and mental anguish.
Tamiami Motorcycle Crash Lawyers
The Tamiami motorcycle accident attorneys at Gerson & Schwartz can advise you of your rights and help you file a claim. Get back on the path to recovery by contacting Gerson & Schwartz today.