Tamiami Pedestrian Accident Lawyer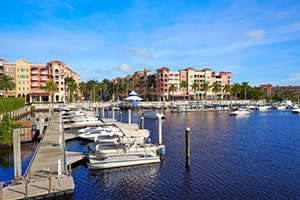 Tamiami is a bustling city filled with coffee shops, bakeries, and restaurants. With almost 58,000 residents, Tamiami is family-friendly with many schools, libraries, and parks. Residents and visitors can enjoy the sunny skies and warm weather on Tamiami's many walking trails and bike runs. Located near two large colleges, Tamiami sees its share of visiting students.
Tamiami has an extensive public transportation system. Buses and the metrorail system are used by many to travel around the city. However, with large numbers of people walking around town and crossing the streets, accidents with cars are inevitable. Accidents involving cars can be particularly devastating to pedestrians as they do not have the same protection as passengers in cars do. The impact of a crash on a person's body may lead to serious injury, even death. If you or a someone close to you was a victim of a pedestrian related accident, contact the Tamiami pedestrian accident and injury lawyers at Gerson & Schwartz at 305-371-6000 for a free consultation.
For over 10 years, attorney Nick Gerson has represented victims of pedestrian accidents with serious and catastrophic injuries. Board certified and licensed to practice law in all Florida state courts, Nick defends the rights of pedestrian accident victims and their families. If you have been the victim of a pedestrian accident, the contact the Tamiami pedestrian accident injury attorneys at Gerson & Schwartz today. Perhaps you are losing sleep at night trying to figure out how to pay your medical bills or deal with the long-term effects of the accident. You may be unable to work, causing a financial strain on your family. Families that experience the loss of a parent or spouse who was the primary financial support may have little financial means to buy groceries, pay their utilities, or cover the rent. The Tamiami pedestrian injury lawyers at Gerson & Schwartz can help. Call us today at 305-371-6000 for a free and confidential consultation.
We represent pedestrians who have sustained injuries due to accidents;
Pedestrian fatality wrongful death accident attorney in Tamiami
Tamiami DUI-accident pedestrian injury lawyer
Lawyer for pedestrian accidents due to slips and falls in Tamiami
Tamiami Uber injured pedestrian accident lawyer
Attorney for pedestrian injury due to truck accident in Tamiami
Tamiami injured pedestrian due to left turn accident lawyer
Hurt in a Pedestrian Accident in Tamiami?
Pedestrian accidents can cause traumatic and life-changing severe injuries. Brain injuries, fractures, road rash burns, and tears of tendons are common pedestrian accident injuries requires long-term rehabilitation and medical care. Victims of pedestrian accidents often require legal counseling and representation to assist them in the pursuit of the compensation needed for recovery. Pedestrian accident victims can pursue damages including;
Lost wages and impaired future income earning capacity
Reimbursement of current medical bills and future treatments
Compensation for pain, humiliation, embarrassment and suffering
A wrongful death suit may be filed if you have suffered the loss of a family member. This claim can provide your family with the necessary financial assistance to pay for medical bills and the cost of a funeral. It can also compensate your family for the loss of earning capacity caused by the accident.
Causes of Tamiami Pedestrian Accidents
Drivers are expected to operate their vehicles with reasonable care, follow traffic laws, respond to traffic signals and signs, and follow the rules of the road. Failure to do so may result in accidents. Distracted drivers create hazardous conditions when they take their eyes off the road to text, make a call, or use a GPS system while operating their vehicle. Accidents are also caused by drivers who don't follow traffic rules. Failing to stop, running red lights, and speeding pose potential danger for pedestrians walking along the streets and crossing intersections. A driver's concentration on the road can be impaired if they are intoxicated or fatigued. .
Tamiami Pedestrian Accident Law Firm
The attorneys at Gerson & Schwartz defend the rights of victims who have been injured in a pedestrian accident. These are complicated cases that our Tamiami pedestrian accident lawyers can guide you through. Whether you are struggling to pay medical bills, lost you or your family's income, or need to long-term treatment to recover from injury, our attorneys can answer your questions. For a free and confidential consultation, call the personal injury attorneys at Gerson & Schwartz at 305-371-6000.