Tamiami Truck Accident Lawyer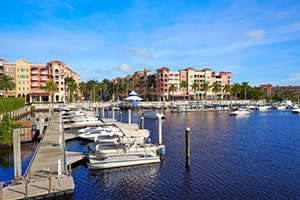 Tamiami originally derived its name by combining Tampa and Miami. With a population of almost 58,000, Tamiami is largely a Hispanic community with a majority of its residents speaking Spanish. Two of the county's largest schools, Florida International University and Miami-Dade College, are located near Tamiami. The city has many shops and restaurants, as well as parks, schools, and walking trails.
Located between the busy Palmetto Expressway, Highway 90, and the Turnpike, Tamiami sees heavy traffic and congestion on its roadways. With several trucking companies operating within Tamiami, there are a large number of commercial trucks sharing the roadways with cars and motorcycles. Large trucks can include tractor-trailers, dump trucks, or other commercial vehicles and can weigh an average of 36 tons. Compared with the average automobile, which weigh around 3,000 pounds, the size of these trucks coupled with high speed, erratic driving, and loose debris create dangerous conditions for Tamiami drivers. Accidents involving large trucks can result in serious injury and, in some cases, death. If you or a loved one is a victim of a truck accident, contact our Tamiami truck accident lawyers at Gerson & Schwartz at 305-371-6000 for help.
For over 35 years, Ed Schwartz has helped truck accident victims defend their rights and receive the compensation they deserve. Ed is a board certified attorney in the State of Florida, serving clients with personal injury and wrongful death claims. Ed is admitted to practice in all Florida courts and helps truck accident victims navigate through the complex insurance and legal. As an accident victim, you may be struggling to continue working, paying your medical bills, or fixing the damage to your car. The Tamiami truck accident lawyers at Gerson & Schwartz will review the merits of your claim and advise you of your options. Compensation from truck accidents that result in a fatality can be recovered through a wrongful death claim. If you have been severely injured in a large truck accident, don't go at this alone. Contact the attorneys at Gerson & Schwartz at 305-371-6000 for a confidential and free consultation.
The Tamiami Large Truck Accident Lawyers work with truck accident victims to help them get the compensation that they need to recover from their injuries. We serve clients in many ways including:
Attorney for wrongful death suits involving truck accident fatalities in Tamiami
Tamiami left-hand turn truck crash lawyer
Negligent truck driver injury accident attorney in Tamiami Attorney for truck head-on collision accidents in Tamiami
Intoxicated truck driver crash injury lawyer in Tamiami Lawyer for truck accident fatigued driver in Tamiami
Tamiami flying debris truck accident attorney
Travelling wrong direction truck crash injury lawyer in TamiamiAttorney for pedestrian injured in truck accident in Tamiami
Tamiami truck accidents with Uber drivers
Tamiami Large Truck Accident Victims
Accidents involving large trucks can cause serious injuries. Common injuries include burns, amputations, and spinal cord or brain damage. Injuries of this nature are not only severe, they are often life-changing. Accident victims may require long-term treatment, such as medical procedures and in-home assistance.
Causes of Large Truck Accidents
Truck drivers are often under extreme pressure to meet delivery deadlines. Drivers who are fatigued, distracted, or impaired, along with skipped maintenance checks, can cause accidents. Large trucks also require significant training, experience, and skill to operate. Inexperienced or untrained drivers who cannot properly operate a large truck may also cause accidents.
There are many factors that play into evaluating a truck accident. Our Tamiami truck accident lawyers understand this process and will take the time to investigate the many complexities of a truck accident case. This includes identifying the parties who may share responsibility in the accident and the levels of insurance coverage. Other factors include assessing potential mechanical failures of equipment and whether proper maintenance was done.
Tamiami Truck Accident Attorneys
There are many complexities in a large truck accident injury case. Not only can they cause severe, possibly fatal, injuries to its victims, there are many other parties and factors to consider. Consulting a personal injury attorney to review the merits of your case can help to ensure that you file an appropriate claim. The attorneys at Gerson & Schwartz will represent your interests to insurance companies, outside lawyers, and other parties involved. Victims who have been injured in large truck accident are encouraged to call the Tamiami Large Truck Accident Lawyers for a free consultation. If you have been injured, you have rights. Call Gerson & Schwartz at 305-371-6000 today.