West Miami Truck Accident Lawyer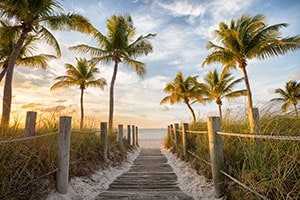 If you or a loved one were the victim of a truck wreck, contact a West Miami truck accident lawyer at Gerson & Schwartz P.A. today. We have represented accident and injury victims for more than 50 years, including the victims of serious and fatal truck accidents. We can help you pursue compensation for your injuries. Or, if you lost a loved one, we can guide you through a wrongful death claim. In either situation, we will fight hard for you to receive the maximum amount of compensation possible.
To talk with us about your experience, call Gerson & Schwartz P.A. at (877) 475-2905 to schedule a free consultation.
Trucking Accidents in West Miami, Florida
West Miami, Florida is a small town of approximately 8,100 people. It is located in Miami-Dade County. Miami is located to the north. The Alameda neighborhood of Miami shares a border with West Miami. Coral Gables is also to the east. The Granada neighborhood of Coral Gables shares the east border. Coral Terrace is to the south and west. Some major streets within the community are SW 8th Street/Highway 41, SW 57th Avenue/State Route 959, SW 67th Avenue, SW 16th St, and Coral Way.
On these streets and throughout the area, commercial trucks share the roads with smaller, personal vehicles. You may not think about how many semis and 18-wheelers are in the neighborhood until you or a loved one are in an accident.
Other commercial trucks involved in accidents in West Miami may include:
Garbage Trucks
Delivery Trucks
Mail Trucks
Flatbeds
Cement Mixers
Dump Truck
Tow trucks
Refrigerator Trucks
Tankers
Hazardous Materials Vehicles
If you or a loved one are in an accident with any of these vehicles, you should contact a West Miami truck accident attorney as soon as possible. Our lawyers at Gerson & Schwartz P.A. are well-versed in Federal Motor Carrier Safety Administration (FMCSA) regulations and experienced in investigating truck crashes. We will get to the bottom of what happened, identify whether any regulations were violated, and help you pursue compensation.
Common Causes of Trucking Accidents
Our trucking accident lawyers in West Miami have handled truck wreck claims arising from all sorts of circumstances. Over the years, we have found that some of the most common causes of these crashes include:
Distracted driving
Failing to keep a lookout
Blind spots
Impaired driving
Fatigued driving
Brake failures
Mechanical failures
Wide turns
Illegal or improper turns
Negligent maintenance
Negligent hiring and retention
Unsecured or improperly loaded cargo
Vehicle defects
To determine the underlying cause of the truck accident that caused your injuries or the loss of a relative, you need to work with a veteran truck accident attorney in West Miami. Our legal team at Gerson & Schwartz P.A. will conduct a thorough investigation.
We may recommend filing a lawsuit right away. Through the discovery process, we can gather information that is controlled by the truck driving, trucking company, maintenance provider, cargo owner, and other potentially liable parties. Discovery is an essential part of truck accident litigation and will give us access to evidence that may establish the cause of the crash and expose the liable party.
FMCSA Regulations
One issue that makes trucking accidents different than typical car crashes is federal regulations. Motor carriers and truck drivers must strictly adhere to many FMCSA regulations, including in regard to the size and weight of a truck, inspections and maintenance, and how long truckers drive within certain periods of time (hours of service regulations).
When our West Miami truck accident attorneys investigate the crash, we will look for evidence that one or more parties violated any federal laws. Evidence of regulatory violations can be used to support your claim for compensation.
Truck Accident Compensation
After suffering injuries in a West Miami truck accident that was someone else's fault, you can work with a veteran attorney to pursue full and fair compensation for your injuries. At Gerson & Schwartz P.A., we work hard to fight for you to receive the maximum compensation for your:
Medical Expenses
Lost Income
Physical Pain and Suffering
Emotional Distress
Disability
Disfigurement
Reduced Earning Potential
Loss of Normal Life
Loss of Consortium
Fatal Truck Accident Claims
If your parent, spouse, or child lost their life in a trucking accident, do not hesitate to reach out to our West Miami lawyers for truck accidents. With nearly five decades of experience, we have the knowledge, resources, and skills you need to successfully pursue a wrongful death lawsuit.
We will fight for you to receive compensation for your loved one's medical bills, funeral and burial expenses, pain and suffering, financial contributions, and the value of their companionship and services.
Call Gerson & Schwartz P.A. Today
If you or a family member were involved in a trucking accident, and you are not sure of what to do next, call our West Miami truck accident attorneys at (305) 371-6000. You also can reach out through our online form or call info@gslawusa.com. We want to hear from you so that we can answer your questions and advise you of your rights and options under the law.
Do not hesitate to schedule a free, confidential consultation. Se habla Español.