Wynwood Personal Injury Lawyer
Injury Attorneys in Wynwood Representing the Rights of Victims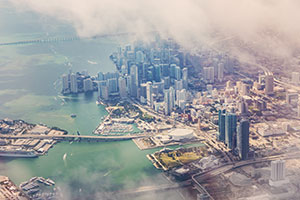 Personal injuries come from many sources and in many different levels of severity. What do they have in common? When personal injuries occur in accidents cause by the negligence of others, Florida law entitles victims to compensation from the party or parties that caused the accident. The Wynwood personal injury lawyers at Gerson & Schwartz have decades of experience representing accident victims in the greater Miami area and know how to maximize personal injury victims' claims in order to ensure that all of their losses are fully compensated. Whether you were injured in car, auto, slip and fall accident, or were a victim of crime, our personal injury attorneys serving Wynwood are here to help.
Wynwood – a neighborhood north of downtown Miami – was originally an industrial area. It has grown rapidly and is now home to a thriving Art District and Fashion District. It has become a diverse home of art, food, and shopping from a mix of cultures. Like any other neighborhood in the area, people in Wynwood are regularly involved in serious, injury-causing accidents like car wrecks, pedestrian accidents, motorcycle accidents, slip and falls, and crashes caused by distracted driving. Anyone hurt in an accident caused by someone else should have their case evaluated by a personal injury attorney in Wynwood as soon as possible.
Some of the types of accident our personal injury lawyers serving Wynwood and other parts of Miami, Dade County, Florida include:
Our Miami Accident and Personal Injury Lawyers are Here to Help
Burns: Burns are a complicated form of injury. Not only do they make a patient susceptible to secondary infections and diseases, but they often lead to permanent complications. A person who causes you to be burned is responsible for all immediate, latent, and secondary consequences of these burns.
How can a person be found legally responsible for causing your burns? Usually, a burn is caused by some specific source of ignition: an electric appliance, an open flame from a candle or a gas stove, flammable material or chemicals, etc. If this source can be traced to someone who had a legal duty to control it (ie, the manager of a candle store), that person is legally obligated to compensate your burn injuries.
Hazardous materials: Hazardous materials are designated as such for a reason – they are dangerous! Because they are dangerous, the law imposes a higher duty of care for those who manufacture, transport, sell, or even store chemicals. They must take specific precautions to safely use the hazardous materials under their control.
Slips and falls: Slip and fall accidents can be deceptively severe. What at first seems like a short trip or small bruise can later reveal permanent disfigurement, injury, or pain. This is especially true for elderly patients, who are at increased risk for secondary complications after a slip and fall accident. It is important to seek medical treatment – both immediate and ongoing – after a slip and fall accident.
Car accidents: Anyone injured in a car accident is legally entitled to be compensated by the person who caused the injuries. This includes all involved drivers, but also extends to passengers, bicyclists, motorcyclists, bystanders, and anyone else who was injured as a direct result of the car accident.
Boating accidents: Like motor vehicle operators, boat operators have a legal duty to operate their boats with care. A boat owner who neglects this duty is liable for any injuries he or she causes. This includes collisions with boats, jet skis and other watercraft, but can also extend to slip and fall accidents which occur on the boat or gangway.
Cruise ship injuries: Injuries can occur during shore excursions, in a cruise ship pool, on slippery decks and gangplanks, and in many other nooks and crannies of a large cruise ship. More importantly, cruise ship owners have a special duty of care to make their ships safe for the guests who have paid to occupy them.
Dog and animal attacks: Animal attacks don't just immediate injuries (such as cuts and bruises) – they can also introduce harmful bacteria that can result in a serious infection. Animal owners have a legal duty of care to control their pets. This duty is heightened with dangerous breeds of dogs. Some insurance companies will not even insure a home with a dangerous dog breed living on the premises.
Call Gerson & Schwartz, P.A. Today to Schedule a Free Consultation With a Wynwood Personal Injury Lawyer
The Wynwood personal injury attorneys of Gerson & Schwartz, P.A. have over 50 years of experience protecting the rights of personal injury victims in Wynwood and the greater Miami area. Call our office today at (305) 371-6000 or toll free at (877) 475-2905 to schedule your free consultation with an attorney, or email us through our online contact form. We will protect your right to be compensated for your injuries.