Aventura, Florida Uber Car Accident Attorneys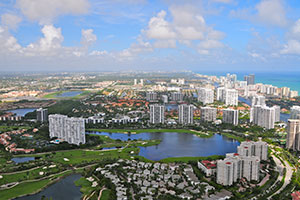 Aventura is a suburban city located in Miami-Dade County and is perhaps best known as a shopping destination. The city is the home of the Aventura Mall, the largest shopping center in Florida and the second-largest shopping center in the entire United States. Many people opt to use the Uber ride-sharing service in Aventura, Florida. Unfortunately, accidents can happen when you're riding as an Uber passenger. At Gerson & Schwartz, our Aventura Uber accident lawyers work with injury victims in the South Florida area. To schedule a free consultation with an Uber accident lawyer in Aventura, email us through our online contact form or call our office today at 305-371-6000.
Skilled Lawyers Representing Uber Accident Victims in Aventura
Because of its location within the Miami metropolitan area, Aventura is a short drive away from downtown Miami, the beaches, and major international airports. It's a popular destination for tourists, who often use services like Uber to get around. Unfortunately, many visitors to Aventura will find themselves the victims of Uber accidents while there.
Our Aventura Uber Accident Lawyers Work Victims Injured in Southern Florida
An Uber accident can be difficult to navigate. For this reason, it's advisable to work with an experienced Aventura Uber accident attorney. At Gerson & Schwartz, our legal team has helped accident victims who have been injured due to:
Car accidents
Distracted driving
Bicycle accidents
DUI-related collisions
Pedestrian accidents
Injuries to children
Brain injuries
Spinal cord injuries
Catastrophic injuries
Rear end collisions
Rollover accidents
Chain reaction accidents
Motorcycle crashes
Truck accidents
Auto & motor vehicle accidents
Uber Drivers are Human and Make Mistakes
Because Uber drivers are not required to undergo specialized driving training before they are allowed to give rides to members of the public, their driving skills are what one would expect from the average driver on the road. Thus, they are just as likely to get into accidents as any other non-professional driver. A few very common reasons why Uber drivers get into accidents include:
Distracted driving: Distracted driving is a major cause of car accidents, and Uber drivers face many distractions. Your driver may be adjusting the Uber app on his phone, trying to find a better radio station, or engrossed in conversation with his passengers.
Speeding: It's often difficult to maintain the recommended speed limit, especially in busy urban areas where Ubers are common. However, speeding can cause accidents because it decreases the amount of time your driver has to react changes around him.
Driving under the influence: Drunk driving should not be something you have to worry about while in an Uber, but a surprising number of Uber drivers have been accused of driving under the influence while working. The dangers of drunk driving are well known, and those dangers do not become any less acute for Uber drivers.
Reckless driving: As we said, Uber drivers are ordinary human beings who sometimes may engage in unsafe driving practices. Whether it's tailgating, changing lanes too quickly, or generally acting aggressive, reckless driving often leads to accidents.
Urban driving: Uber usage is much higher in congested, urban areas, where the risk of hitting other cars or pedestrians is much higher than in more suburban or rural areas.
Uber's Insurance may not be Enough to Cover Your Injuries
Uber maintains insurance policies that protect its riders as well as unwitting third parties who may be injured by an Uber driver. The company splits its insurance coverage into three phases:
Phase 1: The period of time that the driver has the app on and is waiting for a ride request. During this time, drivers are covered by Uber's insurance policy for liability to a third party if they are at fault in an accident. This coverage is $50,000 in injury liability per person, $100,000 in total liability per accident, and $25,000 in property damage liability per accident.
Phase 2: The period of time that the driver has received a ride request and is on their way to pick up the passenger. During this time, the driver is covered by $1 million in total liability coverage, $1 million in uninsured or underinsured motorist bodily injury coverage, and contingent collision and comprehensive coverage for the driver's vehicle.
Phase 3: The third and last phase of an Uber journey is the time that a rider is in the driver's car. The coverage for this portion is the journey is the same as for Phase 2, except that the rider in the car is also covered.
Even with these insurance coverages, however, it is not uncommon for an Uber accident victim's injuries to exceed the policy maximums.
Speak With an Aventura, Florida Uber Accident Lawyer About Your Case Today
The Uber accident attorneys in Aventura at Gerson & Schwartz are here to help those who have been injured when they were riding in a car operated by an Uber driver. Since 1970, we have been dedicated to representing the rights of the injured throughout Aventura and the South Florida area. Contact us to schedule a free initial consultation to talk about the circumstances of your accident. Reach out today by calling (877) 475-2905 or by filling out our contact form.