Aventura Personal Injury Lawyer
About Aventura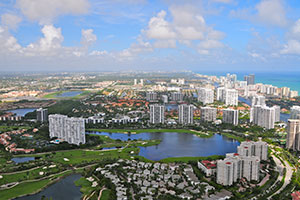 Aventura, a city located on the boarder of northern Miami-Dade County, Florida, is a Spanish word for "adventure." When condominiums were originally being built in the area, one of the developers made a remark of "what an adventure this is going to be" and the city was later named accordingly. The 2010 United States Census Bureau reports a Aventura Florida with a population of 35,762 for this city that spans 3.2 square miles. Aventura is proud of its recent developments, such as the building of their first charter school (in 2003), a community recreation center, a park expansion at Founders Park, the Waterways, and an arts and cultural center. The city of Aventura primarily relies on retail and medical businesses to drive its economy.
Aventura is best known for the Aventura Mall, the 5th largest shopping mall in the United States. The city is also known for its luxury resort Turnberry Isle and the Aventura-Turnberry Jewish Center, a place where Bill Clinton delivered a speech before leaving the White House. The Jewish Center is reflective of the city's substantial Jewish population, who mostly came from Argentina, Cuba, Columbia, Venezuela, Brazil, France, Russia, Portuguese, Germany, Canada and Israel. Aventura is also known for its high population of Brazilian residents, comprising of 1.9% of the total United States population in the year 2000. Cuban residents are also prevalent, as they make up 2.89% of the city's entire population.
When you go to Aventura, you can expect to shop at fine retail stores, stay at large resorts, visit parks and recreation centers, and be provided with convenient medical care if necessary. For a small city, Aventura has it all. What happens, on the other hand, when you can no longer enjoy yourself because you have become injured at one of these places? Who will be able to help you deal with the substantial injuries involved in an accident that was negligently caused by someone else? If you do ever find yourself in this unfortunate situation, be sure to receive prompt medical care for your injuries, contact information for any witnesses and police reports if applicable. Then you should contact a personal injury attorney to make sure that you will not be burdened with the financial stress associated with such an accident.
Personal Injury Lawyers Ease Financial Burden
Here at Gerson & Schwartz, P.A., we want to help you recover from your injury as soon as possible so that you can go out and enjoy all that cities like Aventura have to offer. We want you to be able to handle the situation without being stressed about how much it's going to cost. During our free consultation, we will gather information about your incident and discuss the legal implications involved. If someone else is legally responsible for your injuries, then we will provide you with assistance in obtaining the financial compensation you deserve. We have experience handling all types of personal injury cases including, but not limited to, medical malpractice, dog bites and motor vehicle accidents. Our dedicated attorneys are here to assure you that they will strongly advocate for your rights so that you can primarily focus on your recovery.