Broward County Crime Victim Lawyer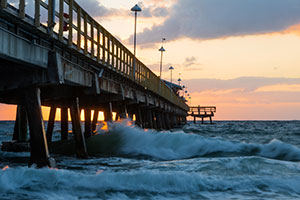 If you were the victim of a crime and injured because a property owner failed to provide adequate security, contact a Broward County crime victim lawyer at Gerson & Schwartz P.A. For over 48 years we have focused on helping crime and accident victims the people who hurt them responsible. We are knowledgeable regarding the personal injury claim process in Florida, including when personal injury claims are impacted by related criminal cases.
Whether you were the victim of assault and battery, robbery, sexual assault, or another crime in Broward County, we are here to help. Call us at (877) 475-2905 or you can reach our Broward County office at (954) 845-0535.
Crime in Broward County
Broward County is located in South Florida. With a population of more than 1.95 million, it is the second most populous county in the state and the 17th most populous county in the country. Broward County is part of the Miami metropolitan area as well, which is home to more than 6.19 million people.
Broward County is a diverse area. It has 31 municipalities, consisting of 24 incorporated cities and many towns and unincorporated areas. Some of the largest cities in the county are Fort Lauderdale, Pembroke Pines, Hollywood, Miramar, Coral Springs, Pompano Beach, Davie, Sunrise, Plantation, and Deerfield Beach.
These areas all experience property and violent crime to different degrees. Our Broward County crime victim attorneys have helped individuals injured in crimes in vastly different areas of the county and on all types of property, including apartment and condo complexes, hotels, motels, restaurants, bars, clubs, large box stores, and smaller stores.
If you were the victim of a crime on public or private property in Broward County, contact us right away. A crime victim lawyer in Broward County will investigate whether the property owner owed you a duty of care, and if so, whether that property owner had installed and maintained appropriate security based on the crime in the area.
Your Options After Being Injured in a Crime in Broward County
If you were hurt when someone committed a violent or sexual crime against you, you may believe your only option is to hope for the perpetrator to be convicted of a crime. However, this is not your only option. You can file a personal injury claim against the offender and/or a premises liability claim against the property owner who failed to protect you.
Whether or not the perpetrator is charged with a crime is up to a prosecutor. Then, whether the perpetrator pleads guilty, obtains a plea deal, or is convicted at trial is out of your hands. All you can do is cooperate with the police and prosecutors, testify at a trial, and hope the judge or jury does the right thing.
But even if the offender is convicted, this will not address your medical bills, pain and suffering, and other injuries. To address your physical, psychological, and financial injuries, you should speak with our Broward County crime victim lawyers about filing a personal injury or premises liability lawsuit and pursuing a settlement or court award.
If you were on another person or business's property lawfully, then the property owner owed you a duty of care. That property owner should be aware of the risk of crime in the area and responded appropriately. The greater the crime rate in the area, the more security the property owner should provide.
Unfortunately, many individual and corporate property owners fail to install and maintain adequate security. They know their customers, patrons, or guests could be victims of crime, and the ignore the risk. This is known as negligent security.
If the property owner failed to install appropriate security and you were injured in a crime that could have been prevented, you may have the right to file a premises liability claim and demand compensation.
We Handle Injury Claims Arising From All Types of Crime
At Gerson & Schwartz P.A., we help people who were injured in crimes that took place in Broward County as well as Broward County residents who were harmed elsewhere.
Do not hesitate to contact us regarding:
Crimes on cruise ships
Crimes at hotels
Crimes at motels
Crimes that targeting tourists
Crimes in public housing complexes
Sexual assault and rape
Child sexual abuse
Assault and battery
Robbery
Burglary
Carjacking
Shootings
Drunk driving accidents
We Are Proud of Our Work Helping Crime Victims
Helping crime victims recover compensation after being hurt isn't just something we do, it is something we are passionate about. Senior partner Philip M. Gerson is a member of the National Crim Victims Advisory Board and was previously president of the organization. We also serve as pro bono counsel for the Trauma Resolution Center, which helps crime victims and witnesses get early intervention and treatment. Philip M. Gerson also has been a member of the board of directors for many years.
Schedule a Free Consultation with a Crime Victim Lawyer in Broward County
When you or a loved one are the victim of a crime, it can feel like you have no options, like there is nothing you can do and no one who can help. There are resources out there, and we want to connect you with them. Contact Gerson & Schwartz P.A. today at (954) 845-0535 or by emailing info@gslawusa.com to schedule your free consultation.
We will direct you toward appropriate local resources that can help you deal with being the victim of a crime. We also will advise you on whether you may have a valid premises liability claim against a property owner as well as the potential value of your claim.