Broward County Personal Injury Lawyer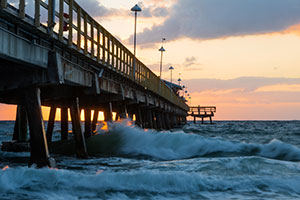 If you've been hurt in an accident in Broward County, you should contact the team at Gerson & Schwartz as soon as you can. With 50 years of experience, our attorneys are able to get our clients the compensation to which they are entitled and not afraid to take difficult cases to trial.
At Gerson & Schwartz, our Broward personal injury lawyers assist injury victims in the Fort Lauderdale, Miramar, Hollywood, and other cities throughout South Florida. To schedule a free consultation with one of our lawyers, call our office today at (954) 845-0535 or (877) 475-2905. You can also send us an email through our online contact form.
Personal Injury Lawyers in Broward County Helping Accident Victims Obtain Compensation for Their Losses
Broward County is the 17th most populate city in the United States. It also ranks as the second most populated county in Florida. Broward County attracts locals and tourists to experience activities ranging from nature and wildlife areas to museums and historical sites such as the New River Inn and the S.S. Copenhagen shipwreck. Fort Lauderdale is the county seat of Broward County. Gone are the days of "Spring Break" for college students as the city actively sought to remove itself as a destination by passing strict laws. Broward County hosts concerts and art shows in Fort Lauderdale's Riverwalk Arts & Entertainment District, which runs from the beach to the downtown area. It is increasingly known as a popular destination for people seeking the resort lifestyle.
Injuries May Involve Negligence of Others
Often, when someone is injured by a dangerous condition, that dangerous condition is caused by lack of care (or "negligence" as it is referred to in legal terms) by another person or company. At Gerson & Schwartz, we are qualified to represent victims of any type of negligence, and regularly help people who have been hurt by:
Money damages might be available to injury victims and their families if an injury occurs due to the fault or negligence of another person or business. When an individual is faced with medical bills and everyday expenses and is unable to work due to injuries suffered, he or she can quickly fall behind.
If another party is to blame for the accident or incident that caused your injuries, you may be entitled to money damages to compensate you for:
Medical expenses
Lost wages
Property damage
Physical pain and suffering
Emotional distress or mental anguish
Our attorneys at Gerson & Schwartz have been representing our clients for 50 years, helping them to recover compensation for their injuries.
Should You Call a Lawyer When You or a Loved One Suffers an Injury?
Following an accident, people are often upset, confused, and uncertain how to prioritize everything that needs to be done – from filing insurance claims to dealing with medical care and medical bills. Interacting with another person or company's insurance company can be daunting, and you may inadvertently harm your own interests if admissions are unintentionally made, or information is provided that helps another party disclaim liability.
It is best to contact a lawyer as soon as possible following an accident due to time constraints on filing a lawsuit and to preserve your claim. Filing a lawsuit in a Florida court is a complicated task that our experienced Broward County personal injury attorneys at Gerson & Schwartz have undertaken cases on behalf of clients for nearly 50 years. Our attorneys can:
Thoroughly investigate the incident to identify all potentially responsible parties to sue.
Collect and preserve evidence and document identities and contact information of witnesses.
Contact and negotiate with the defendant's insurer.
Attempt to settle the case without going to court.
File a lawsuit.
Even if some time has passed and you have taken some steps but now feel overwhelmed, one of our experienced lawyers can take over your case.
Contact a Lawyer in Broward County for a Free Consultation
If you've been hurt in an accident in South Florida, you should call a lawyer as soon as possible. The personal injury lawyers in Broward County at Gerson & Schwartz are here to help you get the compensation to which you are legally entitled. Our attorneys' experience in personal injury law makes us the first choice for many injured victims in South Florida, including Broward County. We will provide you with a free consultation so that you can ask questions and learn more about the process of filing a claim.
Reach out today by calling us at (954) 845-0535 or (877) 475-2905 or by filling out our contact sheet. Don't delay. Call us today.