Broward County Truck Accident Attorneys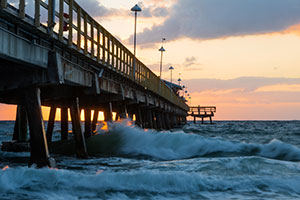 Truck Crash Lawyers in Broward County Helping Victims Obtain Compensation
Every year, many people visit the Everglades and find themselves on unfamiliar roads in Broward County, Florida. Occasionally, accidents can happen. If you have been injured in a truck accident in Broward County, contact a lawyer at Gerson & Schwartz. Our Broward County truck accident lawyers assist injury victims injured in South Florida. To schedule a free consultation with one of our lawyers, call our office today at (954) 845-0535 or (877) 475-2905 or send us an email through our online contact form.
Broward County was named for Napoleon Bonaparte Broward, who was governor of Florida from 1905 to 1909. While governor, Broward pushed for drainage of the Everglades in a quest to turn the Everglades into agricultural land. At that time, people did not understand the ecological importance of the Everglades. Working with the federal government, Broward even brought President Teddy Roosevelt to see the drainage project and Roosevelt backed his efforts. Today, the Everglades are protected within the Everglades National Park, the largest subtropical wilderness in the United States. Everglades National Park is an important habitat for the manatee, crocodile, Florida panther and thousands of other species. The Everglades unique wilderness and beauty attracts visitors from all over the United States and other countries as well.
Were You Injured in a Truck Accident?
If you have been injured in an accident involving a truck or other commercial vehicle and the other driver was at fault, you may be entitled to compensation for medical care, lost wages, pain and suffering, and other damages.
Truck accidents often cause serious personal injuries or death of drivers and passengers in cars and other smaller vehicles. These accidents and injuries impact occupants of 4,000-pound cars more often than occupants of a 40,000-pound truck.
Truck accidents may be caused by lack of care or negligence of the truck driver or equipment malfunctions. Sometimes both of these factors are causes of a truck accident, resulting in multiple responsible parties.
A driver may be negligent by failing to take enough rest breaks or get enough sleep, driving carelessly or recklessly, speeding, not paying attention to traffic, or by being distracted by something in the cab such as a cell phone or GPS map. All of these activities endanger other vehicles and their occupants. A driver looking at his GPS may fail to notice stopped traffic in front of him, causing a devastating multi-vehicle pile-up. A driver who is driving too fast for the conditions may lose control on a curve or wet road and jackknife into other vehicles. The resulting injuries are often difficult to deal with and may cause lifelong impairment, or death.
A trucking company may fail to inspect or repair worn or broken parts, resulting in brake failure or tire blowouts among other possibilities, resulting in loss of control of the truck and causing an accident.
Should You Call an Attorney if You are Injured in Truck Accident?
It is important to contact a lawyer as soon as possible after you are injured in a truck accident, especially since trucking companies will very likely contact their lawyer immediately. Trucking companies have many available resources to dispute fault or liability. It is interesting to note that the Federal Motor Carrier Safety Administration recently launched a program designed to enable trucking companies to dispute certain truck crashes that were classified as "preventable" using a national data-correction system.
The trucking industry is highly regulated because of the increased danger that large commercial vehicles pose on roadways. Truck drivers are required to take, and log, adequate rest breaks. Many trucks are now equipped with data recording "black boxes" that record speed, distance, and time spent driving. These recordings can show whether the driver took adequate rest breaks and a lack of downtime for required maintenance or upkeep.
An investigation is often launched when a truck is involved in a serious collision. The truck driver and trucking company will often vigorously dispute fault and try to place at least some of the blame on the driver of the other, smaller vehicle.
Our attorneys at Gerson & Schwartz have been representing clients for 40 years, helping them to navigate complicated accident situations and recover compensation for their injuries. Our attorneys know how to counter a truck driver's or trucking company's attempts to avoid liability for your injuries. We will work to negotiate a settlement of your claim or, and if that is unsuccessful, we can file a lawsuit in a Florida court.
Contact a Lawyer in Broward County for a Free Consultation
Personal injury lawsuits in Florida are subject to strict time constraints within which to bring a lawsuit. The truck accident lawyers in Broward County at Gerson & Schwartz have extensive experience in personal injury law making us the first choice law firm of many injured victims in South Florida. Contact us for a free consultation where you can ask questions and find out more information about your claim. Reach out today by calling (954) 845-0535 or (877) 475-2905 or by filling out our contact sheet.