Broward County Truck Accident Attorneys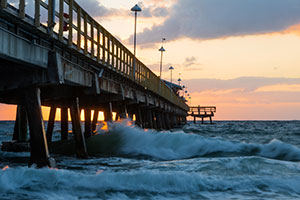 Trucks are a common sight in Broward, but unfortunately, truck accidents in Broward are quite common, as well. Data compiled by the Federal Motor Carrier Safety Administration reveals that large commercial vehicles were involved in 480,000 accidents in the country in 2015. These accidents resulted in 97,000 serious injuries and 3,838 fatalities. If you or a loved one has been injured in a truck accident in Broward, you can suddenly find yourself facing large medical bills, lost wages from time off work, and many other financial and personal losses.
After a truck accident, one of the best steps that you can take is to speak with a knowledgeable attorney as soon as possible. At Gerson & Schwartz, our lawyers understand just how devastating truck accidents can be. We also know that obtaining compensation after a truck accident can be a complex process. That is why we invite you to contact us today to speak with an attorney; we are committed to fighting for the results you deserve. Call us at (305) 371-6000, or toll free at (877) 475-2905.
Accidents Involving Florida Trucking Companies
Many trucking companies operate in the Florida area. Some of the trucking companies that may be involved in your Florida truck accident include the following:
American Freight Inc. Trucking & Freight Broker
B4 Logistics Inc.
Coleary Transport Co Incorporated
Comet Delivery Services
Delta Trucking Service
Freightbilt Transport
Global Trucking
Igwonw
Jo Al Inc.
Lanter Delivery Systems
Miller Transport
Mrom Incorporated
Nationwide Transport Services
NTT Cargo
Skylite Logistics
Teresi Enterprise
Transeco Corporation
Tri Rail
Fully loaded tractor-trailers can weigh up to 80,000 pounds. When this weight collides with a passenger vehicle, it is often the case that the passenger vehicles cannot withstand the impact. Victims of truck accidents in Broward end up with devastating and life-threatening injuries more often than not. Victims of truck accidents can seek compensation for the losses they have sustained; family members who have lost loved ones in truck accidents can file a wrongful death claim to recover compensation for their financial losses, as well. We can help with both.
Common Types of Truck Accidents in Broward
Truck accidents happen in many different ways. The following are some of the most common forms of truck accidents in Florida:
Cargo spills. Truck drivers sometimes fail to adequately secure cargo, which can fall out of the vehicle and cause serious injuries to occupants of smaller vehicles.
Jackknifes. Both the tractor and trailer of an 18-wheeler are connected to a coupling. When the coupling either fails to operate properly or a trailer is thrown off balance, jackknifing can occur, and the trailer can swing out perpendicular to the tractor, often blocking an entire roadway and causing multi-vehicle accidents.
Override. When trucks rear-end other small vehicles, substantial damage can occur. In some cases, trucks even drive over the back seat of smaller vehicles, trapping the cars beneath them.
Rollovers. Trucks have a high center of gravity when compared to passenger vehicles. As a result, when truck drivers either speed or turn corners too quickly, there is a substantial risk of rollovers. Rollovers can not only result in trucks colliding with other vehicles, but they also result in debris spilling into the road that can trigger multiple-vehicle accidents.
Runaway trucks. When a truck driver loses control of a truck, deadly accidents often result.
Underride. These accidents occur when a smaller vehicle crashes into the back of a truck that stops suddenly or during side-impact accidents.
Common Causes of Florida Truck Accidents
The Federal Motor Carrier Safety Administration reports that driver error is responsible for many truck accidents in Broward. Other common causes of truck accidents include the following:
Aggressive drivers
Distracted drivers
Drivers who fall asleep at the wheel
Drivers who combine the operation of a truck with alcohol and/or drugs
Drivers who tailgate
Drivers who fail to follow traffic laws
Drivers who speed
Inadequately trained or inexperienced truck drivers
Liability for Truck Accidents
Truck accidents in Broward can be overwhelming for injured victims, and it is often difficult to determine which party to pursue for compensation. Some of the various parties that can be held liable for damages include:
Shipping companies
Trucking companies
Truck drivers
Truck manufacturers
Statute of Limitations in Truck Accident Lawsuits
Following truck accidents, victims often suffer financial devastation. Medical bills pile up, while victims are unable to work and lose out on necessary wages. Truck accident victims need to be made whole again, and they need to receive compensation for their damages as soon as possible. Another reason to reach out to a truck accident lawyer as soon as possible is that Florida law puts a time limit on personal injury claims. If you wait too long, generally over four years, you may not be able to legally pursue compensation at all.
Speak With a Truck Accident Attorney Today
The attorneys at Gerson & Schwartz have substantial experience helping truck accident victims fight for the compensation that they deserve. Contact our law office today to schedule your free case evaluation.