Calder Casino Accident Lawyer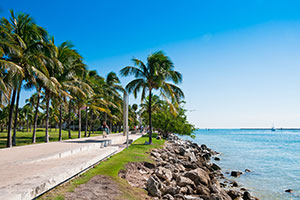 Calder Casino is located in Miami Gardens, Florida. The 10,000-square-foot casino opened its doors in 2010, offering residents and visitors of Miami-Dade County 1,100 slot machines, a player's club, a VIP lounge, and bars and restaurants. While the casino is still relatively new, it has not stopped from innovating and expanding. In May 2018, the Backyard Casino opened just outside Calder Casino. It is the area's largest smoking friendly open-air casino. While many people enjoy Calder Casino for a night out or a day off from work, there is always a risk of accidents. Casinos are large, busy places, and all it takes is one person's carelessness to put a guest at risk.
If you were injured at Calder Casino or the Backyard Casino in Miami Gardens, do not hesitate to contact a Calder Casino accident lawyer from Gerson & Schwartz P.A. We have decades of experiences handling personal injury claims. We have held all types of business responsible for the harm caused to their customers, clients, and guests. When you call us for help, we will thoroughly investigate your situation, gather evidence, and guide you through pursuing compensation. For more information on what we can do for you, call our Miami-Dade County office at (305) 371-6000.
Common Casino Accidents
Guests of Calder Casino and of other gambling and entertainment venues in South Florida face a number of risks. While the premises should be safe for them, it is not uncommon for casino management and employers to fall behind on their responsibilities. When casino employers are negligent, guests are at risk for:
Slip and Falls: Guests at casinos may slip and fall or trip and fall because of spilled liquids, recently mopped or waxes floors, loose or torn carpet, clutter on the floor, and poorly lit walkways and stairs. Whether a guest is on the casino floor, in a hotel area, in a restaurant, or in the parking lot, their path should be clear and safe. Anyone who is injured in a fall at a casino should speak with an accident lawyer for Calder Casino.

Unsafe Conditions: Slip or trip and falls may be the most common premises liability claim, however, they are not the only way guests may be hurt at a casino. Visitors to Calder Casino may be hurt if they are in a vehicle accident, struck by an object inside the facility, or ingest contaminated food or beverages. If you are injured in any type of accident at Calder Casino, and you believe it was because of a hazard on the property, contact us right away.

Inadequate Security & Crime: Casinos are often a target for crime, including theft, robbery, assault, and sexual assault. In fact, Calder Casino made the news in 2011 for an armed robbery executed by five individuals. The robbery, which involved a Calder employee, lead to the death of a Brinks guard. This tragic offense is an example of the importance of thorough casino security. Incidents like this and more minor offenses can be extremely dangerous to guests, both financially and physically. Guests who are injured in a crime at Calder Casino should speak with an accident attorney for Calder Casino about whether the casino had adequate security. There may be evidence that the crime could have been prevented had there been better security measures, such as more guards or surveillance cameras.

Excessive Force by Security: While some casinos lack adequate security, others have overzealous security guards. If a guest is accused of causing trouble, cheating, or becoming inebriated, a security guard or member of management may use excessive physical force and cause that victim harm. When a member of the casino's security personnel harms a guest, that individual should speak with a lawyer right away.
Pursue Compensation After a Calder Casino Accident
When you are hurt while visiting a casino, it is important you seek medical care first. Your health and safety should be your highest priority. Once you have been cared for, the next best step is to call an experienced attorney. Our personal injury lawyers at Gerson & Schwartz P.A. have been practicing in the Miami area for close to 50 years. We have represented many individuals injured at South Florida casinos, and we always fight for them to receive the most compensation possible for their physical, emotional, and financial injuries.
Our Calder Casino accident attorneys will thoroughly investigate your accident to determine who is at fault and whether the casino is liable. We will gather as much evidence as possible to prove liability, which will enable us to seek compensation. We may guide you through the insurance claim process and/or a civil lawsuit to gain compensation for your:
Medical costs
Lost wages
Physical pain and suffering
Mental anguish
Scarring or disfigurement
Physical limitation
Lower earning capacity
Loss of normal life
To learn more about your legal rights and options after being injured at Calder Casino, please reach out to us at Gerson & Schwartz P.A. You can contact us online or call (877) 475-2905 to schedule a free consultation.