Coral Gables Motorcycle Accident Lawyer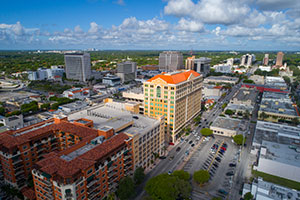 Sustaining personal injuries due to a motorcycle accident in Coral Gables means that you probably need to talk to a Coral Gables motorcycle accident lawyer as soon as possible. The early stages after a motorcycle accident are extremely important. Your lawyer can tell you what to do with the collected evidence from the scene and what they will do to gather additional information. This can include witness statements; surveillance video collection; accident reconstruction experts performing on-scene inspections; and consulting with any type of expert necessary to make your case as compelling as possible. The Coral Gables motorcycle injury attorneys at the law firm of Gerson & Schwartz know what to do to help you after your Coral Gables accident. Call us for your free consultation at (305) 371-6000, or toll free at (877) 475-2905.
For over 50 years, we have been helping serious injury victims and their families recover compensation for all types of motorcycle crash cases in Coral Gables, South Miami, and other areas of South Florida. From head on collisions, read end collisions, crashes due to excessive speeding, failing to yield, distracted driving, to accidents with commercial vehicles. Contact a lawyer in our office if you or a loved one were seriously injured in a motorcycle crash in Coral Gables. Our motorcycle injury attorneys serve clients that work, live and reside in the area. We can help explain your legal rights and remedies after a crash. If a fair settlement offer is not made, we won't hesitate file a personal injury lawsuit for your Coral Gables motorcycle accident claim.
Coral Gables
Coral Gables is located minutes from the Miami personal injury offices of Gerson and Schwartz located at 1980 Coral Way in Miami. The city of Coral Gables is home to more than 51,000 people. The median value of housing units that were owner occupied is more than $695,000. There are more than 17,000 households in Coral Gables. The population average for each square mile in 2010 was 3,621 and Coral Gables is comprised of almost 13 square miles. Coral Gables is proud of its culture including fine dining, gardens, pools, theaters, museums and historic sites.
Dangerous Roadways motorcycle accidents occur in Coral Gables may include:
Motorcycle accidents at South Dixie Highway or US1
Lejeune Road and Coral Way motorcycle accidents
Bird Road motorcycle accidents
A motorcycle crash on Miracle Mile
Motorcycle crashes on Ponce De Leone
Motorcycle accidents on Coral Way and Anderson Avenue
Old Cutler Road from Red Road to Sunset Motorcycle accidents
Granada Boulevard Motorcycle injury crash cases
Alhambra Circle motorcycle accidents
Motorcycle accidents at SW 57 Ave and Lejeune
CocoPlum Circle motorcycle crashes
Motorcycle accidents at Sevilla between SW 57 Ave and Lejeune
Coral Gables Motorcycle Injury Attorneys
It is the experience of our Coral Gables motorcycle accident attorneys that motorcycle crashes produce some of the most devastatingly serious injuries of any type of vehicle accidents. First, motorcyclists lack the protection of a vehicle and are directly exposed to the elements and injury causing forces. Second, the speed of vehicles and motorcycle often plays a direct role in the severity of the injuries and wrongful deaths on motorcycles in Coral Gables.
At Gerson & Schwartz, our motorcycle injury attorneys for Coral Gables accidents have worked aggressively for victims injured or killed in motorcycle accidents for more than 50 years. Over those years, we have helped our clients in the following capacities:
Coral Gables motorcycle injury attorneys
Motorcycle injury lawyers for Coral Gables left-turn motorcycle accidents
Coral Gables Uber accident lawyer for motorcycle accidents
Lyft injury attorney for Coral Gables motorcycle accidents
Coral Gables motorcycle injury lawyer for truck accidents
Coral Gables rear-end motorcycle crash lawyer
Injury attorney for Coral Gables motorcycle injury accidents with buses
Coral Gables motorcycle injury attorney for collisions with taxis
Lawyers for Coral Gables motorcycle injury victims injured by drunk drivers
Coral Gables motorcycle injury lawyers for victims of distracted drivers
We can advise you on what to do after your Coral Gables motorcycle accident as well. Here are some things to keep in mind based on the experiences of our Coral Gables motorcycle injury attorneys:
Make sure you are safe from oncoming traffic
Call 911
Make sure you take photos and video of the scene and the vehicles involved if possible
Don't admit fault. Until you have all the facts, it is impossible to know the level of culpability of everyone involved. But if you make a premature confession of guilt, it can be used against you at a later date and time.
Get the medical help that you need
Get the names and phone numbers of potential witnesses
Call an experienced Coral Gables motorcycle injury lawyer as soon as possible.
Motorcycle Injury Lawyers Helping Victims in Coral Gables
Now you may think that you don't have the money to go through expensive personal injury claims and litigation. But you don't have to worry about that. We handle cases on a contingency basis, so you will pay us only when we recover for you. We will get reimbursement for our case-related expenses as well as fees only from the compensation we get for you. Call us now at (305) 371-6000. Let's start with a free no-obligation consultations and work together to help you get the compensation you deserve for your Coral Gables motorcycle injury accident .
Our motorcycle injury lawyers serve clients that are serious or catastrophically injured in Coral Gables, Coconut Grove, The Roads, and other areas of South Miami. Contact us today for a free consultation.