Coral Gables Slip & Fall Lawyer
Slip and Fall Attorneys in Coral Gables Protecting the Rights of the Injured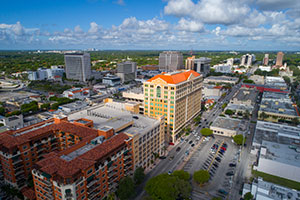 If you or a loved one has been injured in a slip and fall accident you need an experienced attorneys who will protect your legal rights. Without hiring an experienced lawyer, you may not be compensated for your injuries. The Coral Gables slip and fall lawyers at Gerson & Schwartz have over 46 years of experience protecting the rights of slip, trip and fall accident victims in Coral Gables and the greater Miami area. We know what to do. If you were injured don't wait and contact our personal injury law offices to learn offices can do for you. It costs nothing to meet with us and all cases are handled on a contingent fee agreement.
More about Coral Gables Slip and Fall Accident Claims
Coral Gables, Florida was designed to be an international destination. It also one of the oldest communities in South Florida. It therefore boasts not only a diverse population, but also more than twenty consulates and foreign government offices. It is also home to more than one hundred and forty multinational corporations. Coral Gables was designed with a high aesthetic standard. Formed around a theme of Mediterranean Revival architecture, the city integrates a lush variety of gardens. This has earned it the nickname of "the City Beautiful".
The Gables is a city that is both a major employment, educational, and is a center and a major tourist destination, it is inevitable that accidents and injuries will happen. Home of the University of Miami and conveniently located close to downtown Miami, the Gables is a popular destination for residents, tourists and students alike.
Gerson & Schwartz injury law offices are located minutes from Coral Gables. The firm is also well known as premier provider of legal representation for accident, injury and wrongful death claim including slip and fall accidents in the Coral Gables and the Miami area.
Where Do Slips and Fall Accidents Occur?
A slip or fall can occur just about anywhere. There are, however, some particularly risky locations. Be especially cautious around: Our Coral Gables Slip and Fall Lawyers have experience representing clients injured due to
Slip trips and falls on stairs, steps, and escalators;
Parking lots and common areas in public spaces. Any location that is not well lit can endanger the safety of others. This can make it more difficult to see obstructions and hazards resulting in a trip, slip or fall;
Grocery stores slip and fall accidents. Produce tends to fall, squish, and become slippery.
Department stores slip and falls;
Shops that sell liquids (such as a liquor store). This increases the risks of encountering unexpected puddles;
Restaurant slip & fall accidents due to leaky ice machines and ice coolers. Spilled ice can form clear puddles which are difficult to see; Industrial refrigerators and freezers in stores. These can leak, also forming puddles that are unexpected and hard to see;
Slip & falls in assisted living facilities. Slips in assisted living facilities are common. Many residents have limited mobility and need walking aids or assistance and are highly susceptible to slips and falls.
What Types of Medical Care Can Be Compensated for A Slip and Fall in Coral Gables?
Medical expenses are one of the most common components of a personal injury award. In some cases, it is fairly straightforward. For example: after an accident, a victim goes to the emergency room, has x-rays, and fills prescriptions for pain medication. It is clear that these expenses were related to the same accident.
However: insurance companies spend hundreds of thousands of dollars every year training their adjusters to pay as little as possible … even when they agree that their insured client is responsible for causing the accident. Because of this, insurance companies will often claim that medical expenses are not the result of the accident. This can be difficult to establish when an accident triggers an old injury. (The liable party is still legally required to compensate the victim for exacerbating his or her injury, but the insurance company will use this opportunity to confuse the issue and pay less.)
Pain management is also an area where insurance companies will pay as little as possible. Because pain is entirely subjective and difficult to measure, this, too, is an opportunity for the insurance companies to offer as little as possible. Anytime a victim utilizes physical therapy, chiropractic services, acupuncture, or other pain management services, an insurance company will attempt to deny all or part of the cost of those services.
Other Damages Often Available in Coral Gables Slip, Trips, & Falls
Medical expenses are just one example of the kinds of losses that slip and fall accident victims can often recover. Under Florida law, both economic and noneconomic damages are recoverable, so victims can usually obtain compensation for losses like lost income, loss of quality of life, physical and emotional pain and suffering, and property damage. In some cases, you may even be able to seek punitive damages, which are intended to punish a negligent party for particularly wrongful conduct and to deter others from engaging in similar activity.
Call Gerson & Schwartz, P.A. Today to Schedule a Free Case Evaluation with a Coral Gables Slip and Fall Attorney
Call Us Today at 305-371-6000
The Coral Gables slip and fall lawyers at Gerson & Schwartz, P.A. have over 46 years of experience protecting the rights of slip and fall accident victims. Our personal injury law offices are located minutes from Coral Gables making it convenient for injury victims to meet a slip and fall lawyer in our Coral Gables law offices.
If you or a loved were injured in a Coral Gables slip and fall don't wait. Call our office today for a free case consultation at (305) 371-6000 to schedule your free consultation with one of our attorneys. You can also email us through our online contact form, and one of our friendly, professional staff members will contact you as soon as possible.