Coral Way Car Accident Lawyer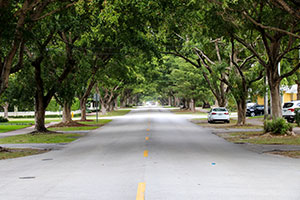 Each year, residents of Coral Way are involved in car accidents. With its close proximity to the Tamiami Trail and other major roadways, Coral Way can have thousands of cars travelling through and around the city each day. The sheer number of cars on the roadways makes car accidents a regular occurrence, ranging from relatively minor property damage to significant injury and possibly death.
In 2017, there were 388,032 car crashes, resulting in 2,892 fatalities and 246,285 injuries in Florida. Victims of car accidents may have injuries that prevent them from working. Often times, they need to seek medical care and repair their cars. Families who lost someone that they love in a car accident are struggle emotionally and financially after their loss. Our Coral Way car accident lawyers can help answer your questions about obtaining medical treatment, recovering lost wages, wrongful death claims, and compensation for property damage. If you or a loved one has suffered injuries or a fatality as the result of a car accident and would like to speak to a Coral Way car accident lawyer, contact the personal injury law offices of Gerson & Schwartz at 305-371-6000 for a free consultation.
Coral Way is a collection of older neighborhoods located in Miami. The neighborhood of Coral Way has a population of almost 58,000 people, with many commuting to nearby cities for work. Several homes in Coral Way homes were built in the 1920's and 1930's with their architecture influenced by the trends of that day, including art deco, revivalist, and bungalow styles. There are hundreds of mature trees lining the streets and medians, and lawns. Restaurants, coffee shops, fitness centers, and shops are located along Coral Way, as well as parks and libraries are scattered throughout the neighborhoods.
Contact a Car Accident Attorney
Our car accident lawyers on Coral Way serve clients in the capacity of:
Coral Way wrongful death car accident attorney
Coral Way road rage car accident attorney
Left turn car accident lawyer in Coral Way
Coral Way lane change car crash and accident attorney
Car accidents attorney in Coral Way parking lots
Coral Way Uber accident attorney
Distracted driver car accident attorney
Coral Way negligent driver car lawyer
Wondering if you have a case? Have questions? Contact a PI lawyer at Gerson & Schwartz law offices at 305-371-6000 for a free consultation.
Common Injuries in a Car Accident
Injuries in car accidents typically occur as the result when parts of the body hit the interior of a car, such as a head hitting the side window or an airbag deploying. Other objects that fly around the car upon impact, such as shattered glass, can cause injury. Injuries common in a car accident include;
Broken bones
Traumatic Brain Injuries
Head injuries
Herniated Disks
Fractures
Cuts, scraps, and bruises
Chest injuries
Torn or strained muscles
Organ Damages
Burn Injuries
Lacerations
Loss of Bodily Function
When injured in a car accident, it is important to seek medical treatment quickly to prevent further damage. Injuries that appear relatively minor can cause great damage and pain if left untreated.
Coral Way Car Accident Victims
Drivers are have a responsibility to operate their cars with due care and ensure the safety of those on the road. Car accidents may result when drivers operate their cars in a reckless manner, such as speeding, running red lights, or erratically changing lanes. Drivers who are distracted, impaired, fatigued, or intoxicated may not be able to concentrate on the roads and operate their cars safely, resulting in accidents. Other factors, such as slippery roads, bad visibility, or roadway obstacles can result in car accidents.
Car accident victims that have been injured may not be able to work. They often have high medical bills and may require continued care. Vehicles and other property damaged in the accident may require repair or replacement. Seeking representation will help car accident victims to recover lost wages, pay for medical expenses, receive continued care and rehabilitation, and repair damaged property. Seeking representation will help car accident victims to receive the compensation needed to recover from the accident and restore their lives.
Coral Way Car Accident Attorneys
The Coral Way car accident attorneys at Gerson & Schwartz can help you and your family to get on the path of recovery. We can answer your questions. We can help. If you or your loved one has been the victim of a car accident, contact the Coral Way car accident lawyers at Gerson & Schwartz at 305-371-6000 for help.