Coral Way Motorcycle Accident Lawyer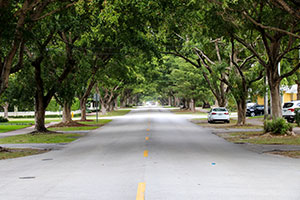 Each year, residents of Coral Way are involved in motorcycle accidents. Motorcycle riders are more likely to be hurt or killed because they do not have the same protection as passengers in an automobile have. Victims who have been injured may not be able to work or they are unable to pay for medical treatment. Our Coral Way motorcycle accident lawyers can help answer your questions about paying for medical treatment, recovering lost wages, wrongful death claims, and compensation for property damage. Our attorneys can guide you through the process back to recovery. If you or someone you love has suffered injuries as the result of a motorcycle accident and would like to speak to a Coral Way motorcycle accident lawyer, contact Gerson & Schwartz at 305-371-6000 for a free consultation.
Coral Way is a group of neighborhoods located in Miami. The area was named after the famed "Coral Way" street that connects Miami and Coral Gables. The picturesque neighborhoods in the Coral Way area have a historic feel, as many of the homes are almost 100 years old. The most notable neighborhood within Coral Way is known as Shenendoah, which was established back in 1919. Homes in this neighborhood often date back to the 1920's – 1930's and were inspired by revivalist architecture. The drive along Coral Way attracts many tourists, as historic homes and neighboring streets are surrounded by hundreds of banyan and citrus trees. Located along the streets are several shops and restaurants.
Why Contact a Motorcycle Accident Attorney?
Our Motorcycle Accident Lawyers are located at 1980 Coral Way and serve clients in the capacity of:
Coral Way wrongful death motorcycle attorney
Coral Way road rage motorcycle accident attorney
Left turn motorcycle accident lawyer in Coral Way
Coral Way lane change motorcycle accident attorney
Motorcycle accidents in Coral Way parking lots
Coral Way motorcycle highway accident attorney
Distracted driver motorcycle accident attorney
Coral Way negligent driver motorcycle lawyer
Wondering if you have a case? Have questions? Contact Gerson & Schwartz at 305-371-6000 for a free consultation.
What Causes Motorcycle Accidents?
Motorcycle accidents can occur for many reasons. In some cases, accidents may occur due to road obstructions, slippery conditions, or heavy traffic. All drivers are expected to operate their vehicles with reasonable care to ensure the safety of their passengers and others on the road. Common causes of motorcycle accidents include;
Drivers who fail to obey traffic signs and lights
Failure to use mirrors or check blind spots before changing lanes
Tailgating
Changing lanes or turning without using signals
Sharing lanes with motorcycles
Distracted drivers using cell phones or texting
Impaired, intoxicated, or fatigued drivers
Inexperienced drivers
Motorcyclists who are involved in an accident with a car or truck may have serious and life-changing injuries. Injuries that are common in a motorcycle accident include in damage to the head or brain, broken bones, burns, back and spine injuries, disfigurement, and loss of limbs. Severe injuries may impact the victim's ability to work or may require rehabilitative treatment for an extended period of time. Victims may experience long-term pain as a result of their injuries. Victims of motorcycle accidents are encouraged to know what their rights are in order to receive the compensation that they deserve. Our Coral Way motorcycle accident attorneys can help victims and their families to recover lost wages, pay for medical treatment, and receive compensation for pain, suffering, and mental anguish.
Coral Way Motorcycle Accident Attorneys
The Coral Way motorcycle accident attorneys at Gerson & Schwartz can help you and your family to get on the path of recovery. If you have lost a loved one, we can help with a wrongful death suit. We can answer your questions. We can help. Call Gerson & Schwartz at 305-371-6000 for your free consultation.