Downtown Miami Bike Accident Lawyer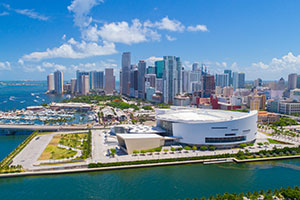 The Downtown Miami bike accident attorneys at Gerson and Schwartz are available for free initial consultations with bike accident victims who suffered or sustained personal injuries. Reach our bilingual attorneys at (305) 371-6000 to learn about your options for financial recovery from the event.
Downtown Miami Bike Accidents
The urban landscape in Downtown Miami allows for wide use of bikes. The area is quite congested, with daily population of 250,000 people living, working, and enjoying at less than four square miles. It is located next to the Atlantic Ocean and has an infrastructure connecting it to neighboring Allapattah, Brickell, Coral Way, Edgewater, and Little Havana. But riding a bike here is not that simple. When bike riders get by with honking and road raging by motor vehicle drivers, that's not the worst trouble they could get into. Bike accidents are common here. It comes as no surprise that our Miami personal injury attorneys often assist these people find justice as:
Bike riders' lawyer for bridge accidents in Downtown Miami
Downtown Miami attorneys for rear-end collisions with bike riders
Drunk driving bike accidents lawyer in Downtown Miami
Bike accidents with Uber drivers' lawyer in Downtown Miami
Attorneys for wrongful death claims due to bike accidents in Downtown Miami
Downtown Miami attorneys for bike accidents involving Uber Drivers
Bike pedestrian injury accidents lawyers in Downtown Miami
Sideswipe and merging bike accidents attorney in Downtown Miami
Rollover bike accidents attorney in Downtown Miami
Downtown Miami bike accidents lawyer with Lyft Drivers
Left turn bike accidents lawyer in Downtown Miami
Road rage motorcycle bike accident attorneys in Downtown Miami
Downtown Miami T-bone bike accident lawyer
Attorneys for head-on collisions with bicycles in Downtown Miami
Commuting by bike would be part of the solution for the congested Downtown Miami traffic, but the treatment cyclists receive from other drivers doesn't encourage that. All of South Florida is flat, there is sun all year round, but Floridians still prefer driving motor vehicles. Moreover, the urban landscape hasn't improved since cars were everyone's preferred choice, so the bike riding culture cannot blossom in Miami as it has in many other places in the US and around the world.
Downtown Miami Bicycle Accident Injuries
There are around 200 cyclists who get injured on Miami streets. Up to five of them do not survive the accidents. The numbers say that riding a bike in Miami is dangerous. Bicyclists should be particularly careful on larger streets and avenues, as well as the intersections between them.
If a bike rider rides on a bike lane without recklessly speeding, chances are that someone else may be responsible for the accident. There is no place for motor vehicles on bike lanes. If you were riding your bike on the street with motor vehicles, then they still have a duty to respect you. If someone failed to do so and his or her behavior caused an accident and led to injuries, you can pursue financial compensation for your damages. You may be entitled to claim recovery for:
Medical costs
Medical devices and medication costs
Scarring
Disfigurement
Pain and suffering
Temporary or permanent disability
Lost wages
Loss of financial support
To determine whether you should claim damages recovery, how much your case could be worth, and how to get recovery as soon as possible, call our Downtown Miami personal injury lawyers at (305) 371-6000 and get your free advice. We don't ask fees unless we recover.
Downtown Miami Bike Accident Lawyers
If you have suffered serious injuries in a Downtown Miami bike accident, then you will probably have expenses and losses due to the accident. If that's the case, you should pursue damages recovery from the responsible person and the insurance company, but not alone. Insurance companies know how to handle do-it-yourselfers and get rid of them by paying them only a fraction of what should be paid to them. Instead, call us at Gerson and Schwartz and let us help you with our four decades of experience. Our bilingual Downtown Miami bike accident lawyers are reachable for free consultation at (305) 371-6000. Call and learn about your options for free of charge. We don't ask for fees unless we recover damages for you.