Downtown Miami Personal Injury Attorneys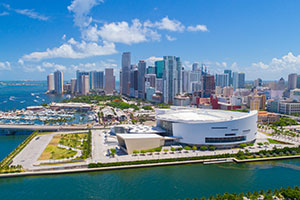 There are many things to love about downtown Miami. From eating a meal at the world-class Cuban influenced restaurants to catching an outdoor concert at Bayfront Park, visitors and residents are never at a shortage of exciting things to do. With all of the traffic and options for entertainment in Downtown Miami, accidents do happen. Have you been injured in an accident? Wherever you were injured, you face a potentially long road to recovery that could cost tens of thousands of dollars—or more.
At Gerson & Schwartz, our personal injury attorneys in Downtown Miami have decades of experience representing clients just like you. Our law offices are located at 1980 Coral Way. We are minutes from Flagler and the Miami Dade County Court House. Call us today to schedule your free consultation. Call (305) 371-6000, or toll-free, (877) 475-2905, or contact us online.
Contact a Downtown Miami Injury Attorney Today if You Were Injured in an Accident
Crime is a problem in Downtown Miami. However, downtown is also where many people are injured due to someone else's negligence, carelessness, or recklessness. Over the years, we have seen every type of injury claim imaginable. But we have helped our clients get justice too.
From construction accidents, super market slip, trip and falls, car accidents and crime victim cases at bars and night clubs. With the emergence of the Miami Club scene such as Eleven, Space, Heart Night Club, and Club Space located on North Miami Avenue, we have seen many serious and catastrophic injury cases for those injured on the job or at a night club.
Whether you live or work on Brickell, at the Omni, or in the Historic Art District our law firm is can help. Some of the most common personal injury claims our attorneys have experience in for accident victims in the Downtown Miami area include claims for:
Personal Injury Lawyers in Downtown Miami, Florida Protecting the Rights of Injured Victims
Gerson and Schwartz PA's Downtown, Miami injury attorneys also handle serious accident and injury cases, including:
Contact a Downtown Miami Injury Attorney Today
Fortunately, Florida law allows injured victims to receive compensation for their injuries even if their own actions or inactions contributed to their injuries. This scheme is called "comparative negligence," and it allows you to recover money damages so long as someone else was at least 1% responsible.
However, the amount of compensation you can receive will be reduced directly by your proportion of fault. For example, say you did not wear a seatbelt when someone rear-ended you. Because of your negligence, you have contributed to your cracked ribs and concussion. If the jury finds that you are 40% responsible for your injuries, the amount of money you receive will be reduced by 40%. If your injuries are worth $50,000, you will only receive $30,000, or 60%.
What Can Financial Compensation Cover?
Injured victims can receive compensation for any economic and non-economic loss caused by a negligent, reckless, or careless act. For example, you can receive money to compensate for:
Past, present, and future medical expenses;
Lost wages and loss of earning capacity;
Scarring and Disfigurement
Rehabilitative Services
Damage to your vehicle or other property involved in the accident;
To estimate how much may entitled is based on to the amount of medical bills, receipts, and replacement services. Documentation will help our lawyers calculate the amount of compensation you are legally entitled.
Not all injuries are physical. For example, many of our clients suffer severe emotional or psychological harms including:
Pain and Suffering
Emotional and Psychological Harms
Loss of the Enjoyment to Lead a Normal Life
These damages are non-economic, yet they are still very real. After a particularly devastating crash, many people suffer emotional upheaval which leaves them completely changed from the type of person they were before being injured.
Other non-economic losses include pain and suffering that attends any physical injury, as well as potential changes to your intimate relationships, called "loss of consortium." Like emotional distress, these injuries are harder to calculate. However, our lawyers in Downtown Miami rely on our experience to estimate the amount you are likely to receive.
Confused About Where to Turn? Call Us for a Free Consultation (305) 371-6000 or (877) 475-2905
With over 100 years of experience, the Downtown Miami personal injury lawyers at Gerson & Schwartz have handled some of the toughest cases in Florida. To schedule your free consultation, contact us online or call (305) 371-6000 or toll-free at (877) 475-2905.