Downtown Miami Car Accident Attorney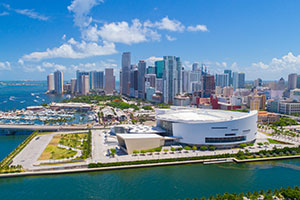 The Florida Highway Safety Department reports that 403,626 car accidents occurred in the state in 2018. This number marks an increase from the 395,785 accidents that occurred in the state in 2016. One of the factors that downtown Miami as well as the rest of Florida relies on to keep the number of accidents in the state low are traffic safety laws and regulations. Unfortunately, not all Miami drivers follow these rules. As a result, no matter how safe you try to keep your loved ones, it is impossible to eliminate the risk of ending up in a car accident. If you or a loved one has been involved in a car accident, an experienced Downtown Miami car accident lawyer at Gerson & Schwartz P.A. will help you fight for the compensation you deserve.
By calling us today at (305) 371-6000 or completing our online contact form, you can retain the assistance of an experienced attorney who understands that obtaining compensations as a car accident victim is not easy. Juries who are tasked with enforcing these regulations are often hesitant to award the full amount that accident victims deserve.
Our experienced car accident lawyers in Downtown Miami know how to hold all responsible parties accountable for the injuries and losses they have caused to others. While it is easy to feel overwhelmed after a car accident, you should not worry about how you will pay for legal fees because we do not charge anything unless we are successful in obtaining compensation for you.
About Downtown Miami
While it was overlooked by residents and tourists for many years, downtown Miami today claims the third biggest skyline in the country and an endless number of reasons to visit. Besides its scenic view, downtown Miami also offers outdoor spaces as well as countless nightclubs, restaurants, museums, galleries, Bayfront park, and the Adrienne Arsht Center for the Performing Arts. Beginning in the 1920s, downtown Miami also has plenty of historic locations including the Freedom Tower, which was once the headquarters for Miami News and is now a cultural icon.
Many tourists to downtown Miami choose to stay at the Holiday Inn Hotel Port of Miami-Downtown, Hilton Miami Downtown, and InterContinental Miami. Downtown Miami sees a huge number of visitors every year, which is why it also sees many car accidents. Other car accidents are caused by intoxicated and distracted motorists. If you are the victim of a car accident, a seasoned personal injury attorney in downtown Miami can help.
Who is Responsible for My Car Crash?
All motorists, pedestrians, and everyone else who traverses downtown Miami's roads understands that Florida's traffic regulations are designed to keep us safe. Florida Statute Chapter 316 contains the various regulations that decrease the risk of car accidents. As time passes, however, data shows that fewer people in downtown Miami are following these regulations.
One factor that has led to an increase in traffic accidents is that motorists face a growing number of distractions, including talking on the phone, texting, eating, playing with the radio, putting on makeup, and eating while driving. Even if a driver's attention is taken off the road for a mere second, devastating accidents can occur.
When accidents occur in Florida, one question that commonly arises is who should be tasked with paying for the injured victim's expenses. A car accident lawyer in Downtown Miami can do the work necessary to hold the driver who caused the accident responsible. At Gerson & Schwartz, our attorneys will make sure that you have the strongest legal strategy possible.
From the initial review of your case to the award of compensation, we focus on providing compassionate service and providing accident victims with immediate updates and answers to any questions that arise along the way. We can help you as:
Downtown Miami truck accident lawyer
Bike crash injury attorney in Downtown Miami
Head-on collision injury lawyers in Downtown Miami
Rear-end accident law firm in Downtown Miami
Downtown Miami Defective vehicle law firm
Downtown Miami hit-and-run accident attorneys
Accident lawyers for injury victims in Uber Car Crash Cases
Fatal Car Accident law firm in Downtown Miami
Contact an Experienced Downtown Miami Car Accident Lawyer
Our attorneys can guide you through the entire personal injury claim experience. We ensure your rights are protected through settlements, verdicts, and appeals. At Gerson & Schwartz, P.A., a Downtown Miami accident lawyer will remain dedicated to investigating, coordinating, litigating, and fighting for the results that you deserve as a victim of a car accident.
Contact our law office today at (305) 371-6000 to schedule a free case evaluation. After a collision, you deserve an attorney who will fight for the best possible outcome in your case. Se Habla Espanol.