Hallandale Beach Bike Accident Lawyers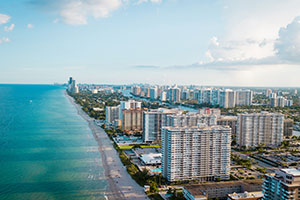 In terms of environment, Hallandale Beach has all it takes to be a bikers' paradise, but many of the areas to bicycle are hazardous. Some of the best Hallandale Beach bike accident lawyers regularly receive calls by injured bikers who want to know if they are entitled to compensation, how much their case is worth, and how to get compensated as soon as possible. Calling a Hallandale personal injury attorney right after the accident is a wise move. If you want to recover compensation, then good legal advice should get you on the right path.
At Gerson & Schwartz, our Hallandale Beach bike accident attorneys always advise people to be cautious with any settlement offers quickly offered by insurance companies. These packages are smaller than victims deserve. Insurance companies use them just to get rid of yet another claimant who wants to get fully compensated. If you are in the same situation, don't accept anything but call our Hallandale bike accident and injury lawyers at Gerson and Schwartz for help. Our consultations are free. You'll tell us about your case, and we can give you our opinion as to whether any settlement offer is worth considering. In addition, we'll let you know about your options to the best of our experience with cases like yours.
We handle cases on a contingency basis, which means that we never charge fees before recovering damages for our clients. Contact us now at (305) 371-6000.
Hallandale Beach Bike Accidents
Hallandale Beach is a city in the southern part of Broward County. It is located next to the Atlantic Ocean coast, so it's no wonder why so many people are biking around. Unfortunately, bicycle accidents also happen. There are 20-30 bike accidents every year. Luckily, there hasn't been a wrongful death due to a bike accident in Hallandale Beach since 2014.
Hallandale Beach has 40,000 residents. The city is surrounded by Hollywood on the north, Aventura on the south, and Pembroke Park on the west. The motto of the city is: "Progress. Innovation. Opportunity. City of Choice."
Hallandale Beach Bike Accident Attorneys
Our Hallandale bike accident lawyers often get calls from good folks who have issues with reckless motor vehicle drivers who don't respect cyclists enough and cause them injuries. Injured bikers can rely on our Hallandale Beach bike injury lawyers to serve them as:
Sideswipe and Merging Bicycle Accident Lawyer in Hallandale Beach
Injury Attorney for Hallandale Beach Bicycle Accidents with Uber Drivers
Accident Lawyer for Head-on Collisions with Bicycles in Hallandale Beach
Road Construction Bicycle Accident Lawyer in Hallandale Beach
Hallandale Beach Bicycle Riders Rear-end Collision Attorney
Personal Injury Law Firm for Bicycle Accidents with Lyft Drivers in Hallandale Beach
Left Turn Bicycle Accident Attorney in Hallandale Beach
Hallandale Beach Motorcycle Road Rage Bicycle Accident Attorney
Lawyer for Bicycle and Pedestrian Injury Accidents in Hallandale Beach
Hallandale Beach Intersection Bicycle Accident Attorney
Drunk Driver Injuring Bicycle Rider Lawyer in Hallandale Beach
Accident Attorney for Hallandale Beach Wrongful Death Claims Due to Bicycle Accidents
Personal Injury Attorney for Hallandale Beach Bicycle Accidents Involving Uber or Lyft Drivers
Depending on the circumstances of your case, you may be able to recover damages for all or some of the following legally recognized damages:
Medical costs
Medical devices expenses
Medication charges
Loss of income
Loss of financial support
Scarring
Disfigurement
Permanent or temporary disability
Pain and suffering
Call us now at (305) 371-6000 for free consultations and let's discuss your case. Here at Gerson and Schwartz, we know what to do for injured bicycle riders in South Florida. Our founder Phil Gerson has served our clients for nearly 50 years. His partners Ed Schwartz and Nick Gerson, Phil's son, round out our personal injury litigation team and they are here for you. All you need to do is to reach out to us, so we can help you after your Hallandale Beach bicycle accident. Remember, we charge fees only when we get our clients compensated.