Hallandale Beach Motorcycle Accident Lawyer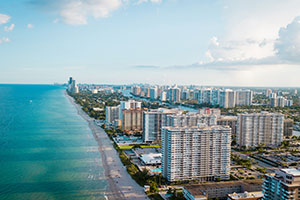 When you are seriously injured in a motorcycle accident in Hallandale Beach, one thing is sure: you must speak with the best Hallandale personal injury motorcycle accident attorney you can call as soon as possible. Deal with your most urgent physical injuries first, and then call a Hallandale motorcycle accident attorney to discuss your options for fair and complete compensation for your damages.
Motorcycle riders often suffer serious injuries due to the lack of protection and complete exposure to the forces and the environment. Helmets are the only real protection they have, but in many cases, that's enough just to avoid the injuries. These injuries will require visits to hospital and possibly some time out of work. That leads to medical costs, lost income, loss of financial support for dependents, and others forms of damages depending on the case. If the accident happened due to some level of negligence of another person, then you can pursue financial compensation against the at-fault driver or responsible insurance companies. If proven, you may be legally entitled to recover compensation for pain and suffering, scarring, disfigurement, disability, and other damages based on the facts of your case.
To get professional legal help in determining whether you are entitled to such compensation, call our Hallandale Beach motorcycle accident lawyers at Gerson and Schwartz for assistance. We are available for free consultations at (305) 371-6000, and we don't ask for fees until we recover. We serve our clients in the capacity of:
Sideswipe and Merging Motorcycle Accident Lawyers in Hallandale Beach
Attorneys for Wrongful Death Claims Due to Motorcycle Accidents in Hallandale Beach
Personal Injury Law Firm for Motorcycle Accidents in Hallandale Beach
Hallandale Beach Lyft Driver Motorcycle Accident Lawyer
Hallandale Beach Motorcyclist Rear-end Collision Attorney
Hallandale Beach Drunk Driving Motorcycle Accident Attorney
Hallandale Beach Road Rage Motorcycle Accident Injury Lawyer
Lawyer for Motorcycle Accidents with Uber Drivers in Hallandale Beach
Left Turn Motorcycle Accident Injury Attorney in Hallandale Beach
Motorcycle Pedestrian Injury Accident Lawyer in Hallandale Beach
Hallandale Beach Intersection Motorcycle Accident Lawyer
Injury Attorney for Head-on Collisions with Motorcycles in Hallandale Beach
Personal Injury Lawyer for Hallandale Beach Motorcycle Accidents Involving Uber or Lyft Drivers
Most of the accidents happen on the most dangerous intersections in the city. These include those hazardous intersections between Hallandale Beach Boulevard and I-95 Expressway and US 1. However, motorcycle accidents also occur on the smaller streets as well.
Florida leads the nation's list of motorcycle accidents and deaths. It has approximately one-fifth of all the accidents. Broward County, where Hallandale Beach is located, is third in Florida for motorcycle accidents behind the counties of Miami-Dade and Hillsborough. Riders who don't wear helmet are particularly prone to injuries and deaths.
Hallandale Beach is in the south end of Broward County in South Florida. It is bordered by Hollywood on the north, Aventura to the south, Pembroke Park on its western boundary, and the Atlantic Ocean on the east. The zip code of the city is 33009. There are a bit less than 40,000 residents in Hallandale Beach. Most of them are Caucasian, but the African American and Latin American communities maintain a solid percentage of the overall population. They are served by the Broward County Transit bus system, but Hallandale Beach also operates a free minibus connecting it with neighboring Aventura and Hollywood.
Hallandale Beach Motorcycle Accident Lawyers
Free consultations with experienced Hallandale Beach motorcycle accident lawyers is the best way to start moving towards full financial recovery from a serious motorcycle accident. Contact us at (305) 371-6000 and explain your case to us. By the end of the conversation, you'll understand your options to go forward. These consultations don't bring an obligation to hire us. But, if you do, we won't ask for fees until we recover damages for you.