Hialeah Motorcycle Accident Lawyers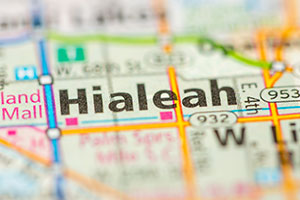 Gerson & Schwartz P.A. is a personal injury law firm founded by Philip M. Gerson in 1970. Our Hialeah motorcycle accident attorneys continue with our fourth decade of commitment to use all legal means to obtain justice for clients seriously injured in South Florida. Over the long time span that the firms injury lawyers have been committed to helping motorcycle accident victims and their families recover personal injury damages for serious and catastrophic injuries due to motorcycle crashes, pedestrian accidents and others serious injuries throughout, Hialeah, Florida and other areas in Miami-Dade County. Recognized as a top plaintiffs personal injury law firm has not come without hard work to make our justice system function as it should where injustice has harmed innocent victims throughout South Florida.
Motorcycle Accidents in Hialeah, Florida
In the state of Florida, there were 2,400 people killed in auto and motorcycle accidents in 2011, as reported by the Florida traffic crash facts. A total of 181,654 accident victims sustained injuries over the course of the year, and there were a total of 334,809 motorists involved in 227,998 motor-vehicle collisions.
Hialeah reported more than 300 traffic accident collisions. Hialeah, Florida has a population of 224,669 as of the 2010 Census and is considered to be the sixth largest city in the state of Florida. Although it is served by the Miami Metrorail, many people who live or commute to or through the area choose to drive. Unfortunately, when those who drive may operate their vehicles in negligent or careless manner creating motorcycle crashes which can lead to serious or catastrophic injuries and even death. If you or a loved one is hurt as a result of a careless or negligent driver or were injured in a motorcycle accident in Hialeah or another area of Miami-Dade County, it is important to understand your legal rights. A Hialeah motorcycle crash attorney at Gerson & Schwartz, P.A. can help. For a free consultation call (305) 371-6000 or email us at info@gslawusa.com
Hialeah Motorcycle Crashes
Hialeah is considered a significant commercial center. The city has many big box stores, as well as smaller local mom-and-pop shops, including clothing stores and eateries. The city is bordered by Hialeah Gardens, Miami Springs, Miami Dade County, Opa Locka and Westview, and spans a total of 19.7 square miles. Gerson & Schwartz PA lawyers have decades of experience representing injury victims and their families in motorcycle accident claims.
Contact a Hialeah Motorcycle Accident Lawyer
Unfortunately, in 2013, Slate and Allstate named Hialeah among the top five cities with the worst drivers. This is bad news for those who live in or drive to or through Hialeah, as a dangerous driver doesn't just put himself at risk. Speeding, failing to obey traffic signals and drivers who operate motor vehicles while they are drunk, drowsy, or distracted needlessly endanger all motorists, bicyclists and pedestrians. Vehicle operators that speed, follow too closely behind other cars, don't slow down for bad road conditions, or otherwise act negligent or do unreasonably careless things behind the wheel can cause death or other serious harms to accident victims.
Common motorcycle crashes in Hialeah, Florida may arise from:
Speeding
Failure to Yield Accidents
Improper Lane Change
Drunk Driving Accidents
Distracted Drivers
Following too Closely
Road Hazards
Texting and Driving
Alcohol or Drug Use
Dangerous drivers have clearly caused many accidents in Hialeah over the years, as there were 346 motor-vehicle collisions in the city in 2011. A total of 12 of those accidents involved alcohol-use by a driver. In the greater Miami-Dade County area, a total of 58 out of the county's 248 fatalities involved car crashes with a drunk driver.
No Attorneys Fees Unless We Recover
Drunk drivers can be sued for serious injury or for wrongful death damages by auto accident victims and their families. It is up to personal injury attorneys and accident victims to prove that the other motorist's intoxication contributed to the accident or collision, but a plaintiff doesn't have to specifically prove the other driver was negligent or otherwise reckless. This is because under Florida law, negligence per se rules dictate that a motorist who breaks a driver safety law and who causes an accident as a result is automatically negligent by virtue of breaking the law. Furthermore, under Florida law, comparative negligence is not a legal defense where there is gross negligence, or in cases where there is reckless disregard for the life and safety of others such as in a drunk driver accident claim.
When drivers engage in other high-risk behavior such as driving while texting or talking on the phone, Hialeah motorcycle accident victims will need to prove that a motorist was negligent or failed to act with reasonable care under the circumstances. In other words, reasonably careful driver would not have operated a vehicle in the same way. An experienced Hialeah accident lawyer at Gerson & Schwartz, P.A. can help injury victims take legal action. We won't hesitate to you take your case to trial if necessary. For more information on how we can assist you, talk to one of our lawyers today at (305) 371-6000, or contact us online today for a free and confidential personal injury consultation to make sure your legal rights are protected.