Hialeah Personal Injury Lawyer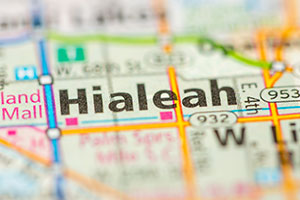 When people come to Hialeah, many come to relax and enjoy themselves. Others come to work for the vast number of businesses located in the city. Unfortunately, due to its dense population, accidents often occur in the city and can result in injury. Here at Gerson & Schwartz, P.A., we are here to help. With attorneys that are highly experienced in personal injury cases, our firm has helped many Hialeah residents on their road to recovery. We handle a variety of personal injury cases, including, but not limited to:
Crime Victims
Dog Bites
Medical Malpractice
Motor Vehicle Accidents (such as cars, trucks, and motorcycles)
Premises Liability
Product Liability
Ship Accidents (such as cruises, boating, and marine)
Slip and Falls
Security Negligence
Wrongful Death
No matter what type of accident you may have been involved in, you have the right to recover for your injuries caused by someone else's negligence. We will provide you with information regarding your legal rights and options so that you can make a sound decision. Not only will we provide you with a free consultation, but we will also not charge you anything unless you receive compensation first.
If you or a loved one has been injured or killed because of the negligence of another, call our firm today for a free consultation. A consultation with a knowledgeable attorney at Gerson & Schwartz, P.A., can determine if you are entitled to receive financial compensation for your injuries as well as for pain and suffering, loss of earning capacity and future medical care.
About Hialeah
Hialeah, a Native American term meaning "High Prairie", is the name of an independent city-state in Miami-Dade County, Florida. According to the 2010 United States Census, Hialeah is the sixth largest city in Florida with a population of 224,669, consisting mostly of Cuban and Cuban American residents. This city is praised for its continuously expanding business and industrial sector as well as for its neighborhood parks and recreational facilities. The Hialeah Fire Department is nationally ranked as Class I, a position which fewer than twenty five other fire departments in the country hold. Even well-known celebrities are connected to the city itself, such as the popular vocalist John Secada and pro-football player Vince Kendrick.
The Hialeah Park is one of the most popular attractions in the city. This park opened in 1925 on a 220 acre land and has been a home for horseracing ever since. Famous people around the world have been attracted to this park, such as the Kennedy family, Harry Truman, Winston Churchill and J.P. Morgan. Even Amelia Earhart said her final goodbye in 1937 to the continental United States from this park. Another park, Milander Park, can also be found in Hialeah and boasts a large municipal auditorium along with a 10,000 seat football stadium.