Hialeah Personal Injury Lawyer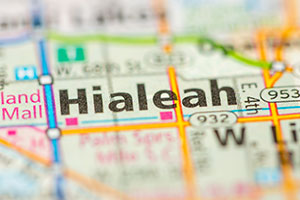 A bustling city within the Miami metropolitan area, Hialeah was home to nearly 225,000 people at the time of the 2010 U.S. census. Like any other city of its size, people who live in and visit Hialeah are exposed to a risk of significant injury at every turn. The way in which injury-causing accidents can occur can vary tremendously, but they all share one thing in common – when they are the result of someone else's negligence, victims are entitled to recover compensation under Florida law.
Providing Aggressive Representation to People Injured in Preventable Accidents
At Gerson & Schwartz, our Hialeah personal injury attorneys understand how important it is for victims to obtain justice after being hurt become of someone else's negligence, carelessness or reckless acts. We work with people who have been injured in Hialeah and Hialeah Gardens in wide variety of accidents, including the following:
Gerson & Schwartz lawyers also assist Hialeah accident victims and their families for wrongful death, catastrophic injuries and others victimized by inadequate or negligent security or otherwise victimized by crime.
Preventable Accidents in Hialeah Can Cause Extremely Serious Injuries
People who are injured due to crime or many other accidents may sustain life changing or extremely serious injuries, including spinal cord injuries, traumatic brain injuries, burn injuries, and other catastrophic injuries. If you have been seriously injured, it is highly likely that you are facing significant losses, including the following:
Pain and Suffering
Past and Future Medical expenses
Wage loss
Loss of earning capacity
Loss of capacity to lead a normal f
Physiological and emotional harm
Scarring and Disfigurement
Working With Accident Victims throughout Hialeah, Florida and the Surrounding Areas
Fortunately, these and other losses that you may have sustained because of a preventable accident are often recoverable by filing a personal injury claim. In many personal injury cases, the insurance company for the at-fault party may try to offer to settle the case rather than deny liability, as it may be cheaper to do so and fault may be so clear as litigating the issue would be wasteful. Accident victims in Hialeah should know that it is important to remember that the insurance company has no legal obligation to settle your case for what it is actually worth. For this reason, it is critically important to have an experienced injury attorney in Hialeah familiar with personal injury laws in Florida to review your case and determine how much it may be worth. By doing so, you can be sure that you only settle your case if the offer is reasonable. In addition, by having an experience injury attorney in Hialeah represent you in settlement negotiations so you can rest assured that you will not say or do anything that could imply that you were at all at fault for your accident.
Call Gerson & Schwartz Today to Speak With a Hialeah Personal Injury Lawyer
Accidents that are caused by the negligence or carelessness of others can have life changing consequences. Fortunately, there is help available. At Gerson & Schwartz, P.A. our experienced injury attorneys that serve Hialeah are committed to helping the victims of negligence recover for their losses. To schedule a free case evaluation, call our office today at (305) 371-6000 or toll free at (877) 475-2905 or contact us online.