Hialeah Slip and Fall Accident Lawyer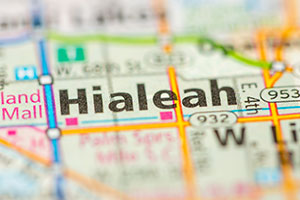 If you or a loved one had a slip and fall accident in Hialeah, then contact the Hialeah slip and fall lawyers at the personal injury law firm of Gerson and Schwartz for a free consultation at (305) 371-6000. Time is not on your side. The longer you wait, the greater the chance that evidence can disappear. You need to talk to a Hialeah personal injury lawyer as soon as possible. Starting off with our free consultation is the right way to go. We don't ask for fees until you are compensated.
Hialeah Slip and Fall Accidents Responsibility
Most often, people slip and fall in commercial businesses and Hialeah is abundant with them. There are plenty of restaurants, bars, shopping malls, casinos, golf courses, hotels, and other places where floors should be free of liquids and other slippery liquids. In addition, these businesses need to maintain the floors safely. But some of the time they fall short and fail. When that happens, the risk increases for guests and visitors and accidents can happen. Slip and fall victims may suffer from various types of injuries including head injuries, broken wrists, broken hips, brain injuries, back injuries, broken limbs, spinal injuries, and the list goes on. Those slip and fall injuries can lead to medical expenses, lost wages, pain and suffering, temporary or permanent disability, and other harms and losses that may be compensated by the person or company that caused the slip and fall through their negligence.
For such cases, it is important to know that these businesses may be held responsible for slip and fall accidents and injuries on their properties. They are not responsible for every accident. But where the owner or operator failed to take reasonable measures to prevent foreseeable accidents. are responsible for paying for it when the accident occurred at their premises. That means that every restaurant, shopping mall, casino, or any other commercial business must provide a reasonably safe environment for guests, customers and visitors. That includes clean floors and proper cleaning procedures. Sometimes they are wet and slippery due to their negligence, and that may lead to accidents and injuries as a result. When that happens, that business operator and owner may bear the responsibility for damages.
Hialeah Slip and Fall Accident Attorneys
Slip and fall accident cases are always a challenge. You claim that you did nothing wrong and were hurt due to their negligence. They refuse responsibility, saying that the accident never happened, it wasn't their fault, or it was completely your fault. Do you know how to face these big companies and their insurance companies in your quest for damages recovery? If not, it is in your best interest to get assistance from an experienced Hialeah slip and fall injury attorney.
When we at Gerson and Schwartz work on slip and fall case, we start by collecting all the possible evidence that may help us prove your claims. We know they'll try to negate that anything happened. We've seen that many times before and know how to handle it. We will talk to any witnesses; we will try to get the video recordings of the security cameras, talk to expert witnesses, and do anything else required to prove you were hurt due to the defendant's negligence.
Then we'll propose them a settlement package. Insurance companies know they should pay as much and if they don't, we will file a lawsuit. The ultimate goal of the Hialeah slip and fall lawyers at Gerson & Schwartz is to get you a satisfactory settlement or jury verdict so that you get the compensation that you deserve.
Most often, we serve our slip and fall victim clients in the capacity of:
Casino slip and fall lawyers in Hialeah
Hialeah apartment complex slip and fall attorney
Hialeah hotel and resort slip and fall attorneys
Bar and restaurant slip and fall attorneys in Hialeah
Hialeah supermarket slip and fall lawyers
Motel slip and fall lawyers in Hialeah
Hialeah hospital slip and fall attorney
Hialeah retail store slip and fall attorney
Shopping mall slip and fall lawyer in Hialeah
Premises liability attorneys in Hialeah
Hialeah gas stations slip and fall lawyers
If you were injured in another type of accident in Hialeah, don't hesitate to contact us for free consultations at (305) 371-6000. In less than an hour, you'll know your options, free of charge, presented by the Hialeah slip and fall accident lawyers at Gerson and Schwartz. There is no risk to make that call. We don't ask for fees until we recover for you. Call us now and let's get to work on your Hialeah slip and fall injury.