Hialeah Truck Accident Attorney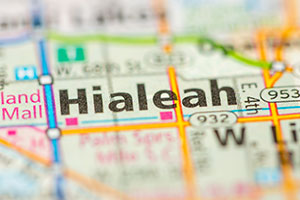 Truck accidents are an unfortunate factor in the daily life in Hialeah. According to official data, commercial vehicles, which very often are trucks, are involved in 750 accidents in Hialeah annually. If you or a loved one has been injured in one of these truck accidents in Hialeah, then our Hialeah truck accident attorneys can help. Our founding partner Phil Gerson has nearly five decades of experience in recovering damages for our personal injury clients. Partner Ed Schwartz has worked for our injured clients for more than 35 years now. Nicholas I. Gerson, also a partner, has dedicated his practice of law to personal injuries since 2006. The Gerson & Schwartz personal injury law firm has fought for their personal injury and wrongful death clients for more than 50 years. We know what to do and how to help you after your Hialeah truck accident and injury.
Contact us at (305) 371-6000 for your free consultation. You may be entitled to damages compensation, and if you are, you should understand how to get it. Tell us what happened, and we'll let you know what we can do to get you the compensation that you deserve. Your damages from a Hialeah truck accident may include any or all of the following:
Medical costs and expenses
Medications and medical devices costs
Lost earnings
Loss of financial support for dependents
Scarring and disfigurement
Suffering and pain
Permanent or temporary disability
Funeral costs in case of wrongful death
The Hialeah personal injury attorneys at Gerson and Schwartz are available for assistance for all victims who are injured on Hialeah roads in truck accidents. Reach out to us now, and we'll present you with your options to the best of our ability free of charge. We won't ask for fees until we recover compensation for you.
Hialeah Truck Accidents Causing Personal Injuries
Hialeah is one of the largest cities in Miami-Dade County and the Miami metropolitan area and the sixth-largest in Florida. It borders with Miami Lakes, Westview, Opa-Locka, Miami, Miami Springs, and Hialeah Gardens. At the Gerson & Schwartz personal injury law firm, we have represented injured victims of Hialeah truck accidents in the following roles:
UberEATS delivery vehicle accidents lawyers in Hialeah
Dump truck accidents attorneys in Hialeah
18-wheeler truck accident lawyers in Hialeah
Box truck accidents lawyers in Hialeah
Garbage truck accidents lawyers in Hialeah
Hialeah road rage truck accidents attorneys
Bridges truck accidents lawyers in Hialeah
Hialeah rear-end truck collisions with motorcyclist lawyers
Moving van accident injury attorneys in Hialeah
UPS van accidents lawyers in Hialeah
Hialeah tractor trailer accident lawyers
Hialeah truck accidents with Uber Drivers attorneys
Left turn truck accidents lawyers in Hialeah
Hialeah rear-end truck collision lawyers
Hialeah T-bone truck accident injury lawyers
Delivery truck accidents attorneys in Hialeah
Rollover truck accident injury lawyer in Hialeah
Hialeah truck accident lawyer with Lyft Drivers
Lawyers for Hialeah wrongful death claims due to truck accidents
Sideswipe and merging truck accidents attorneys in Hialeah
Attorneys for Hialeah truck accidents involving Uber or Lyft Drivers
Truck and pedestrian injury accidents lawyers in Hialeah
Drunk driving truck accidents lawyer in Hialeah
Lawyer for head-on collisions with trucks in Hialeah
Hialeah Truck Accident Lawyers
If you've were seriously injured in a truck accident don't let the responsible person get away with it. You'll have expenses and losses due to the accident, and it is just to seek financial compensation for that. It won't be easy to get it by yourself, so call our Hialeah truck accident lawyers at Gerson and Schwartz for help. Let's start with consultations at (305) 371-6000 to learn about your options for free of charge. We handle cases on a contingency basis, so you won't be asked for any fees until we recover for you.