Hialeah Uber Car Accident Lawyer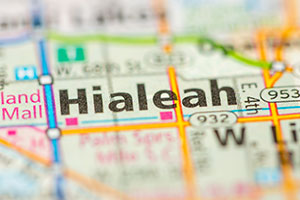 So, you have were injured in an Uber accident in Hialeah. Maybe you've heard about the Uber $1 million insurance coverage. Don't make the mistake to think that recovering from this insurance coverage will be an easy task. There are some reasons for that. First, no one admits responsibility. You'll have to prove that the accident happened due to the negligence of the Uber driver. Second, Uber drivers may not admit they were on duty because it will hurt their chances to get new driving gigs. If they were not on duty at the time of the accident, you can't recover from the Uber insurance, but you'll have to rely on the driver's personal insurance coverage. That insurance may leave you little or no options for compensation recovery
To increase your chances of successfully dealing with an Uber driver and recovering financially from the accident, call our Hialeah Uber accident lawyers for help. We offer free initial consultations to folks injured in an Uber accident in Hialeah. Reach us at (305) 371-6000 and our Hialeah Uber accident lawyers will advise you on what comes next and what you can expect from the recovery procedures. They will also advise you on the steps you need to take if you want to get compensated as you may deserve.
The free consultation doesn't bring an obligation to hire us, but if you do, keep in mind that we at Gerson and Schwartz never ask for fees before getting our clients compensated for their harms and losses.
Hialeah Uber Accidents Leading to Personal Injuries
With estimated population of 240.000 residents, Hialeah is the sixth-largest city in Florida. But when it comes to auto accidents, Hialeah is among the most dangerous in the nation. The West 49th Street is one of the most hazardous streets in the city, but it's not the only one where accidents and fatalities happen. West 4th Avenue and West 4th Street can also be fatal. In addition, we have high-traffic roadways such as Okeechobee Road and the Palmetto Expressway where accidents occur daily.
Uber has gone through many legal issues before fully entering the Florida market, but once they got here, the number of drivers serving their network has increased exponentially. It is estimated that more than 10,000 drivers are in the Uber network. With so many Uber drivers on infamous Florida roads and streets, you can see why our Hialeah accident lawyers have served the people of Hialeah as:
Attorney for Uber car accidents with motorcycles in Hialeah
Construction zone Uber car crash lawyers in Hialeah
Road rage Uber car accident lawyer in Hialeah
Lawyers for Uber T-bone car accidents and injuries in Hialeah
Lawyers for Hialeah sideswipe and merging accidents with Uber drivers
Attorneys for Hialeah car accidents with buses
Hialeah Uber car accidents with pedestrian lawyers
Lawyer for Hialeah head-on collisions with Uber car driver
Lawyers for crashes between Uber and taxi drivers in Hialeah
Lawyers for car accidents with Lyft drivers in Hialeah
Hialeah Uber car accident with bicycle attorney
Attorney for Hialeah lane change car accidents during Uber rides
Personal injury lawyer for Hialeah car accidents due to distracted driving by Uber driver
Injury attorney for Hialeah truck accidents with Uber driver
Attorney for rear-end car accidents and injuries with Uber drivers in Hialeah
UberEATS accident lawyers in Hialeah
Hialeah Uber Accident Attorneys
Recovering damages from Uber drivers requires some work that other auto accidents don't. That's why having an experienced Hialeah Uber car accident attorney on your side for assistance could be a decision that would serve you well.
The bilingual Hialeah Uber accident lawyers at Gerson and Schwartz are following closely the situation with the Uber accidents in Hialeah. If you need help after your Uber accident in Hialeah contact us at (305) 371-6000 for free consultations. We always handle cases on a contingency basis, which means that we never ask for fees unless we get our clients compensated.