Hialeah Wrongful Death Lawyer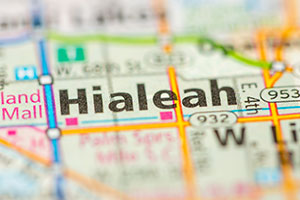 It is never easy to advise a person who has lost a loved one due to an accident. There is nothing that could cover the great loss, even though the US legal system offers some kind of relief by entitling survivors to compensation for their harms and losses. If you are in such a situation, we know that it's hard to think about legal procedures while mourning for the beloved. That's why you should let our Hialeah wrongful death lawyers at Gerson and Schwartz handle the legal aspects of your recovery while you are dealing with the emotional toll due to the tragedy. Call us now at (305) 371-6000 for free initial consultations. Once we hear about your loss, we will present you with your options for damages recovery.
Our bilingual Miami wrongful death attorneys handle cases on a contingency basis, which means that you'll pay fees only when we recover damages for you. Until then, you will not have to be concerned with paying anything.
Hialeah Wrongful Death Accidents
Hialeah, as one of the biggest cities in Miami metropolitan area, is well-known for the number of car accidents that happen there every year. Florida leads the national list of states by road fatalities, while Miami-Dade leads among the counties. Every year, thousands of crashes occur in Hialeah. Heavily-travelled roads such as Okeechobee Road, Red Road, The Palmetto Expressway, and the East 49th Street, are locations for many horrible accidents. It is for this reason that our Hialeah wrongful death attorneys are prepared to represent victims' families as:
Hialeah wrongful death Lyft accident attorney
Wrongful death motorcycle accident attorney in Hialeah
Hialeah pedestrian wrongful death accident lawyer
Wrongful death bicycle accident lawyer in Hialeah
Hialeah wrongful death Uber driver accident lawyer
Hialeah truck wrongful death accident attorney
T-bone wrongful death accident lawyer in Hialeah
Hialeah DUI wrongful death lawyer
Rollover wrongful death accident attorney in Hialeah
Hialeah car accident wrongful death attorney
Impaired driving wrongful death accident lawyer in Hialeah
Left turn wrongful death accident lawyer in Hialeah
Wrongful death head-on collision lawyer in Hialeah
Hialeah has more than its fair share of crime victims as well. In some situations, some person or corporation had a duty to prevent foreseeable crimes and failed to do so. In those cases, that person or company may be responsible for your damages for the failure to keep its visitors and guests safe. If you have lost a loved one in a criminal attack in Hialeah, we may be able to help you as:
Hialeah parking lot shootings wrongful death attorney
Hialeah apartment shooting wrongful death lawyers
Hialeah armed robbery wrongful death attorney
Hialeah violent crime victim wrongful death lawyer
Negligent security wrongful death attorney in Hialeah
Hialeah premises liability wrongful death law firm in Hialeah
Aggravated assault wrongful death lawyer in Hialeah
Regarding other types of accidents in Hialeah, we help our clients in the capacity of:
Hialeah defective product wrongful death lawyer
Medical malpractice wrongful death attorney in Hialeah
Hialeah slip and fall accident wrongful death lawyer
Trip and fall accident wrongful death attorney in Hialeah
Hialeah Wrongful Death Lawyers
Phillip M. Gerson, Edward S. Schwartz, and Nicolas I. Gerson, the Hialeah wrongful death lawyers at Gerson and Schwartz, have helped victims and survivors recover damages due to an accident or incident in which they've lost a loved one. We understand the sensitivity of your situation and will always act accordingly. If you want to find out more before committing, call us for free consultations at (305) 371-6000. This conversation doesn't mean an obligation to hire us, but it will equip you with knowledge on your options free of charge. We don't ask for any fees before recovering financial compensation for our clients.