Homestead, Florida Motorcycle Accident Lawyers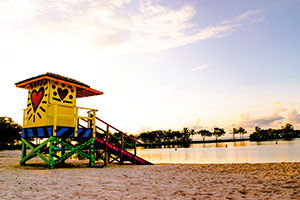 Homestead, Florida is uniquely located between the Everglades and Biscayne National Park. With easy access to miles of open space, many residents and visitors alike enjoy their time riding a motorcycle around this area. Unfortunately, accidents happen. Have you been injured in a motorcycle accident? Were you riding on Southwest 312th Street or on Florida's Turnpike when you collided with another vehicle? This scenario is relatively common, and if you have been injured in a Homestead, Florida motorcycle accident you might have important legal rights, but you need to move quickly.
At Gerson & Schwartz, our experienced Homestead motorcycle accident attorneys represent victims who have been injured in collisions. Gerson &Schwartz's law offices have been helping injured clients in the Homestead, Florida area for over four decades. We offer a free initial consultation to all prospective clients and won't charge any attorney fees unless we collect.
Motorcycle Accident Attorneys in Homestead, Florida Helping Victims Recover
According to the Florida Department of Motor Vehicles the most common causes of motorcycle crashes in Homestead, Florida result from:
Failing to Yield the right of way
Failing to Keep in Proper Lane
Excessive Speed
Following too Closely
Improper backing
Improper Passing
Improper Turns
Vehicle Operation in a Careless of Negligent Manner
Running a Stop Sign
In the event of a motorcycle accident, it is important to understand your legal options and remedies. Motorcyclists and their passengers who are injured in a collision may be entitled to sue the other driver or another responsible for compensation for their injuries.
In order to recover money damages, the injured party must prove show that another driver was negligent, careless, or reckless in how they operated their vehicle. For example, common motorcycle accident our attorney have experience include crashes due to speeding, swerving, or failing to check their blind spot when they changed lanes.
Contacting a reputable law firm is the first step to obtaining compensation. If you are injured in motorcycle accident in Homestead or live in the area and were injured you may be entitled to recover the harms and financial consequences. The amount of compensation is referred to as damages and includes:
Reimbursement for past and future medical bills and expenses
Reimbursement for lost wages or a loss of earning capacity
Repair of your damaged motorcycle and any other damaged property
If your injury serious, then you might be able to receive future medical care and lost future earnings capacity.
Florida law also allows accident victims to receive compensation for non-economic harms, such as:
Physical pain and suffering that accompanies an injury
Emotional distress, including the anger, grief, embarrassment, and depression that accompanies a physical injury
Financial compensation for scarring, disfigurement, inability to lead a normal life and other physical and psychological harms
Because of our extensive experience, Gerson & Schwartz has successfully recovered sizeable seven- and six-figure sums for our motorcycle accident clients. For example, we have recently obtained a $2.5 million settlement for children whose father was killed in a collision. Contact us or call us at (305) 371-6000 or toll free at (877) 475-2905 today for a free consultation.
What is Negligence Under Florida Law
In order to be entitled to financial compensation for a motorcycle accident injury victims need prove negligence. A driver is negligent when they do not operate their vehicle with reasonable care.
Reasonable care is determined by whether someone acted in a way that that a reasonably careful person would do, or failing to do what a reasonably careful person would not do.
This means that every driver owes motorists on the road a duty to operate their motor vehicle safely. They owe this duty to motorcyclists every bit as much as they do other passenger vehicles. Drivers can be negligent in different ways, including the following:
Violating a traffic law
Drinking and Driving
Texting and Driving
Speeding
Failing to Yield
Failed to check their blind spot before pulling into a different lane
Failed to yield to a motorcycle
Distracted driving, impaired driving, or operating a vehicle while drowsy, or under the influence of drugs or alcohol
What if I Contributed to the Accident?
Accidents frequently have many causes, including the negligence of the person driving the motorcycle. Florida law understands that both parties might be at fault but nevertheless allows you to receive compensation so long as the other driver was at least 1% responsible for the accident.
Ultimately, the amount of compensation you receive will be reduced by your percentage of fault. For example, you might have suffered $200,000 in damages when your motorcycle collided with a passenger car. However, if you were 60% responsible for the accident, then you will receive only $120,000 in money damages. If you were partially at fault, our lawyers will do everything we can to reduce your proportion of liability.
Why You Should Contact an Attorney after a Motorcycle Accident in Homestead
Over the years, our clients have made many mistakes that have cost them money. For example, some of our clients have spoken to the driver's insurer without first consulting with a motorcycle accident attorney. As a result, the insurance representative may convince an injured party to say something they shouldn't, such as an admission that they contributed to the crash due to their own negligence.
Other injury victims have not followed their doctor's orders, either because they did not think they were improving or because they needed to get back to work to earn money for their families. By not following their doctor's orders, these accident victims have failed to mitigate their damages and have received less money than they might otherwise have.
If you or a loved one were injured in a motorcycle accident in Homestead and you do not think that your medical condition is improving, you should seek out a second medical opinion. Your condition might have worsened, and a new course of treatment or physical therapy might be necessary. Do not simply ignore what your doctor says.
Consult a Homestead, Florida Motorcycle Accident Attorney at Gerson & Schwartz, PA
Motorcycle accidents can cause devastating injuries, but hope and recovery are possible. At Gerson & Schwartz, our Homestead motorcycle accident attorneys will carefully review the facts surrounding the crash and will visit the scene in Homestead if necessary. We fight for our clients and you only pay attorney's unless we collect.
For a free injury consultation with a motorcycle accident specialist in Homestead contact our personal injury law office us today at (305) 371-6000 or (877) 475-2905. Or you can send us a message online at info@gslawusa.com Se Habla Español.