Homestead Work Place Accident Lawyer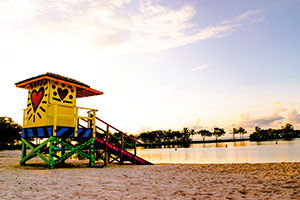 Miami-Dade County encompasses far more than the city of Miami. It is also home to a number of suburban towns like Homestead, which is nestled between Biscayne National Park and the Everglades National Park. Following Miami, Homestead is the second oldest city incorporated in the county and has a population of approximately 70,000 individuals. Homestead is known as a good place to live, work, and raise a family, offering the feel of a small town with the close by amenities of a major city. The suburb is home to a wide variety of industries and employers, from healthcare to media, from construction to transportation. While the area is generally safe, work place accidents happen. When someone is careless, reckless, or violent, workers like you or your loved ones may be injured.
If you were hurt in a work place accident, do not hesitate to contact a Homestead work place accident lawyer from Gerson & Schwartz P.A. at (877) 475-2905. All new case consultations are free and there no up front costs.
Common Work Accidents in Homestead, Florida
At Gerson & Schwartz, P.A., we have represented individuals injured in all types of work-related accidents. Our injury lawyers are highly experienced and ready to help you. Some of the most common accidents in Homestead our attorneys have experience include:
Slip and falls/trip and falls accidents in Homestead
Falls from a height
Scaffolding falls
Burn injuries
Wrongful death Homestead work place accidents
Homestead scaffolding and ladder accidents
Machinery and heavy equipment accidents in Homestead
Being pinned between objects
Being struck by objects
Machine entanglement
Transportation accidents
Back over accidents
Electric shock and electrocution
Exposure to hazardous substances
Fires and explosions
Fights and violence
Animal attacks
If you suffered an injury in a workplace accident, speak with an attorney right away. You are probably entitled to workers' compensation insurance benefits. It depends on if you are covered by your employer and if the accident occurred on the job. Workers' comp does not look at who caused the accident, whether you, a coworker, or someone else entirely was at fault. However, if someone from outside of your employer caused the accident and your injuries, you may also have a third-party claim for compensation beyond what you can obtain through workers' comp. You should contact a work place accident lawyer in Homestead to discuss workers' comp and third-party claims.
Florida Workers' Compensation Insurance
A majority of employers in Florida are required to carry workers' compensation insurance for their employees. Every construction company with one or more employees (including the owner who is a corporate officer or LLC member) must carry workers' comp. For non-construction employers, they must carry workers' comp if they have four or more employees (including owners who are corporate officers or LLC members).
If you are covered by workers' compensation laws, then you may be able to receive benefits for:
Injuries that occur during the scope of your employment.
Medical conditions that arise due to your employment duties.
If you are injured or ill because of your job, then workers' comp will pay for your medical care and provide you with lost wages. You may receive a percentage of your normal wages until you return to work or up to 104 weeks.
However, you will be ineligible for benefits if you were intoxicated at the time of the accident, you refused to observe safety rules, your injuries were intentional.
To further discuss your right to workers' comp benefits, or to learn about your options when your employer failed to carry workers' comp, call a work place accident attorney in Homestead right away.
Third-Party Liability Claims for Homestead Work Place Injuries
Normally, you cannot sue your employer for negligence when you are covered by workers' compensation insurance. If you are hurt at work due to your own negligence, a coworker's carelessness, or the actions of an agent of your employer, then your only avenue to obtain compensation is a workers' comp claim. You can only sue your employer for compensation if they fail to provide you with workers' comp insurance in violation of the law.
However, many work place accidents occur because of people from outside of your employer, and you can file suit against the at-fault third party. For example, if you are working at a construction site on the side of a road and an intoxicated driver hits you, then the at-fault driver is a third-party. In this situation, you may file a personal injury suit against the at-fault driver and seek compensation for more than workers' comp benefits would provide you. In addition to medical expenses and lost wages, you can also fight for compensation for your physical pain and suffering, emotional anguish, disability and/or disfigurement, reduced earning capacity, and loss of normal life.
Contact a Homestead Work Place Accident Attorney for Help If you were injured at work, it is important to speak with an experienced attorney about your rights. In a majority of cases, you should be covered by workers' compensation insurance. Your lawyer can guide you through making a workers' comp claim and obtaining the benefits you deserve. If your employer did not provide workers' comp insurance when they should, or a stranger caused your accident, then a lawyer from Gerson & Schwartz P.A. will discuss with you your right to file a personal injury claim.
Contact Gerson & Schwartz P.A. at their Miami-Dade County office at (305) 371-6000 or toll free at (877) 475-2905.