Homestead Wrongful Death Lawyer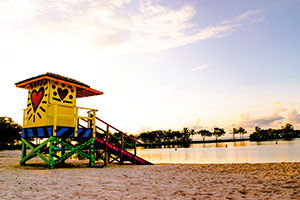 Homestead, Florida is one of many communities within Miami-Dade County. It lies between the Everglades and Biscayne National Parks and is known as an important agricultural area. Homestead, which had an estimated population of 69,907 individuals as of 2017, is Miami-Dade County's second oldest city, behind Miami. It also is a suburb of Miami and is predominantly focused on family life. However, no family-focused suburb is perfect. Every town has its ups and downs, including accidents that result in injuries and fatalities.
If you lost a loved one in an accident caused by another party's negligence, recklessness, or willful misconduct, you should speak with a Homestead wrongful death lawyer as soon as possible. Our experienced attorneys at Gerson & Schwartz P.A. are here to help. To schedule a free consultation, you can reach out to us online or call (877) 475-2905.
Our Wrongful Death Lawyers for Homestead Accept Many Types of Cases At Gerson & Schwartz P.A., our veteran attorneys accept a wide range of accident claims. We are here to serve the community of Homestead as:
Fatal car accident lawyers in Homestead
Homestead fatal bicycle accidents lawyers
Homestead DUI accident attorneys
Homestead motorcycle accidents fatalities lawyers
Homestead fatal truck accident lawyers
Fatal pedestrian accident lawyers in Homestead
Lawyers for fatal bus accidents in Homestead
Fatal Uber and Lyft accident lawyers
Homestead slip and fall accident lawyers
Homestead trip and fall attorneys
Fatal dangerous property claims lawyers in Homestead
Negligent security lawyers in Homestead
Homestead crime victims attorneys
Fatal daycare facility accident lawyers for Homestead
Homestead hotel accident attorneys
Homestead motel accident lawyers
Fatal construction site accident lawyers in Homestead
Homestead fatal work accident lawyers
Fatal cruise ship accident lawyers for Homestead
Fatal boating accident attorneys in Homestead
Our Lawyers Will Explain the Florida Wrongful Death Act
Whether or not you can file a valid wrongful death claim in Florida is based on Florida Statutes §§768.16-768.26. These laws dictate when a wrongful death claim is appropriate, who must file the claim, the time limit for filing a claim, the possible beneficiaries, and the potential damages. Because all of this information can be complicated and nuanced, it is important to speak with a Homestead wrongful death attorney before trying to pursue a wrongful death claim.
A wrongful death claim arises when someone's death is caused by another person's:
Wrongful act
Negligence
Default
Breach of contract or warranty
The conduct that caused the person's death would have entitled them to bring a personal injury claim and receive compensation had they lived.
If this is true in your situation, then the lawsuit must be brought by the personal representative of the decedent's estate. Unless you are the personal representative, you cannot file the claim. This is true even if you are the decedent's surviving spouse, parent, or child. That being said, it is common for a surviving spouse or parent to be the personal representative of the estate and therefore, to be entitled to file this action.
When the personal representative files a wrongful death lawsuit, they do so in behalf of the decedent's estate and survivors. Under Florida law, "survivors" means a decedent's husband or wife, children, parents, and any other blood or adoptive relatives who were fully or partially dependent on the decedent for support or services.
To discuss who may file a wrongful death lawsuit after your loved one's passing and who may receive compensation in a successful claim, contact our wrongful death attorneys in Homestead. We will carefully review your circumstances and advise you of your rights and legal options.
Wrongful Death Compensation
If the personal representative of your loved one's estate is able to bring a successful wrongful death claim, then through a court verdict or insurance settlement, you and other survivors may receive compensation for:
Medical expenses incurred by the family or estate
Funeral and burial expenses
Compensation for the decedent's pain and suffering
Survivor's pain and suffering
Survivor's loss of financial support
Survivor's loss of the decedent's services
Survivor's loss of gifts and other valuables
Survivor's loss of parenting and guidance
Survivor's loss of society and companionship
How much you and your other family members may receive depends entirely on the circumstances. There is no set or common financial recovery for a Homestead wrongful death claim. It is best work with a Homestead wrongful death lawyer to ensure your economic and non-economic damages are properly calculated and proven.
Contact Our Homestead Wrongful Death Attorneys Today
When you believe your spouse, parent, child, or other relative's death was another person or business's fault, it is essential that you speak with an experienced attorney right away. At Gerson & Schwartz P.A., our bilingual attorneys will meet with you and listen to your story. It appears another party was negligent, we will thoroughly investigate your loved one's death and guide you through the wrongful death claim process.
To schedule a free, no-risk case consultation, call us at (305) 371-6000. You can also use our online contact form to request an appointment.