How to Find the Best Motorcycle Accident Lawyer in Broward County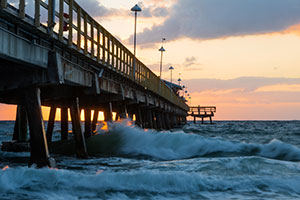 Were you injured in a motorcycle crash in Broward? If so, you may be wondering how do you find the best motorcycle accident attorney in Broward County? If you were injured in a Broward County motorcycle crash, the first step is to address your medical needs. Always place your health and safety first. If you or a relative was the victim killed in the crash, take time with your family. You need time to grieve and plan an appropriate funeral or celebration of life. Once the situation has settled, which may be days or weeks after the crash, we recommend you contact a Broward County motorcycle accident lawyer to discuss your rights and options. The sooner you contact an attorney, the better. Since 1970, Gerson & Schwartz, PA personal injury law firm has helped motorcycle crash victims that live, work, and reside in Broward. It's only natural to want to hire the best motorcycle accident law firm in Broward County.
All South Florida motorcycle injury lawyers know that victims have the right to pursue compensation for money damages through a personal injury or wrongful death lawsuit. This is possible when there is evidence that another person's negligence, carelessness, recklessness, or intentional misconduct is to blame for the crash and your injuries or loss. Through a personal injury lawsuit, or in most cases, an insurance claim, a lawyer can demand that the at-fault party, or their insurer, compensate you for your injuries.
Since 1970, the Broward County motorcycle accident attorneys at Gerson & Schwartz P.A. have been litigating cases for our clients to receive full and fair compensation for their medical expenses, lost wages, pain and suffering, emotional distress, disfigurement, and disability. If your family is pursuing compensation after a fatal motorcycle crash in Broward County or another area in South Florida then don't delay. Contact the Broward County personal injury law firm of Gerson & Schwartz P.A. so we can fight to obtain you fair compensation for the loss of your loved one's financial support, companionship, and society and for your grief and emotional suffering.
While we are confident that our motorcycle accident lawyers in Broward County can provide you with excellent representation, we understand that every individual or family needs to find the best lawyer for their situation. You need to look for an attorney that has the skills, empathy, and experience necessary in order to obtain maximum case value.
When looking for the best motorcycle accident lawyer in Broward County we recommend:
Review the attorney's experience: How many years has the attorney been practicing? How many years have they handled personal injury and wrongful death claims? How often do they handle motorcycle crash claims in Florida? It is important to get a full picture of a potential attorney's experience and qualifications in regard to handling your motorcycle accident and injury claim or a fatal motorcycle crash claim. At Gerson & Schwartz P.A., our attorneys have decades of collective experience handling all types of motor vehicle accident claims.
Review the attorney's accolades and client feedback: Is a prospective lawyer respected within the South Florida legal community? At Gerson & Schwartz P.A., our motorcycle accident attorneys are routinely acknowledged by Best Lawyers, Super Lawyers, and other lawyer ratring publications such as Martindale-Hubbell's AV Preeminent Rating, Justia, Avvo, and Legalelite. Our law firm also has attorneys who are members of the Million Dollar Advocates Forum. In addition to other Broward County PI lawyers and legal industry recognition, we are proud to have received many positive reviews from our current and former clients.
Ask about the lawyer's track record of success: When talking with the best possible motorcycle accident attorney in Broward County, it is important to discuss not only their experience, but also their track record with motorcycle claims. During a free consultation, ask the attorney about how many similar cases they have handled and the outcomes in those cases. Did the lawyer obtain compensation in a majority of the claims? Did the attorney settle all of the cases or succeed in winning compensation at trial?
Ask about the lawyer's philosophy regarding settlements and trials: Many personal injury law firms rely heavily on insurance settlements. In many cases, a settlement is a fair and efficient resolution to a claim. However, there are also many circumstances in which a settlement is not the best outcome for you and your family. Most insurers will only settle up to the policy limit, and in a motorcycle crash, the value of your injuries can far exceed an auto insurance policy limit. You need to work with a lawyer who is not afraid to take your case to court and fight hard for you at trial if that is what is necessary to obtain the best possible outcome in your case.
Consider how the lawyer participates in the community: At Gerson & Schwartz P.A., we believe it is important to go beyond the walls of our firm and to help the community. We participate in our local and state government to promote public health and safety initiatives. We do not only want to help you and others after motorcycle accidents, we want there to be fewer motorcycle accidents altogether.
Ask about the lawyer's communication style: When you work with a large, busy law firm, it can be hard to keep in touch. You may receive very few updates about your claim. It can be hard to get a response with answers to your questions or concerns. At Gerson & Schwartz P.A., we understand how nerve-wracking that can be. You should always know what is going on with your claim, which is why we are always available to your clients, and we respond to emails and phone calls as quickly as possible.
Let Our Broward County Motorcycle Accident Attorneys Fight For You
We encourage motorcycle accident victims to thoroughly research prospective attorneys and to schedule a few consultations. It is difficult to choose the best motorcycle accident lawyer for you before meeting them in person. This is why we offer free consultations.
You can call our bilingual attorneys at (877) 475-2905 or contact our Broward County office at (954) 845-0535 to schedule your confidential, no-risk consultation. Our lawyers actively represent serious injury victims throughout Broward County, Fort Lauderdale, Plantation, Weston, Pembroke Pines and other areas of South Florida.