Islamorada Motorcycle Accident Lawyer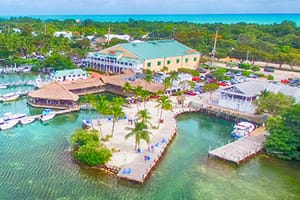 Islamorada, Florida is a village in the Florida Keys, which are part of Monroe County. The village is located across five of the Keys—Tea Table Key, Lower Matecumbe Key, Upper Matecumbe Key, Windley Key, and Plantation Key. Across the small islands, Islamorada has a population of more than 6,000 people. At Gerson & Schwartz P.A., we handle many claims arising from accidents that happen in Islamorada. We also represent local residents that are hurt elsewhere in Southern Florida. While we accept cases involving all types of motor vehicle accidents, we are often called about motorcycle crashes in the Keys. If you or a loved one were injured in a motorcycle accident in the Upper Keys, do not hesitate to call an Islamorada motorcycle accident lawyer for help. We know the steps we must take to improve your likelihood of receiving full and fair compensation for your injuries. You can reach our bilingual attorneys by calling (877) 475-2905 or you can reach out through our online form.
Driving to and Around Islamorada, FL
Islamorada is about a 1.5-hour drive south of Miami, and about a 2-hour drive northeast of Key West. To get to Islamorada, you must take U.S. Highway 1, which is better known as the Overseas Highway. Islamorada is within the boundaries of mile marker (MM) 90 to the north and MM 72 to the south on the Overseas Highway. These boundaries include the Channel Two Bridge and the Tavernier Creek Bridge.
Because there is only one route through the Keys, U.S. Highway 1 can become overly crowded. It is also susceptible to distracted, drunk, drugged, and drowsy drivers. All of these factors increase the risk of motorcycle accidents every year. Following a motorcycle crash on Plantation Key, Windley Key, Upper Matecumbe Key, Lower Matecumbe Key, and Teatable Key, call a motorcycle accident lawyer for Islamorada as soon as possible.
Common Islamorada Motorcycle Accidents
At Gerson & Schwartz P.A., we represent individuals injured in all types of motorcycle crashes, including but not limited to:
Head on Collision With Motorcycles in Islamorada
Rear End Islamorada Motorcycle Collisions
Failure to Yield Motorcycle Accidents in Islamorada
Islamorada Motorcycle Side Impact Collisions
Rollover Motorcycle Accidents in Islamorada
Distracted Driving Motorcycle Accidents in Islamorada
Drunk Driving Islamorada Motorcycle Accidents
Drugged Driving Motorcycle Accidents in Islamorada
Hit and Run Accident with Motorcycles in Islamorada
Motorcycle Crashes With Commercial Vehicles in Islamorada
Motorcycle Accidents and Uber vehicles
Motorcycle-Pedestrian Accidents in Islamorada
Motorcycle Accidents on the Overseas Highway
Islamorada Motorcycle Mechanical Failures
Islamorada Road Hazards Accidents
Islamorada Poor Road Design Accidents
If you were injured in any type of motorcycle accident that you believe was caused by another motorist, call a motorcycle accident attorney in Islamorada as soon as you are able to. We understand it may take you days or weeks to get to the point
Compensation Following an Islamorada Motorcycle Accident
When another person is responsible for the motorcycle crash that caused you harm, then you may have the right to pursue full and fair compensation for your physical, emotional, and financial injuries. You must be able to prove that the other person was negligent, reckless, or acted in an intentionally harmful way. To prove this, you will need to gather and present evidence either in court during a personal injury lawsuit or to an insurer during the insurance claim process. This can be challenging, particularly if you lack experience with this type of claim or lawsuit. We recommend you hire an Islamorada motorcycle accident attorney to investigate the crash, gather evidence, and handle the insurance claim and litigation processes on your behalf. This can improve your chance of receiving a fair payout.
Through a motorcycle accident lawsuit or an insurance claim, Gerson & Schwartz P.A. will fight for you to receive the maximum compensation for your:
Medical Bills
Lost Wages
Physical Pain
Emotional Distress
Disfigurement
Disability
Loss of Normal Life
Fatal Islamorada Motorcycle Accidents
If your parent, spouse, child, or other loved one was killed in a motorcycle crash in Islamorada, call Gerson & Schwartz P.A. to speak with a Florida wrongful death lawyer as soon as possible. If another person is at fault for your loved one's death, you and your family may have the right to seek compensation through a wrongful death lawsuit.
Contact Gerson & Schwartz P.A. for Advice Today
After a serious or fatal motorcycle accident in Islamorada, you are going to need to take steps to recover compensation for your physical, emotional, and economic injuries. Our highly experienced and skilled personal injury lawyers are here to fight hard for you. We understand it can be intimidating to hire a lawyer. We try to ease the process by offering free consultations. All you need to do is call (305) 371-6000 and schedule a time to meet that is convenient for you.