Islamorada Personal Injury Lawyer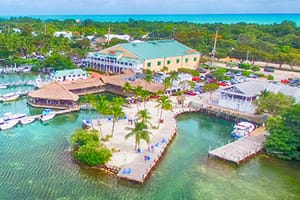 Were you hurt in an accident in Islamorada? If you believe someone else was at fault for your injuries, then it is time to call an Islamorada accident lawyer at Gerson & Schwartz P.A. Another person's careless, reckless, or intentional conduct may make you eligible to pursue compensation through a personal injury lawsuit and/or insurance claim. While you are not required to hire an attorney to represent you during this time, it is highly recommended. By working with an experienced lawyer, you have someone with the knowledge, experience, and skills necessary to aggressively pursue the maximum amount of compensation possible for your physical, psychological, and financial injuries. To talk with our personal injury and wrongful death lawyers about how we can specifically help you after an unexpected accident in Islamorada, contact us online or call (877) 475-2905. We offer free initial consultations.
We Represent Residents and Tourists in Islamorada, Florida
Islamorada is a village spread across Plantation Key, Windley Key, Upper Matecumbe Key, Lower Matecumbe Key, and Tea Table Key in the upper Florida Keys. Another way to mark the destination is by mile markers on the Overseas Highway, also known as U.S. Highway 1. Islamorada is located between MM 90 and MM 72. The village encompasses not only the islands themselves, but the channels between the islands, the Channel Two Bridge, and the Tavernier Creek Bridge.
The area is known as the Fishing Capital of the World, and much of its industry revolves around fishing and other water activities. Fishing, boating, snorkeling, diving, parasailing, boating, and more bring many tourists to the islands each year, swelling the population, increasing traffic, and raising the risk of serious accidents.
If you live in Islamorada or were visiting the Keys when you were injured, do not hesitate to call an Islamorada accident attorney for help. When you were hurt as a tourist and had to return home following the accident, it is essential that you work with a local attorney who not only knows state law but is comfortable in the local court system. At Gerson & Schwartz P.A., we have years of experience handling personal injury and wrongful death claims in Monroe County.
The Accidents Claims We Handle
As an Islamorada accident law firm, we handle a wide range of accident claims, whether the incidents lead to moderate, serious, or catastrophic injuries or fatalities. Some of the most common claims we handle include:
Islamorada Uber Accidents
Islamorada Truck Accidents
Islamorada Motorcycle Accidents
Islamorada Pedestrian Accidents
Islamorada Bicycle Accidents
Islamorada Premises Liability Claims
Islamorada Cruise Ship Accidents
Islamorada Boat and Maritime Accidents
Islamorada Traumatic Brain Injuries
Islamorada Severe Burn Injuries
Islamorada Spinal Cord Injuries
Islamorada Catastrophic Injuries
Islamorada Medical Malpractice
Islamorada Birth Injuries
Pursuing Compensation After an Islamorada Accident
If there is evidence that another person's negligence, recklessness, or intentional misconduct was the cause of the accident and your injuries, then you may have the right to seek compensation for your injuries. In many cases, you have the opportunity to resolve your claim through an insurance settlement. However, this is not as simple as it may sound. Insurers are not in the habit of quickly offering significant sums following accidents their policyholder's cause. You will benefit from working with an accident lawyer in Islamorada to gather the evidence necessary to prove the other person's negligence and to establish your injuries.
Once you can establish that the other party is at fault, then you can confidently demand compensation for your:
Past, current, and future medical expenses
Physical pain and suffering
Emotional distress and mental anguish
Lost wages
Scarring and disfigurement
Disability
Reduced earning capacity
Loss of normal life
Reduced quality of life
The potential maximum value of your claim depends on many factors, including but not limited to the at-fault party's conduct, the type of your injuries, the pain and suffering you have experienced, the insurance policy limit. By working with an experienced lawyer, you can identify the full value of your claim and the most effective avenue toward obtaining the best possible settlement or jury verdict.
We Handle Fatal Accidents in Islamorada
Unfortunately, accidents often cause such serious injuries that they lead to one or more people's deaths. Your loved one may have been killed immediately in a crash or have suffered such significant injuries in an accident that they passed away hours, days, weeks, or months later. No matter the exact circumstances, if you believe someone else is responsible for your loved one's death, contact Gerson & Schwartz P.A. to speak with our Islamorada accident attorneys immediately. We will review your circumstances and determine whether your family has a valid claim under Florida's wrongful death law.
Let Gerson & Schwartz P.A. Help You
We understand how frustrated you may be after losing a loved one or being hurt in an unexpected Islamorada accident. If you were visiting the islands on vacation, the situation may be even more challenging. Our personal injury and wrongful death lawyers at Gerson & Schwartz P.A. are here to help. We know we cannot make your physical recovery any easier or lessen your grief. However, we can handle the insurance claim process and litigation on your behalf. We can focus on recovering you compensation while you focus on healing.
To learn more about how we can help, call (305) 371-6000 to schedule your free compensation.