Islamorada Slip and Fall Lawyer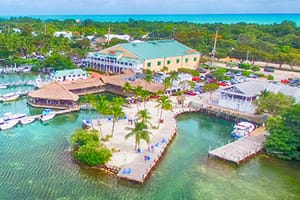 Did you slip and fall while living in or visiting Islamorada, Florida? If your fall led to injuries, and you believe the property owner is responsible for your fall, call our Islamorada slip and fall lawyers at Gerson & Schwartz P.A. as soon as possible. Our premises liability lawyers handle all types of dangerous property claims, including slips, trips, and falls from heights. We will thoroughly investigate the incident and the property where you were hurt. If we find evidence that the property owner is liable for your injuries, we will guide you through the insurance claim process or a premises liability lawsuit.
To learn more about how we can help you after a slip and fall, contact us online or call (877) 475-2905 to schedule a free consultation.
Islamorada, Florida
Islamorada is made up of five islands in the Florida Keys: Tea Table Key, Lower Matecumbe Key, Upper Matecumbe Key, Windley Key, and Plantation Key. It rests between mile markers 90 and MM 72 on the Overseas Highway. It is known as a village of islands and is located within Monroe County, FL.
The community is rather quiet, with a population of about 6,645, and if focused on tourism for much of its economy. It is also known as the sport fishing capital of the world, and many fishermen come to the area for practice and competitions.
Much of the land in Islamorada is conserved as state parks. This includes Indian Key, Lignum Vitae Key, and San Pedro Underwater Park. In addition to the parks, you can also visit several beaches, including Library Beach Park, Southwinds Park, Plantation Hammock Preserve, Plantation Tropical Preserve, Green Turtle Hammock Nature Preserve, and Key Tree Cactus Preserve.
In addition to the parks and beaches, Islamorada is home to many businesses and the Plantation Yacht Harbor Marina. In all of these places, water on walkways and floors can create a hazard. If businesses do not monitor their entrances and pathways carefully, puddles can form and cause a risk of slipping. Additionally, loose carpets, mats, and rugs, and a lack of non-slip backing, can create slip and fall hazards.
If you fell at someone's home, at an Islamorada business, or in a public area, and you believe it was because of a hazard on the property, call our slip and fall lawyers for Islamorada right away.
Common Causes of Slip and Falls
Slip and fall accidents occur for many reasons, yet the bottom line is that there is almost always a problem with the flooring or the surface of a walkway. When the flooring is not entirely safe, it increases the risk that you will trip or slip, which can lead to a fall and serious injuries.
Some of the most common reasons for slips and falls include:
Puddles of water
Spilled liquids, foods, or other substances
Recently or overly waxed floors
Recently mopped floors
Loose mats, rugs, or carpet
Mats, rugs, or carpet without non-slip backing
Where Slip and Fall Accidents May Take Place
At Gerson & Schwartz P.A., our slip and fall attorneys for Islamorada often handle slip and fall accidents that occur in:
Slip and Fall Injuries & Compensation
If you were in a slip and fall, you may now be suffering from:
A concussion or more serious traumatic brain injury.
Bone fractures – such as a broken wrist, arm, or hip.
Dislocated joints – such as a dislocated shoulder.
Soft tissue injuries – such as tears in muscles, ligaments, or tendons.
Knee injuries –such as kneecap fractures or anterior cruciate ligament (ACL) injuries.
Back injuries –such as herniated disks and compression fractures.
Spinal cord injuries, which can lead to nerve damage, loss of sensation, loss of movement, incontinence, sexual disfunction, and full paralysis.
Whatever type of slip-and-fall injury you suffered, we are here to help you receive full and fair compensation. When we handle your case, we will work closely with you to document all of your economic injuries, including your past, current, and future medical expenses and lost wages. We will carefully document your physical pain and emotional distress. We may do this by showing how your life has changed since before the accident, by demonstrating the amount of pain medications and other treatments you are prescribed, and by hiring expert medical witnesses.
Call Our Islamorada Slip and Fall Attorneys Today
If you or a loved one were hurt in a slip and fall, we recommend you contact an experienced slip and fall law firm in southern Florida today. At Gerson & Schwartz P.A., we have years of experience handling personal injury and premises liability claims, and we represent individuals throughout Miami-Dade, Broward, and Monroe Counties.
To talk with us about how we can help you, contact us online or call (305) 371-6000 to schedule a free consultation.