Islamorada Truck Accident Lawyer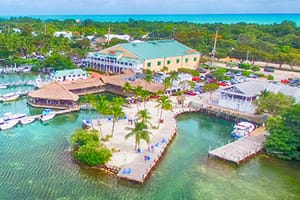 If you were injured or a loved one was killed in a trucking accident in the Florida Keys, do not hesitate to contact our Islamorada truck accident lawyers at Gerson & Schwartz P.A. We are proud to represent accident victims and the surviving family members of those injured in truck wrecks throughout Monroe County and Miami-Dade County. We have decades of experience in handling all types of truck accidents, from rear-end crashes that lead to whiplash to fatal underride truck accidents. We have the knowledge, experience, and skills you need to determine why the truck accident happened and who is liable for compensating you for your injuries or loss. By calling us as soon as possible, we can not only improve your chance of receiving a personal injury or wrongful death settlement, we also can take steps to maximize your final settlement. Our priority will be to win the best possible outcome in your truck accident case.
To learn more about how our bilingual attorneys can help you after a serious or deadly trucking accident in Islamorada, contact us online or call (877) 475-2905 to schedule a free consultation.
Islamorada, Florida
Islamorada is a village in Monroe County, Florida, and more specifically, it is in the upper portion of the Florida Keys. The village encompasses Plantation Key, Windley Key, Upper Matecumbe Key, Lower Matecumbe Key, and Tea Table Key. If you were to drive from Miami, it would take you between an hour and hour and a half to get to Islamorada, which you can find between mile marker (MM) 90 and MM 72 on the Overseas Highway. In addition to the islands, Islamorada encompasses the Channel Two Bridge and the Tavernier Creek Bridge.
The village, spread across the five islands, has a population of more than 6,000 people. However, the number of people on the islands swell during tourist season. Many Americans and those from overseas come to Islamorada on vacation. It is known for its fishing and water activities. All of the industries that thrive due to this tourism require bringing in supplies, which is why you may see semi-trucks, refrigerated trucks, and moving and delivery trucks coming into and out of Islamorada. Commercial trucking is necessary to a variety of reasons, but the increase in trucking traffic can increase the risk of crashes. If you or a loved one were involved in a truck wreck on Plantation Key, Windley Key, Upper Matecumbe Key, Lower Matecumbe Key, or Tea Table Key, call a truck accident lawyer for Islamorada right away.
The Types of Truck Accidents We Handle
Our personal injury and wrongful death lawyers at Gerson & Schwartz P.A. represent accident victims or surviving family members after:
Jackknife Truck Accidents in Islamorada
Islamorada Runaway Truck Accidents
Truck Brake Failure Accidents in Islamorada
DUI Truck Accidents in Islamorada
Islamorada Head-On Truck Accidents
Islamorada Rear-End Truck Accidents
Improper U-Turns by Trucks in Islamorada
Truck Right Turn Accidents in Islamorada
Unprotected Truck Left Turn Accidents in Islamorada
Islamorada Wide Turn Truck Accidents
Islamorada Underride/Override Truck Accidents
Truck Side Impact Accidents in Islamorada
Truck Blind Spot Accidents in Islamorada
Whatever type of accident you or a loved one were involved in, call us right away. We will thoroughly investigate the truck accident and take steps to preserve important evidence. We will file a truck accident lawsuit as soon as possible, which will enable us to gather more evidence through the discovery process. We will utilize depositions, interrogatories, and requests for documents to gather evidence that may point to what went wrong, why, and who is liable.
Common Causes of Trucking Accidents in Islamorada
Commercial truck accidents happen for all sorts of reasons. At Gerson & Schwartz P.A., our truck accident attorneys for Islamorada are here to represent you if you were injured or a loved one was killed due to:
Truck Driver Speeding
Distracted Truck Drivers
Truck Driver Texting
Truck Driver Impaired by Drugs or Alcohol
Drowsy Truck Drivers
Aggressive or Reckless Truck Driving
Improperly Loaded Trucks
Inadequately Secured or Unsecured Cargo
Inadequately Secured or Labeled Hazardous Materials (Hazmat)
Truck Mechanical Failure
Inadequate Truck Maintenance
In some truck accident claims, the truck driver is at fault for the crash. In this situation, the trucker's employer, the motor carrier, is likely liable for your injuries. However, truck drivers are not always at fault. The motor carrier may be liable due to improper maintenance, or the maintenance provider may be liable for failing to take care of the trucks like they were hire to. If a truck defect led to the crash, then a vehicle or parts manufacturer may be responsible.
Islamorada Truck Accident Compensation
No matter who is liable for the truck accident and your injuries or loss, we will fight hard for you to receive the maximum amount of compensation possible. For a personal injury claim, this may include compensation for your:
Medical Expenses
Lost Wages
Pain and Suffering
Emotional Distress and Mental Anguish
Scarring and Disfigurement
Disability
Reduced Earning Potential
Loss of Normal Life
Reduced Quality of Life
Loss of Consortium (The Spousal Relationship)
If you parent, spouse, or child was killed in a truck accident, then you may be able to pursue compensation for the loss of the decedent's income, the loss of decedent's services, love, companionship, and parental guidance, your emotional distress and grief, and any medical, funeral, or burial expenses you had to pay.
Contact an Islamorada Truck Accident Attorney Today
Whether you or a loved one were hurt, or a relative was killed, you should call an experienced and aggressive attorney after a trucking accident in Islamorada. You deserve to have a legal representative investigate your case, protect your rights, and fight for you to receive fair compensation. Our team at Gerson & Schwartz P.A. is here to do that for you. Call us at (305) 371-6000 to schedule a free consultation.