Miami Beach Bicycle Accident Lawyer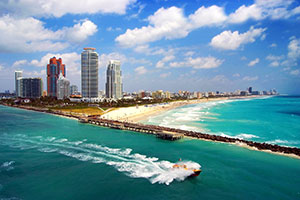 If you or a relative were injured in a bicycle accident, do not hesitate to reach out to a Miami Beach bicycle accident lawyer at Gerson & Schwartz P.A. for help. We are skilled personal injury lawyers with over 48 years of experience handling pedestrian, bicycle, scooter, and auto accidents. If you were struck by a car while riding a bike or involved in some other type of bicycle collision, we will get to the bottom of what happened. We will gather evidence you can use to hold the other party responsible and obtain compensation for your physical, emotional, and financial injuries.
To talk wish us about pursuing compensation after a bike crash, call (877) 475-2905 or contact us online to schedule a free, no-risk consultation.
Types of Bicycle Accidents We Handle
Our bicycle accident lawyers in Miami Beach handle claims arising from all types of incidents. Do not hesitate to call us after a:
Miami Beach Bike-Vehicle Collision
Miami Beach Bike-Uber Crash
Miami Beach Bike-Lyft Accident
Miami Beach Left-Turn Bicycle Accident
Miami Beach Head-On Crash with a Bike
Miami Beach Side Impact "T-Bone" Accident with a Bike
Miami Beach Fatal Bicycle Accidents
Miami Beach Bicycle-Pedestrian Accident
Miami Beach Bicycle-Scooter Accident
Miami Beach "Doored" Bicycle Accident
Whether you were a pedestrian who was struck by a bicycle, or if you were riding your bike and were involved in a crash with a pedestrian, scooter, other bike, or vehicle, give us a call.
We will investigate any type of personal injury incident. We will gather police and accident reports, eyewitness statements, and other evidence to determine whose careless, reckless, or intentional misconduct led to the accident and your injuries.
Miami Beach, Florida
Miami Beach is a resort destination on the coast of Florida. It is located in Miami-Dade County on a man-made barrier island. It is located between Biscayne Bay to the west and the Atlantic Ocean to the east. The city has a population of approximately 92,300 people within 15.22 square miles.
The city is a popular destination for tourists due to its beaches, oceanfront views, water sports, and history. Miami Beach has a popular Art Deco Historic District, located between Dade Blvd to the north, 6th St to the south, Lenox Court to the west, and the ocean on the east. It is on the National Register of Historic Places and has the largest collection of Art Deco architecture in the world. This collection includes hotels, apartments, and other buildings erected between 1923 and 1943.
Whether you are a resident or visitor to Miami Beach, you may choose a bike to get around. Bicycles enable you to avoid traffic and enjoy the sun as you navigate bike trails or city streets. However, by sharing the road, you face a risk of being hit by a car or colliding with a suddenly opened door. When you are injured in a bike crash, we recommend you contact our Miami Beach bicycle accident attorneys right away.
Were You on a Citi Bike?
Citibike lets you unlock and rent a bike at one station, ride the bike wherever you want, and return it to any other station. There are Citibike stations all over the island, giving you quick and easy access to bikes.
However, these bikes may be heavily used and poorly maintained. If you are injured in a bike accident and you believe it is because the bike malfunctioned, call Gerson & Schwartz P.A. to speak with a bicycle accident lawyer in Miami Beach right away.
Compensation for a Bicycle Accident that Caused You Injuries
If you were injured in a bike accident that was another person or business's fault, then you should talk with our lawyers about pursuing compensation. We will guide you through the insurance claim and process in pursuit of the best financial recovery possible.
Our goal will be to obtain you the maximum compensation possible for your:
Medical Bills
Lost Wages
Pain and Suffering
Disfigurement
Disability
Emotional Distress
Mental Anguish
Reduced Earning Potential
Loss of Normal Life
Loss of Consortium
We will strive to obtain plenty of evidence to prove the other party is at fault. We also will work closely with you, your medical providers, and your friends and family to document your pain and suffering. This is often the greatest portion of your financial recovery. We will use everything possible, including medical records, photos, personal testimony, and your diaries to establish everything you have physically and emotionally gone through.
Fatal Bicycle Accidents
If your child or other relative passed away in a fatal bike crash, call our Miami Beach lawyers for bicycle accidents today. We can guide you through a Florida wrongful death claim in pursuit of compensation for the funeral and burial, your loved one's medical expenses, and the loss of your loved one's society, companionship and love. If your loved one financially supported you, we will also pursue compensation for your lost income.
Contact a Miami Beach Bicycle Accident Lawyer Today
Whether you are recovering from bike accident injuries or are mourning the loss of a loved one, Gerson & Schwartz P.A. is here to help. We are here to fight for your rights and for you to receive full and fair compensation, whether that means pursuing an insurance claim or taking your case to trial.
To talk with us about your options after a bicycle accident, call us at (305) 371-6000. Or use our online form to request a consultation with a bilingual attorney.