Miami Beach Personal Injury Lawyer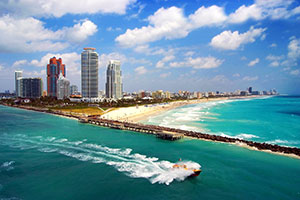 Gerson & Schwartz PA is a full service personal injury law firm located minutes from historical Miami Beach, Florida. Miami Beach was incorporated in 1916 and is located between a series of man-made islands in the southeastern portion of Florida. After the end of World War II its population saw a dramatic increase in only a few decades. Due to its great climate, sandy beaches, and diverse population consisting of Americans and others who immigrated from European and Latin American countries, the city of Miami Beach, Florida has become one of the most culturally diverse and most popular cities in the world.
Miami Beach Personal Injury Lawyers
Despite the beautiful weather, cruise ships that depart on a daily basis, and exciting nightlife, sometimes accidents occur. When they do, you need experienced legal help. Whether your a tourist or local resident, the Miami Beach personal injury lawyers at Gerson & Schwartz, PA handle a variety of personal injury and accident claims. We only represent plaintiffs and our personal injury attorneys are Florida board certified in trial law. Our law firm is willing to listen to anyone who has been injured in a car accident, sustained a serious injury, or have even been the victim of a crime. Our experience spans more than 50 years helping accident victims. We handle all cases under what is called contingent fee agreements, so there are no attorneys fees unless we collect money on your behalf.

If you are visiting Miami Beach, Florida, or live in the Greater Miami area, and have been harmed by the negligence of another, the Miami, Florida based accident lawyers at Gerson & Schwartz, PA are ready, willing, and here to assist you.At Gerson & Schwartz PA our lawyers specialize representing clients injured in:
For more information on how we can help call us locally at (305) 371-6000, or contact us online.
Miami Beach Car Accident Lawyers
According to the National Highway Safety Traffic Administration (NHTSA), there have been 41,000 highway fatalities since 1993. Miami has one of the highest rates for fatal car accidents in the country. Miami Beach personal injury attorneys have seen this statistic rise over the years. Each year motorists are injured or killed in traffic related incidents due to careless driving, aggressive driving, drunk driving, or reckless driving. In 2010, there were 645 crashes per day in Florida with a total of 195,104 injuries and 2,444 fatal car accidents. Heavy construction throughout the city and the influx of tourists on a daily basis makes automobile transportation more and more dangerous each day.
The Miami Beach injury lawyers at Gerson & Schwartz, PA specialize in car and motor vehicle accidents, medical malpractice, and injuries sustained on property. Were here to help, so call us today for a free consultation (305) 371-6000. You may also email us at info@gslawusa.com.