Miami Beach Slip and Fall Attorney
A Full-Service Personal Injury Law Firm in Miami Beach, Florida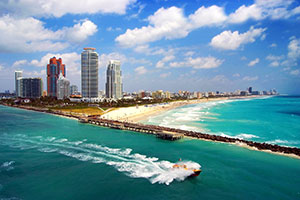 There are many great attractions that bring people to Miami. Some come to enjoy the world-class seafood, others appreciate the Cuban influenced music scene, or the colorful architecture. Of course, some of the main attractions the city's famous nightlife and miles and miles of beaches.
Regardless of the reason, Miami is a place that celebrates the diversity of its residents and visitors. Unfortunately, however, sometimes accidents happen when you're out and about in and around Miami. People can slip or trip for a variety of reasons—poor lighting, foreign substances on the floor, or uneven floorboards. When you suffer an injury because of your fall, you might be able to hold the property owner responsible for any financial losses caused by your injury.
At Gerson & Schwartz, we have obtained numerous six-figure verdicts for our clients to help them begin to piece their lives back together. Collectively, our Miami Beach slip and fall attorneys have over one hundred years of experience working on legal cases that involve slip and fall injuries in the Miami, Florida area. We offer a free initial consultation and will not collect legal fees unless we successfully recover on you behalf, so call us at (305) 371-6000 or (877) 475-2905 or contact us online today.
Who Can I Hold Legally Responsible for my Fall?
Depending on the circumstances, you may be able to make a legal claim against the party who was in control of the property where you fell. For example, if you fell at one of Miami Beach's many resorts, then you can sue the resort. You might also sue private property owners so long as you were not trespassing on their property. A Miami Beach slip and fall lawyer can help you understand your options.
Landowners, operators, and property managers owe a duty to visitors to keep their premises safe. To this end, these parties owe a duty to:
Not create hazards that pose a risk to their visitors
Uncover hazards through regular inspection of the property
Warn visitors about hazards they cannot correct
If your claim is successful, you can receive financial compensation for medical expenses, lost wages, physical pain and suffering, and emotional distress. The amount you can recover will depend on the severity of your injuries and the amount of economic losses you have suffered.
Can I Sue the Government?
Many people fall while walking on government property. For example, you might slip or trip while crossing a road or walking down the sidewalk. You might also slip in a government building like City Hall or fall on Miami Beach's trolley.
Before you can sue the state, municipality, or government agency, you must put them on notice of your claim. This notice gives them a chance to investigate and decide whether to settle your claim. Your lawyer can draft this notice for you and submit it to the appropriate office.
Lawsuits against the government also might result in a lower recovery. Under Florida law, you typically cannot receive more than $300,000 for your injuries when you sue the government.
How Much Time Do I Have to Sue?
The amount of time depends on the defendant. If you are suing a private business or individual, then you must sue within four years of falling. If you miss this deadline, then your case can be thrown out, which means you can't hold the property owner legally responsible.
If you are suing the government, you must file a claim with the appropriate state office within six months of your fall. You can then bring a lawsuit if the government chooses not to settle.
How Can a Slip and Fall Lawyer in Miami Beach Help Me?
Lawsuits are complicated. In order to prevail, you need to identify the correct party to sue. Sometimes this can be difficult, as when you are suing someone who rents their property or if you are injured in public. Many of our clients cannot identify the person or agency in control of the property where they fell.
Furthermore, you will need high-quality evidence to bring a successful lawsuit. In Florida, you need to prove that the premises owner did not keep the property in reasonably safe condition by a "preponderance of the evidence." This standard means it is more likely than not that the defendant is responsible for your injuries.
At Gerson & Schwartz, our Miami Beach slip and fall attorneys understand that our injured clients need to make their health their top priority. For that reason, we fully investigate any accident on behalf of our clients so that we can build as strong a case as possible.
Some evidence we can obtain includes:
Witness testimony. Someone might have seen you fall and have identified the hazard that caused you to fall.
Surveillance video. Many businesses now have surveillance video which might show that the landlord was aware of the hazard but chose not to fix it.
Accident scene photographs. For example, we can take pictures of uneven sidewalks or other hazards at businesses or private residences.
Each case presents its own challenges, but with decades of experience, the lawyers at Gerson & Schwartz will leave no stone unturned as we track down every piece of favorable evidence.
Call a Miami Beach Slip and Fall Lawyer Today
Injured victims need compensation to pay their bills and provide for their families. If you have experienced an injury due to a slip and fall accident in the Miami, Florida area, an experienced Miami Beach slip and fall lawyer can help explain your options. At Gerson & Schwartz, we fight for our clients all the way from investigations to appeals. Contact us today for a free consultation by calling (877) 475-2905.