Miami Beach Truck Accident Attorney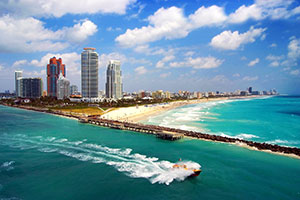 Statistics show that truck drivers are typically more careful on the road than a private automobile driver. As reported by the Federal Motor Carrier Safety Administration (FMCSA) 480,000 large commercial vehicles were involved in accidents in a single year in the United States. According to the Fatality Analysis Reporting System (FARS) there are approximately 35,000 fatal crashes every year in the US, with eight percent of these involving big rigs or other large truck. According to the U.S. Department of Transportation truck drivers are much more careful than the private automobile drivers. In a 2006 study, they found that large truck crashes accounted for 4,995 fatalities and 106,000 of the injuries. This same study found that the two leading factors attributed to the high rate of accidents involving trucks are driver fatigue and reckless motorist.
If you or a loved one was injured in a truck accident and now struggle with injuries, medical bills, and other losses it is essential that you call a truck accident specialist at the personal injury law offices of Gerson & Schwartz, PA at (305) 371-6000 or (877) 475-2905 to discuss your case. All case calls are confidential, and there are no costs to you to get started.
Potential Causes of a Truck Accident
Driver Fatigue - According to the Federal Motor Carrier Safety Administration driver fatigue can be just as dangerous as drinking while driving.
Substance Abuse - Truck accident fatalities decrease by 9-10% when employers enact drug testing.
Speeding - According to the National Highway Traffic Safety Administration, more than one-quarter of all drivers of large trucks, involved in fatal truck crashes in 2004 had at least one prior speeding conviction.
Improper loading - Improper loading increases the probability of truck rollover collisions.
Improper Inspection and Maintenance - Commercial Vehicle Safety Alliance found that one in five trucks failed a safety inspection. These failures included defective brakes and tires, which could cause a truck to crash.
Product or Manufacturing of Trucks - The poor design or manufacture of a truck or another vehicle may cause or intensify the consequences of a truck crash.
Employer Negligence - A trucking company that neglects to carefully hire, train, and supervise its drivers and properly maintain the fleet of trucks may be liable for the truck collision.
How Miami Beach Lawyer Can Help
Truck accident cases can be complex and difficult to prosecute alone. It is important to hire an experienced lawyer to help you sort through your potential defendants, insurance companies, and investigators. In any given truck accident case your potential defendants can range from the truck drivers, the drivers of the other vehicles, employers of the truck drivers, repair facilities responsible for the truck's maintenance, and government entities responsible for maintenance of the roads. Truck accident claims also pose difficulty when it comes to producing documents and testimony. A common practice among the truck industry is falsifying records and having company rules on paper that are not followed. As a result, you will need an attorney on your side who is familiar with this practice and understands the proper protocol for getting these files thrown out of court. Accordingly, it is important to have an experienced attorney on your side who can advocate for you in these incredibly complicated situations. The lawyers at Gerson and Schwartz have been advocating for clients in truck accidents for 50 years and are highly skilled in sorting out these matters.
Victims May be Owed Compensation
If your attorney determines that you do have a claim you may be able to recover compensation for the following:
Medical Bills
Property Damage
Pain and Suffering
Loss of Wages
Impairment of Earning Capacity
Lifestyle Changes
Life-Care
Punitive Damages
What Should You Expect From Your Miami Beach Truck Accident Lawyer?
Your lawyer is your advocate in situations like this. At Gerson & Schwartz, PA we have over 50 years of experience working with victims who have been injured in truck accidents and will use our knowledge of personal injury, wrongful death, and product defects to get you the very best care for your injuries. To start, we will evaluate your case to determine the extent of the damages that are owed to you.
Discuss Your Situation With an Experienced Truck Accident Attorneys in MIami Now
The Miami personal injury law offices of Gerson & Schwartz, P.A. regularly represents clients in insurance claims and personal injury claims in court following serious accidents and injuries. If you or a family member has been injured, please call Gerson & Schwartz, P.A. a Miami Beach truck accident attorney at (877) 475-2905 or contact us online to schedule your free consultation.