Miami Gardens Slip and Fall Accident Lawyer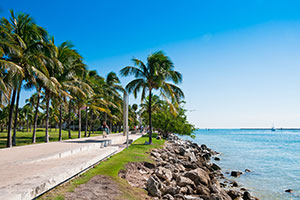 At Gerson & Schwartz, our Miami Gardens personal injury lawyers have helped slip and fall accident victims in Miami for nearly 50 years. It may surprise some people but slip and fall accidents are more common than most realize.
Most often, slip and falls happen at businesses and stores such as restaurants, retail stores, bars, nightclubs, shopping malls, convenience stores and gas stations. As a victim, you should know that these business establishments may be liable for your injuries according to the Florida premises liability and negligence laws. They owe you a duty of care, which means that they must maintain a reasonably safe environment for their visitors and customers. That means keeping the floors free of liquids that could cause a fall. There is no doubt that commercial locations usually take care of the floors, but sometimes they fail due to negligence. They may leave the floors with liquids for an unreasonable amount of time before cleaning it. Or they may clean the floors but leave them slippery due to the cleaning detergents without warning signs. Whatever the scenario, if you slip and fall due to their negligence, they may be responsible to pay for your injuries. However, if you slipped on a liquid that you spilled moments before the accident, it is your fault. That is why it is important in all slip and fall cases to get an accurate assessment of fault and liability before proceeding further.
To determine who was liable for the accident, call us at Gerson and Schwartz for advice. Our Miami Gardens slip and fall lawyers are at your service for free and no-risk consultations at (305) 371-6000. Tell us how it happened, and we will let you know about your options for free of charge. We ask for fees only when we recover compensation for our clients.
Miami Gardens Slip and Fall Accidents
Miami Gardens is a city in Miami-Dade County located next to Miramar, Miami Lakes, Golden Glades, North Miami Beach, Opa-Locka, and West Park. Around 115,000 people live in the city. Miami Gardens has an ongoing problem with high crimes rate, but aside from crime accidents, people here also get hurt due to slip and fall accidents. Our Miami Gardens slip and fall attorneys can help you in any slip and fall case as:
Premises liability attorneys in Miami Gardens
Gas stations slip and fall lawyers in Miami Gardens
Supermarket slip and fall lawyers in Miami Gardens
Miami Gardens apartment complex slip and fall attorney
Strip shopping mall slip and fall attorney in Miami Gardens
Miami Gardens hotel and resort slip and fall attorneys
Miami Gardens motel slip and fall lawyers
Miami Gardens hospital slip and fall lawyers
Miami Gardens retail store slip and fall attorney
Bar and restaurant slip and fall lawyers in Miami Gardens
It is in your best interest to talk to an experienced Miami Gardens personal injury attorney as soon as possible after the accident happens because recovering damages is not a simple task. Right after the accident, the liable person will probably refuse to take responsibility for the event. They'll likely say it was your fault or that the floors were just fine.
If they feel that that they can avoid responsibility cheaply, they may will offer you a settlement package. We advise you to not agree on anything before speaking to a lawyer. Most often these packages are not what you deserve. They serve to get rid of you as soon as possible for the lowest price as possible. If you want to get an amount of money that will more appropriately cover for your harms and losses, don't accept anything but consult a lawyer first.
Miami Gardens Slip and Fall Accident Lawyers
Phil Gerson, Ed Schwartz, and Nick Gerson have vast experience in recovering compensation for slip and fall victims in Miami Gardens. Call us now for free initial consultations at (305) 371-6000. Our Miami Gardens slip and fall accident lawyers are at your service. We don't ask for fees before recovering damages for our clients' personal injuries.