Miami Gardens Trip and Fall Accident Lawyer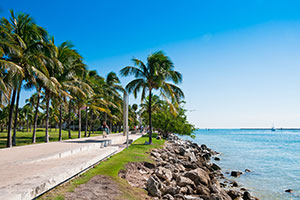 If you were injured in a trip and fall or slip and fall accident, contact a Miami Gardens trip and fall accident lawyer at Gerson & Schwartz P.A. Our attorneys are highly experienced in handling premises liability cases. We routinely take on slip and fall, trip and fall, and falls from heights cases. We are here to help whether or you were injured on public or private property and when the negligent property owner is a person, business, or a municipality. Whatever your experience, if you were injured because of another party's carelessness, recklessness, or intentional misconduct, then we are here to fight for your financial recovery.
To talk with our trip and fall accident attorneys in Miami Gardens, contact us online or call (877) 475-2905. You can schedule a free consultation with one of our bilingual attorneys.
Miami Gardens, Florida
Miami Gardens is a city in Miami-Dade County. It was incorporated on May 13, 2003, making it the 33rd city in the county. As of a 2018 estimate, the city has a population of more than 113,000. It is the third largest city in the county behind Miami and Hialeah. The city's population is a majority black, followed by Latinx.
Miami Gardens is located approximately halfway between Miami and Fort Lauderdale. It is easy to reach via I-95, the Palmetto Expressway (SR 826), and the Florida Turnpike. The boundary streets of Miami Gardens include 151st Street, Countryline Road, North Miami Avenue, North East 2nd Avenue, North West 47th Avenue, and North West 57th Avenue.
The city is like elsewhere throughout Florida. The community is a mix of single-family residences, multi-unit buildings, and businesses. Residents of Miami Gardens can frequent mom-and-pop stores and large retailers like Walmart and Target, and grocery stores like Winn-Dixie and Aldi.
Residents and visitors also enjoy various entertainment and sporting venues like Hard Rock Stadium, the home of the Miami Dolphins.
All of these places, from homes to theaters and stores, can the site of a trip and fall accident. If you were injured on property in Miami Gardens, contact our trip and fall accident attorneys in Miami Gardens right away.
Common Causes of Trip and Fall Accidents
At Gerson & Schwartz P.A., we have over 48 years of experience in helping accident and injury victims. We have worked on countless slip and fall and trip and fall accident cases.
We have found that some of the most common reasons for trip and fall accidents include:
Debris, cords, or garbage in walkways
Uneven surfaces, including sidewalks, parking lots, tile, and wood flooring
Loose or broken stairs
Loose or torn carpet
Poor lighting, including lack of lighting fixtures and burnt our bulbs
If you tripped and fell because of a hazard on another person, business, or municipality's property, call us right away. Our Miami Gardens trip and fall accident attorneys are highly experienced in investigating these types of cases. We scrutinize the condition of the property that led to your fall and injuries. We dig into the property owner's history, including whether they routinely inspect their property, repair and maintain it, or warn visitors of dangers.
We also look into whether the property owner has had accidents like this before. You may not be the first person to fall and get hurt on that party's property. You may not be the first person to be hurt from that particular hazard.
We will review all of this information to build you a strong case for compensation.
Common Trip and Fall Injuries
Our trip and fall lawyers in Miami Gardens are here to pursue compensation for your injuries. We have handled cases involving all types and severities of injuries, including but not limited to:
Broken bones, including wrists, arms, and hips
Dislocations, including dislocated shoulders
Dental and facial injuries
Neck and back injuries, including herniated discs, cracked vertebrae, ligament sprains, and muscle and tendon strains
Spinal cord injuries and paralysis
Concussions
Moderate-to-severe traumatic brain injuries
Whatever type of injury you are suffering from due to a trip and fall, call us right away. We will work closely with you, your medical providers, and medical and economic experts to determine the potential value of your claim.
Trip and Fall Injury Compensation
One of the most important reasons to hire a Miami Gardens trip and fall accident lawyer is to ensure you have the best possible chance at receiving the maximum amount of money possible for your injuries. At Gerson & Schwartz P.A., we do not settle for lowball offers. We do not agree to settlements that barely cover your medical bills and nothing else.
We fight hard for you to receive full and fair compensation for your:
Past and future medical bills
Lost wages and employment benefits
Pain and suffering
Emotional distress
Disfigurement
Disability
Reduced earning capacity
Loss of normal life
Contact Gerson & Schwartz P.A. Today
After you are injured in a trip and fall accident, the most important thing is for you to receive medical care. Once you have been diagnosed, examined, and treated, call a Miami Gardens trip and fall accident attorney at Gerson & Schwartz P.A. for advice. We will perform a thorough investigation into the accident. We will identify any relevant insurance policy, including a homeowner's, renter's, or business liability policy.
If you have a claim against a municipality, we will get started right away. There are tight deadlines to file a notice of a claim.
For more information, contact us online or call (305) 371-6000 to schedule your free consultation.