North Bay Village Uber Car Accident Attorney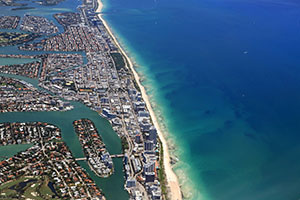 Uber's rapid success has provided new means of income for a job seeker, new methods of transportation for the public at large, and new challenges for lawyers and court systems protecting injured victims. According to the Florida, DMV Miami-Dade is one of the top five counties for car crashes in the state. A six-year intensive study showed Miami sees over 4,000 accidents a month and more than 20% of the crashes that occurred in Miami Dade County happened within the city limits of Miami. Not only is driving in the Miami-Dade area particularly risky, but the dangers associated with being compensated by Uber's insurance companies has proven to be difficult.
Were you seriously injured in a collision with an Uber driven vehicle or while a passenger in an Uber vehicle? Uber accidents can cause devastating damage and cause serious and life threating injuries. The legal process can also be complicated for the accident victims.
If you were injured in an Uber accident, you might be entitled to seek financial compensation. It is important to seek help from an experienced attorney that handles Uber auto accidents and their insurers. If you find yourself in an accident or motor collision with an Uber vehicle in North Bay Village or another area of South Florida, call a Uber car accident attorney at the personal injury law offices of Gerson & Schwartz PA by calling (305) 371-6000 or toll free at (877) 475-2905 to discuss your case. All new case calls are confidential, and there are no costs to you to get started.
Common Causes of Uber Car Accidents in North Bay Village
Uber car accidents are caused by various factors. The factors that cause Uber accidents are no different than the causes of ordinary traffic accidents. The following are some common causes of Uber crashes our lawyer have experience.
Lack of Sleep - Uber requires that it's drivers adhere to a 12-hour work shift per 24 hours. However, when a driver exceeds these hours and drives beyond these 12 hours, the risk of driver fatigue and accidents increases.
Poor Vehicles Maintenance
Negligent Drivers
Drivers who are intoxicated or under the influence of drugs
No matter the cause of the accident, there is the potential for severe and life-changing injuries to result. Any type of injury can disrupt your life and result in extensive financial losses.
Common Injuries our law firm has experience due to Uber Crashes in North Bay Village include:
Fractures/Broken Bones
Neck and Back Injuries
Brain Injuries
Burn Injuries
Head Injuries
Traumatic Brain Injuries
Wrongful Death
What Will Uber's Insurance Cover After an Accident?
If you are injured in an accident with an Uber driver you might be entitled compensation for:
Medical bills and related treatment
Costs for future medical care
Wage loss
Loss of earning capacity
Emotional and psychological harms
Pain and suffering
Click on this link to learn more about uber auto insurance that may be available for uber car injury victims.
What Steps Should I Follow if I was an Uber Driver Involved in a Collision
If you are an Uber driver involved in a collision you should take these immediate steps:
Call 911 or to the hospital, urgent care, or your doctor.
Collect the contact information and insurance of the Uber driver and other driver involved in the accident
Take photos of the damage to your car and other cars at the scene.
Gather contact information from any witnesses at the accident scene.
Call your insurance company to report the accident.
Call the Uber accident injury attorneys at Gerson Schwartz, PA at (305) 371-6000 or (877) 475-2905
What Should You Expect From Your North Bay Village Lawyer?
To start the process, and to make sure that the important evidence is preserved, your lawyer will send preservation of evidence letter, to both your driver and Uber. Then they will gather your medical records and proof of your lost wages. The following step will be to make a demand for settlement of your Uber accident claim. If the Insurance company fails to make a reasonable settlement offer, Gerson & Schwartz will prepare and file a lawsuit on your behalf. Once the suit is filed, our Uber lawsuit lawyers will seek the earliest possible trial date so that your case gets resolved by settlement or jury verdict as quickly as possible.
At Gerson and Schwartz, PA our Uber car accident lawyers in North Bay Village represent injury victims involved in:
Rear End Collisions
Failure to Yield Uber Accidents
Side Impact Uber Collisions
Head on Uber Accidents
DUI Accidents
Distracted Driving Uber Accidents
Uber related Motorcycle Crashes
Uber related Truck Accidents
Uber Crashes and Accidents and Commercial vehicles
Bicycle Accidents with an Uber driver
Pedestrian Accidents with Uber Drivers and vehicles
Discuss Your Claim With an Experienced North Bay Village Uber Accident Attorney
Gerson & Schwartz, P.A. attorneys routinely represent clients with Uber bodily injury and insurance claims. Our lawyers can help you too. If you or a family member has been injured in North Bay Village or reside in the area contact Gerson & Schwartz, P.A. to discuss your accident case with North Bay Village Uber car accident attorney at (877) 475-2905 or contact us online to schedule your free consultation. Se Habla Español.