North Miami Beach Motorcycle Accident Lawyer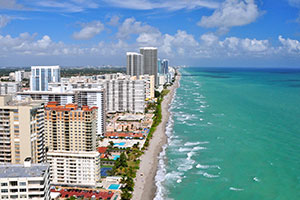 There is nothing quite like the feeling of the open air and the breeze on your face as you ride your motorcycle through North Miami Beach. However, your enjoyable experience can take a tragic turn if you are involved in a motorcycle accident. Unfortunately, these incidents are far too common in the US. According to the National Highway Traffic Safety Administration (NHTSA), around 5,300 people are killed and another 90,000 are injured every year in motorcycle crashes. The vast majority of these accidents are preventable, and they occur because of driver negligence.
Fortunately, you do have legal remedies as the victim of a motorcycle crash in Florida. You may be able to recover compensation for your losses, and our team at Gerson & Schwartz can help. Please contact our office to schedule a no-cost case evaluation with a North Miami Beach motorcycle accident attorney today. You may also benefit from reviewing some important information about your rights.
North Miami Beach, Florida
North Miami Beach was originally the City of Fulford and was created after a brutal hurricane passed through the area in 1926. It was renamed North Miami Beach in 1931, and today it is home to many beautiful state parks, beaches, and cultural institutions. Of course, with such beautiful scenery, North Miami Beach is a favorite spot for motorcyclists, who flock to the area year-round.
We can help you no matter how you were injured in a motorcycle crash case. Our personal injury law offices can serve victims in any capacity, such as:
North Miami Beach rear-end accident attorneys
Side-swipe collision lawyers in North Miami Beach
North Miami Beach wrong-way accident injury law firm
Drunk driving accident injury lawyers in North Miami Beach
North Miami Beach distracted driving crash attorney
North Miami Beach lane splitting crash law firm
Florida Motorcycle Crashes by the Numbers
The Florida Department of Highway Safety and Motor Vehicles compiles data from around the state, as well as on a county-by-county basis. The statistics reveal that:
There are more than 9,700 motorcycle accidents across Florida every year, around 1,000 of which occur in Miami-Dade County;
Motorcycle crashes claim the lives of 520 people throughout the state annually, and more than 7,900 victims suffer injuries; and,
Approximately 50 motorcyclists are killed and almost 900 motorcycle riders suffer bodily harm in North Miami Beach motorcycle collisions annually.
How North Miami Beach Motorcycle Accident Claims Work
Motor vehicle crashes, including those involving motorcycles, typically occur because of negligence. From a legal standpoint, you need to show that the responsible motorist breached the legal duty to exercise reasonable care when driving. By proving that the breach was the direct cause of the motorcycle collision, you may be entitled to recover compensation for your losses. Our North Miami Beach motorcycle accident lawyers can explain the relevant legal concepts in more detail, but some examples of driver negligence include:
Speeding;
DUI or Driving while under the influence of alcohol or drugs;
Careless Driving
Illegal U Turns
Failure to yield
Erratic or illegal lane changes; and,
Distracted driving, including texting, talking on the phone, surfing the internet, and other unlawful cell phone use.
Seeking Compensation for Motorcycle Collision Injuries
Because of their design, motorcycle accidents can lead to serious, potentially life-threatening bodily harm for the rider. There is no protective metal barrier and, in many cases, the victim will suffer a secondary impact upon hitting the ground. Our North Miami Beach motorcycle accident attorneys at Gerson & Schwartz are dedicated to getting the top monetary damages allowed by law, such as:
Past and future medical treatment in the past and future
Wage Loss
Loss of earning capacity
Pain and suffering;
Emotional and psychological harm
Scarring and disfigurement;
Wrongful death
Take Action After a Motorcycle Crash in North Miami Beach
Amid the chaos of a motorcycle accident, it can be difficult to know what to do in the immediate aftermath. A North Miami Beach motorcycle collision lawyer at Gerson & Schwartz will handle the legal matters. We investigate all potential sources of financial responsibility place all potential parties on notice of the claim and hire investigators together all evidence needed to prove your case in court.
While most times we give insurance company an opportunity to do the right thing often times a lawsuit is required to file against the responsible driver's insurance company. For the last 50 years person in shorts motorcycle injury attorneys have been helping clients injured throughout North Miami Beach in other areas of South Florida. insurance companies now that based on our years of experience that we won't settle a client's claim for less than full amount it's not a lot permits. So give us a call to find out how we can help you. Consultations are free So call us at 305-371-6000 or toll free at 877-475-2905. There are no cost to get started and you only pay us if we win. You can also email us info@gslawusa.com.
Tips To Help Prove You Case In the Court Room
Get medical care immediately at the emergency room, an urgent care center, or through your own physician.
Depending on the severity of your injuries, take pictures of the scene, all vehicles, and other relevant issues.
Do not admit fault or discuss how you think the motorcycle crash occurred with the responsible driver.
If contacted by an insurance adjuster, your only conversation should be confirming your contact information. Avoid discussing the underlying causes of the accident or the nature of your injuries.
Never allow your statement to the insurance company to be recorded without assistance of counsel. Nor do we advise victims to sign a release or other documentation without the assistant of counsel.
Call Now to Discuss Your Legal Rights with a North Miami Beach Motorcycle Accident Lawyer
While this overview of the relevant legal concepts may be helpful, it should also convince you of the need to retain experienced counsel to assist with the motorcycle crash process. At Gerson & Schwartz, our team has extensive experience representing victims, so we are prepared to fight for your rights and get the compensation you deserve. To learn more about our legal services, please call 305- 371-6000 or email us info@gslawusa.com. Call us today up a free consultation to review your circumstances and tell you more about next steps.