North Miami Beach Pedestrian Accident Lawyer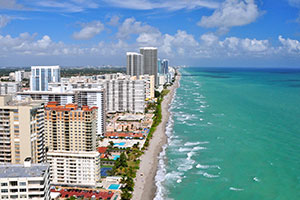 Unfortunately, the Miami metropolitan area is one of the most dangerous in the US for pedestrians. When it comes to North Miami Beach itself, tens of pedestrians are injured there every year. Some of them, unfortunately, lose their lives. The Miami personal injury law firm of Gerson and Schwartz provide free initial consultations for pedestrians who were injured in North Miami Beach. You may be entitled to financial compensation for your injury-related losses and expenses. You may seek compensation for medical costs, medical devices costs, pain and suffering, temporary or permanent disability, lost wages, loss of financial support, and other damages. Contact us at (305) 371-6000, and we will discuss your accident and clearly advise you about your options to obtain the fair and complete compensation you may deserve.
Keep in mind that people usually try to avoid responsibility for their deeds. They won't just give up, admit they caused the accident and pay you damages. In our experience, they will refuse responsibility. In the best-case scenario, their insurance company will offer you some compensation package, but they will rarely offer what you deserve. Don't accept a quick nuisance value offer or anything else before talking to the best North Miami Beach personal injury lawyer you can locate. Learn if you are entitled to compensation and what the full value of your damages might be.
Our North Miami Beach pedestrian accident lawyers are available for assistance in such situation. We will answer all your questions to the best of our ability. If we think that you stand no chances for damages recovery, we will let you know and we will not charge you anything for the consultation. If we think that you have a viable claim and should pursue financial compensation, we'll explain to you the entire process of how we can pursue the compensation you deserve from you North Miami pedestrian accident.
If you choose us to represent you, we won't ask you for fees until we get you compensated. We will start by structuring your case with all the necessary evidence to support your claim because that will put us in the best possible negotiating position. Then we will propose a settlement to the insurance company. If they accept it and pay what we demand, then that is wonderful news for you. If they don't do it in a reasonable time, we will file a lawsuit and litigate your case to resolution by settlement or a jury verdict. Whatever happens, we won't quit until you get the compensation you deserve. Call us now at (305) 371-6000 for your free consultation and let's begin your journey for justice.
Causes for Pedestrian Accidents in North Miami Beach
North Miami Beach is like any other Miami-Dade city - poorly designed for pedestrians. Wherever you go in the Miami metropolitan area, you must be very careful to avoid being hit by a motor vehicle. Here at Gerson and Schwartz, our North Miami Beach personal injury attorneys assist injured pedestrians in the capacity of:
Accident lawyer for pedestrian accidents with trucks in North Miami Beach
Injury lawyers for accidents on sidewalks in North Miami Beach
North Miami Beach crosswalk accident injury lawyers
North Miami Beach lawyers for pedestrian accidents with motorcycles
Attorneys for pedestrian accidents with Uber drivers in North Miami Beach
North Miami Beach attorney for pedestrian accidents in parking lots and garages
Accident attorneys for pedestrian accidents in North Miami Beach with Lyft drivers
Personal injury law firm for pedestrian accidents with cars in North Miami Beach
North Miami Beach lawyers for pedestrian accidents with bicyclists
North Miami Pedestrian Accident Attorneys
Don't let the responsible person get away with causing your injuries. The US legal system has defined that getting compensated for your injuries is a form of justice and it is up to you and your North Miami Beach pedestrian accident lawyer to pursue it. We at Gerson and Schwartz can help you with that. We don't charge fees until we get you compensated. We start by offering free consultations at (305) 371-6000. Call us, and we will explain your options to you for free of charge.