North Miami Beach Slip & Fall Lawyer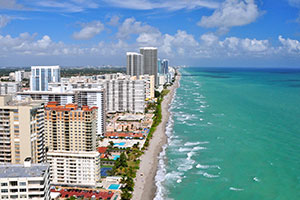 North Miami Beach is home to many restaurants, shops, parks, entertainment venues, theaters, and other spaces that appeal to residents and visitors alike. When surrounded by so many hubs of activities and movement, it is no surprise that accidents are a common occurrence. The US Centers for Disease Control and Prevention (CDC) reports that 39.5 million people visit a health care provider every year for unintentional injuries, slip and falls, tripping incidents, and many other accidents on properties in the U.S. While North Miami Beach business owners and those in control of property have a duty to ensure that the premises are safe, many shirk their legal responsibilities.
If you suffered slip, trip or fall injuries or other bodily harm because of dangerous conditions on someone else's property, you are probably already realizing that your losses extend beyond mere physical pain. You suffer emotional and financial consequences, so it is good to know that you have options to recover compensation for your losses. At Gerson & Schwartz, our team is prepared to advocate on your behalf through the legal process; contact us to set up a no-cost consultation with a North Miami Beach slip and fall lawyer. Consultations are free. So give us a call at 305-371-6000 or email us at info@gslawsa.com
Statistics on Slip and Fall Accidents
According to data compiled by the CDC and other sources, injuries from slips, trips, and falls can be serious:
More than 12.2 million people seek medical care in US emergency rooms every year from accidental falls and being struck by an object;
Brain and spinal cord injuries are among the most serious types of injuries from premise liability; and,
Hospital costs from slip and fall incidents and other accidents average up to $4,000 per day, and expenses for the average stay are more than $15,000.
Summary of Florida Premises Liability Law
Though they are familiarly known as slip and fall 'accidents,' your rights as a victim are grounded in the concept of premises liability. The rules of negligence apply, so you must prove that the property owner breached the duty to keep the premises reasonably safe from foreseeable hazards. This breach may be through acts or omissions, and some examples include:
Negligently failing to inspect or monitor high traffic areas
Failing to use non-skid strips or products to reduce slippery surfaces
Failing to clean up spills and debris;
Negligent maintenance and monitoring
Failing to correct or to warn about slippery areas
Negligent policies and procedures
Not securing loose wiring or electronic equipment;
Neglecting to repair broken steps, staircases, handrails, and balconies;
Failing to inspect the premises to discover and fix dangerous conditions which created a slip tip or fall hazard
The failure to fix or install proper lighting in hallways, entries, and parking areas; and,
The first step in a North Miami Beach premises liability case is to identify all responsible parties and place them on notice of a potential claim. Its also essential to document and secure all important evidence, obtain any video and document conditions to prove the existence of a dangerous condition prior to filing a claim with the property owner's insurance company. A North Miami Beach slip and fall lawyers at Gerson & Schwartz understands the legal challenge required to be successful pursuing a slip and fall accident claim in North Miami Beach from pre suit settlement through trial.
Get Legal Help From a Slip and Fall Lawyer in North Miami Beach
The legal process in a premises liability case can be complicated, but our team at Gerson & Schwartz is prepared to tackle the challenges with filing a claim and litigation. No matter where or how you incurred your injuries, our firm can assist as:
North Miami Beach traumatic brain injury law firm
Premises liability lawyers in North Miami Beach
North Miami Beach attractive nuisance accident attorneys
Wrongful death law firm in North Miami, Florida
North Miami Beach spinal injury attorneys
North Miami Beach negligent security injury law firm
Financial Compensation in North Miami Beach Slip and Fall Personal Injury Claims
Money damages in a premises liability case are how we compensate others. By claiming your economic and non economic damages is how compensation is designed by law to place the injury victim in same relative position but for the slip and fall accident. When filing a personal injury claim in North Miami Beach insurance claim you may be able to seek compensation for:
Medical bills
Loss wages
Loss of earning capacity past and future
Pain and suffering
Loss of enjoyment of life
Diminished quality of life.
Scarring and disfigurement
Emotional and psychological harms
Future medical treatment
Out of pocket expenses
However, keep in mind that certain negligence concepts run both ways. If you were partly to blame for causing the slip and fall accident, Florida's law on comparative fault applies to reduce your amount of compensation. Plus, you're barred from recovering any monetary damages if you were trespassing on the property when you sustained injuries.
What You can do to Support Your Premises Liability Claim
To put yourself in the best possible position after being injured, there are a few things you can do in the aftermath of a slip and fall accident.
Get appropriate medical care right away
Take pictures and video of the accident scene
Obtain contact information from anyone who witnessed the incident; and,
Contact a North Miami Beach premises liability lawyer as soon as possible.
Get Legal Help From a Slip and Fall Attorney in North Miami Beach
The legal process in a premises liability case can be complicated, but our team at Gerson & Schwartz is prepared to tackle the challenges with filing a claim and litigation. For more information on our services in a slip and fall case, please contact our personal injury law office by calling us at 305-371-6000 or visit us online. We can schedule a free consultation to review your circumstances and explain your legal rights.