Palm Beach County Personal Injury Lawyer
Skilled Lawyers Representing Personal Injury Victims in Palm Beach County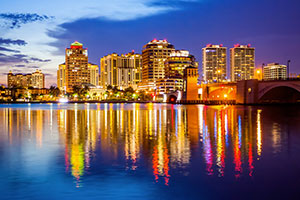 In 2015 over six million tourists visited Palm Beach County. This area is home to some of the Gilded Ages most captivating estates, restaurants, hotels, and upscale boutiques. The Palm Beach community was established by Henry Morrison Flagler luxury resort hotels, the Royal Poinciana Hotel, and the Breaker Hotel. Currently, landmarks, such as Henry Flager's former residence, now known as the Flager Museum attract tourists from all over the world year round. If you are visiting Palm Beach, you will be sure to enjoy your time here. However, if you are facing the perils of an injury during your stay, you should seek out legal representation immediately.
A serious injury can be tough to deal with, especially when you believe someone else is at fault. At Gerson & Schwartz, our Palm Beach Personal Injury Lawyers work with injury victims throughout Palm Beach County. We have over forty of years of experience working with clients in this area. To schedule a free consultation with one of our lawyers, call our office today at (877) 475-2905 or send us an email through our online contact form.
Common Types of Personal Injuries
A person may have a basis for a personal injury claim for many different reasons. The following are some common personal injuries that are recognized in the Florida courts as prosecutable personal injuries claims:
Car & Truck Accidents
Bicycle Accidents
Motorcycle Accidents
Catastrophic Injuries
Slip and Fall Accidents
Premises Liability
Wrongful Death
Dog Bites
Although the injuries listed above are some of the most common injuries, Gerson & Schwartz has assisted clients with the following injuries as well:
Pedestrian Accidents
Commercial Vehicle Accidents
Cruise Ship Accidents
Maritime Injuries
Medical Malpractice
Traumatic Brain Injuries
Spinal Cord Injuries
Common Effects of Personal Injuries
Personal injuries differ case by case. It is important to be aware of the effects of a personal injury on your life and the lives of those you love. Below are some of the effects an injured person might experience:
Temporary to permanent physical and mental impairment or disability
Temporary to permanent inability to return to work
Expensive medical treatments
Property damage
Pain and suffering
Unfortunately, a personal injury is not always temporary. Some injuries have permanent and lasting effects. For this reason, it is beneficial to hire a Palm Beach County personal injury attorney who understands the specifics of the law and who has experience fighting for just compensation for their clients.
Losses Caused by Personal Injuries
Personal injury victims can potentially incur overwhelming loses depending on the severity of their injury. Losses in a personal injury case can be extensive, so it is in your best interest to get the experienced legal representation. Your attorney will help you identify the full value of your losses to ensure that you seek the maximum amount of compensation possible for your damages. You may be able to recover compensation for the following losses:
Medical expenses
Estimated future medical costs
Permanent disability or disfigurement
Lost wages, lost earning potential
Pain and suffering
Wrongful death
A Gerson & Schwartz, our Palm Beach County personal injury attorneys have over 50 years of experience fighting for compensation for our clients. If you have been injured, you might be able to receive compensation for your damages. Reach out to a Palm Beach County personal injury lawyer today by calling (877) 475-2905 or You can also reach us through our online contact form.
How Can a Palm Beach County Personal Injury Attorney Help?
When you've been hurt by someone's else's careless action's the last thing you want to be worried about is navigating your way through courtrooms and dealing with the defendant's insurer on your own. You want an attorney who can help to take care of all the negotiations, paperwork, and procedural matters. More importantly, you want the support of an experienced lawyer who will advocate for your best interests.
At Gerson & Schwartz, we take the necessary steps to investigate your claim. This may include researching the evidence, interviewing witnesses, and advocating for your case if it goes to trial. We will keep your very best interest in mind so that you can focus on your recovery.
Speak With an Experienced Lawyer in Palm Beach County Today
Florida law gives injured victims a short window to bring a lawsuit. The Palm Beach personal injury lawyers at Gerson & Schwartz are here to help. We have over 50 years of experience handling personal injury cases and are proud to serve the community of Palm Beach County. We offer all of our clients a free consultation and personalized service. Reach out and call today at (877) 475-2905 or contact us through our online form.