West Palm Beach Personal Injury Lawyer
Visitors are attracted to West Palm Beach for its beauty and culture. However, as a resident or visitor of West Palm Beach, you may find yourself amidst an unfortunate accident that has turned your world upside down. How will you be able to enjoy the historic neighborhoods and beautiful beaches of West Palm Beach with an injury? Do not be dismayed as you have many options available to you to help you recover.
Filing a Personal Injury Claim
When you have been injured due to the fault of another, the law classifies your injury as a personal injury and you have the legal right to obtain damages. "Damages" is the financial compensation awarded to victims because the person who caused the accident is liable for any injuries caused. To file a personal injury claim, you will need to have competent legal representation and evidence to substantiate your claim. Personal injuries can include whiplash, spinal cord injury, neck injury, back injury, knee injury, brain injury, scarring, broken bones and much more. Some injuries are not evident at the time of the accident and therefore it is important to seek medical assistance immediately after an accident to make sure that there are no underlying conditions that can arise later.
The legal professionals at Gerson & Schwartz, P.A. can help you file your personal injury claim. Representing victims all across South Florida, our attorneys have handled a wide variety of accident cases including medical malpractice, motor vehicle accidents, dog bites, boating accidents and slip and fall accidents. We provide you with a free initial consultation to discuss all of the contributing factors of the accident and determine whether any liability exists. We will collect evidence, provide legal analysis and go to court if necessary to make sure that you get the financial compensation that you are entitled to. To begin this process, simply contact us today and we can get started in enforcing your legal rights.
About West Palm Beach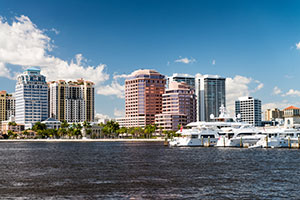 West Palm Beach is located in the 3rd most populous county in Florida, Palm Beach County, which has a 2010 population of 1,320,134. The city of West Palm Beach has a population of 101,043 according to a 2011 United States Census Bureau report. The area was originally called "Lake Worth Country" by settlers during the 1870s and was later termed West Palm Beach after expansion and incorporation by 1894. This was the first incorporated city in the county. Now, the city has a high percentage of Cuban, Guatemalan and Haitian residents as compared to the rest of the country.
Due to its early beginning and continuous development, West Palm Beach is full of historic neighborhoods and communities. Neighborhoods include Westgate, Belvedere Homes, Lakeside Green, Century Village, Schall Circle, Lake Belvedere Estates, Plantation Mobile Homes and Golden Lakes. There are also a number of colleges and universities as well as for-profit institutions such as Lincoln College of Technology and Florida Culinary Institute. The city also has its own public library and various ways to transport to and from the area, including the airport, water taxi, highways, and trolley.