Personal Injury Law Firms Near Hialeah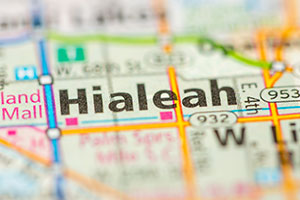 When you get injured in a Hialeah accident, you will probably need the best Hialeah personal injury law firm that you can find. Personal injury claims, and litigation require a serious approach, so you can't afford to hire the wrong lawyer to represent you and your family. To choose the best one, you should look for a law firm that specializes in personal injuries. "Jacks of All Trades" rarely win cases. Those Hialeah personal injury law firms who specialize in the field know all the ins and outs of the business and know how to get you to the point where you get the fair compensation that you deserve.
Also, you should avoid choosing your lawyer according to what you see on TV or billboards. If someone has paid for advertising, it doesn't mean that they are good Hialeah personal injury lawyers. It doesn't mean they are bad attorneys either. It means that they invested in advertising, that's all. Be wise and search for online reviews, where people like you have rated the work of the accident lawyers near Hialeah that have represented them. Read about their experience and choose the best law firm for your case.
We invite you to call the accident and injury lawyers at the Gerson & Schwartz law firm near Hialeah. You can reach us at (305) 371-6000. Our consultations are free. Tell us about your case, and we will let you know about your chances for financial recovery. If you choose us to represent you, we won't ask you to pay for anything until we recover for you.
Hialeah Personal Injury Lawyers
The Hialeah personal injury lawyers at Gerson & Schwartz have been the first choice of many satisfied clients in the last 40 plus years. We have served them in the capacity of:
Hialeah medical malpractice accident lawyers
Construction site accident lawyers near Hialeah
Hialeah daycare facility accident lawyers
Nightclub assault accidents lawyers near Hialeah
Hialeah manufacturing defect accident attorney
Hotel and resort accidents attorney near Hialeah
Wrongful death attorney near Hialeah
Motel accident attorney near Hialeah
Slip and fall accidents lawyers near Hialeah Florida
Hialeah trip and fall accidents and injuries lawyers
Negligent security lawyers near Hialeah
Food poisoning attorney near Hialeah
However, the large number of auto accidents regularly occurring on Miami and Hialeah roads contributed to our vast experience in auto accident cases. Many of the cases we work on are related to Hialeah traffic accidents in the following roles:
Pedestrian accidents lawyer near Hialeah
Road rage accident attorneys near Hialeah
Car accident lawyer near Hialeah
Hialeah bicycle accident lawyer
Left-turn accident attorney near Hialeah
DUI injury accident attorney near Hialeah
Hialeah lane change accident attorney
Rear-end collision attorney near Hialeah
Lawyer for accidents between Uber and Lyft drivers in Hialeah
Motorcycle accidents and injuries lawyers near Hialeah
Truck accident lawyer near Hialeah
Hialeah train accident lawyer
Head-on collision attorneys near Hialeah
Sideswipe accident attorneys near Hialeah
Lyft accident lawyers near Hialeah
Uber accident attorney near Hialeah
Rollover accident attorneys near Hialeah
Drunk driving accident injury attorney near Hialeah
If you need any kind of help related to personal injuries in or near Hialeah, call us at (305) 371-6000 for free consultations. We will answer all your questions to the best of our knowledge. By the end of the conversation, you'll know if you are entitled to compensation and what we need to do to help you. Our personal injury law firm near Hialeah is ready to answer your questions and assist you in getting the recovery that you deserve.
Our bilingual Hialeah personal injury lawyers work on a contingency basis, which means that clients don't pay anything before getting compensated. Call us today at (305) 371-6000.