South Miami Personal Injury Lawyer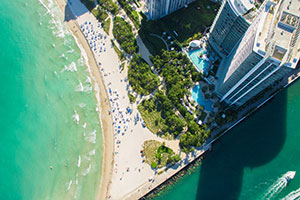 If you were injured in a South Miami accident, call a lawyer at Gerson & Schwartz P.A. to learn more about your rights. Our personal injury team is highly experienced and skilled. Today, we have several decades of experience during which we have helped residents and visitors to South Miami pursue compensation for injuries caused by other people's negligence and recklessness.
When you come to us and describe a crime or accident in South Miami, we will immediately begin to investigate. Our firm's policy is to not delay in pursuing your case. In most circumstances, we will fight a personal injury lawsuit as soon as possible. This shows the at-fault party and their insurer that we mean businesses, and it gives us the opportunity to gain additional evidence through the discovery period.
We are aggressive in our approach, yet this does not make us any less ethical or compassionate. Our South Miami accident attorneys understand how difficult these situations can be. We will help you receive excellent medical care, address the incoming medical expenses, and answer any questions you have regarding your case.
To talk with one of our lawyers at Gerson & Schwartz P.A. and learn more about how we handle personal injury cases, contact us through our online form or call (877) 475-2905. We offer free initial case consultations.
South Miami, Florida
South Miami is not a neighborhood of the vibrant city of Miami. It is actually a small city with a population of more than 12,000. It is a major hub in south Miami-Dade County, and has access to the area through the Metrorail system. From the South Miami Station on Sunset Drive, commuters and visitors can reach Downtown Miami, Miami Central Station, Miami International Airport, and downtown Kendall.
The area has many historic buildings, businesses, and tourist attractions, and because of this, is a high traffic area. The small city receives thousands of local and out-of-town visitors every day. It also experiences a great deal of commercial trucking traffic to supply the local economy, which includes The Shops at Sunset Place, a large retail and entertainment center.
Because South Miami is a bustling suburb, it has its fair share of accidents, from crimes against tourists and residents to car crashes. Our accident lawyers for South Miami are here to help if you are hurt in any type of incident caused by another person's carelessness, recklessness, or intentional misconduct. When another person is at fault for your injuries, the financial burden should not rest on your shoulders. Let us fight hard for you to receive full and fair compensation.
At Gerson & Schwartz P.A., we are proud to have represented hundreds of residents and visitors to the Miami area. We have represented individuals and families in more than 350 jury trials, demonstrating that we are true litigators. We will never push you into an unequitable settlement after a South Miami accident.
Our South Miami Accident Attorneys Handle all Types of Claims
After an accident that you know or think was someone else's fault, you may not be sure of who to turn to. Who do you call for help? We want to reassure you that our personal injury team at Gerson & Schwartz P.A. has experience handling all types of accident claims, including:
South Miami Car Accidents
South Miami Uber and Lyft Accidents
South Miami Truck Accidents
South Miami Motorcycle Accidents
South Miami Pedestrian Accidents
South Miami Bike Accidents
South Miami Premises Liability Claims
South Miami Slip and Falls
South Miami Hotel Accidents
South Miami Motel Injuries
South Miami Crimes
South Miami Cruise Ship Accidents
South Miami Boat and Maritime Accidents
South Miami Traumatic Brain Injuries
South Miami Severe Burn Injuries
South Miami Spinal Cord Injuries
South Miami Catastrophic Injuries
South Miami Medical Malpractice
South Miami Birth Injuries
South Miami Wrongful Death Claims
We recommend that you do not rely on an insurance company—even your own. Insurers will not conduct as thorough of an investigation. Additionally, if the other party's insurer is the one handling the claim, they will make conclusions more in line with their own interests and not your benefits. By having a South Miami accident lawyer on your side, you have someone to learn the ins and outs of your case, contest the insurer's conclusions when necessary, and fight for what is truly best for you.
Compensation After a South Miami Accident
When you are injured in an accident that is another person's fault, you can file a personal injury lawsuit against the negligent party and seek compensation. You may have the right pursue compensation for numerous physical, psychological, and economic injuries, which are known as damages.
At Gerson & Schwartz P.A., our experienced accident lawyers in South Miami will fight for you to receive compensation for:
Medical Bills
Lost Income
Physical Pain
Mental Distress
Disfigurement
Disability
Reduced Earning Capacity
Loss of Normal Life
Contact Gerson & Schwartz P.A. for Help Today
Recovering from injuries after an unexpected accident can be a lonely experience. Even with friends and family around to help, you may feel like you have to deal with it all yourself. You are the one getting the medical bills and calls from the insurer. Only you can pursue your claim. However, you do not have to fight alone. Our lawyers for South Miami accidents are here to work with you and for you.
Call Gerson & Schwartz P.A. at (305) 371-6000 or contact us online to schedule a free, no-risk consultation.